Experience the Beauty at a Paso Fino Horse Show
Not sure when next real show will be , BUT the first Saturday of very month they have guided tours of the property And a mini horse show with their beautiful horses and riders. 11am-1pm Call them for more info and reservations.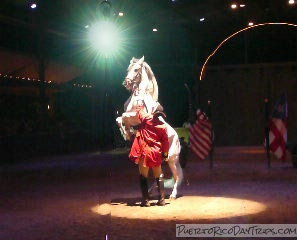 For the horse lovers in our audience, have we got a show for you. The Puerto Rican Equestrian Art School (Escuela Puertorriqueña del Arte Ecuestre) puts on a beautiful Paso Fino horse show a few times a year. Called "Asi Bailan Nuestros Caballos" (in English "This is How Our Horses Dance") , it will only be available 5 times in 2014. The school breeds these Paso Fino horses for perfection – these are magnificent animals. Then they work with them to train both the rider and horse to perform beautiful dressage movements. Come watch the horses and riders dance!
Many of the typical horses you see in Puerto Rico, and all the horses in this show, are Paso Fino horses. The Paso Fino is of Spanish descent, has a proud carriage and natural 4-beat gait. The best will have a very small step, which makes a smooth ride for the rider. The sound it makes is taca-taca-taca-taca…. It's very distinctive to see and hear. This type of horse is also noted for agility and intelligence, so it can perform some very difficult but beautiful moves like high stepping (the Spanish Walk) or standing on its rear legs (Posada).
The following information are some highlights of the show. There is a history of the horse in Puerto Rico, from it's first work as field helper and transportation, to its current "job" as entertainment and enjoyment. Then they start the "reprises" or skill sets. They have the horses do the short step walk over boards so you can see and hear the rhythm. Then they perform other skills, including a beautiful story about a stallion (magnificent white) that falls in love with a slave girl. Her performance was done all by talking to the horse (and a handful of oats!) – but no bit, bridle or other controls. Others displayed the Posada, side-stepping, trots, various walks and turns.
The school is dedicated to keeping the Spanish historical culture of the horse alive in Puerto Rico. The professional riders (or jinetes) wear 18th century uniforms – red and elegant. This, along with their skills with the horses, bring back the spirit of Spanish equestrian pride, from which Puerto Rico gets its tradition. The horses and riders execute the steps and dance movements to some wonderful music. It is really lovely to experience. My favorite part was when the maestro (teacher) did his work with his horse. His performance was called "Fantasy", and it was fantastic!
The only real difficulty tourists will encounter is that the commentary and explanations are in Spanish. But they give you a bi-lingual show brochure that explains the different reprises or movements that the horse and riders are displaying. But the beauty of the show and music will make that inconsequential – once you see the horses, you will forget the words anyway!
The school is located in Vega Baja, only 35 minutes from San Juan.
The shows are held at Hacienda Don Carmelo. The show is presented under a roofed area, but may be an open air arena. There are bathrooms on-site and food and drinks available for sale. free parking.
ticket prices for Jan. 2018: $10.00 per adult. Kids under 12 years old are free. Call them for ticket information. These prices do not include sales tax. Tickets are available at the door.
Show starts at 4pm. Call them or Check their Facebook page for next show dates. Get there early to get best seats. The show lasts about 1.5 hours and includes a short intermission.
Call 787-991-7044 for more information.
Visit the Arte Ecuestre Facebook page for more information. For more info or to buy tickets either send an email figueroam5@hotmail.com or call 787-991-7044.
We are in the process of updating the maps we use on our web site. While we're working on that, you can click on the GPS coordinates below to view the location on Google Maps ...
PuertoRicoDayTrips.com assumes no responsibility regarding your safety when participating in the activities described in this article. Please use common sense! If your mother or that little voice in your head tells you that you are about to do something stupid … then don't do it!