Experience the Beauty of the Paso Fino Horse
10/2020- all tours of the facilities are on hold due to Covid.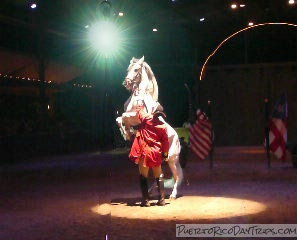 For the horse lovers in our audience, The Puerto Rican Equestrian Art School (Escuela Puertorriqueña del Arte Ecuestre) at Hacienda Don Carmelo has a tour of their facilities and a mini educational Paso Fino horse show called Mundo del Caballo. . It happens on the first Saturday of every month. The school breeds these Paso Fino horses for perfection – these are magnificent animals. Then they work with them to train both the rider and horse to perform all sorts of things and beautiful dressage movements.
Many of the typical horses you see in Puerto Rico, and most of the horses at this hacienda, are Paso Fino horses. The Paso Fino is of Spanish descent, has a proud carriage and natural 4-beat gait. The best will have a very small step, which makes a smooth ride for the rider. The sound it makes is taca-taca-taca-taca…. It's very distinctive to see and hear. This type of horse is also noted for agility and intelligence, so it can perform some very difficult but beautiful moves like high stepping (the Spanish Walk) or standing on its rear legs (Posada).
The Tour
Hacienda Don Carmelo is a beautiful property. You get to visit the stables and see the horses, and tour the grounds and the tree house. The guide will explain about the horses, stables, the family and the purpose of all. It is a wonderful photo opportunity. They keep everything beautifully manicured (they host a lot of weddings and event there). And then you go to their stadium and they bring in the different horses and tell you about their breed and features and what makes them special. They will do some walks or runs, gallops etc so you can see them in all their glory.
The school is dedicated to keeping the Spanish historical culture of the horse alive in Puerto Rico. They teach people how to be a professional rider (or jinete) learning skills with the horses, to bring back the spirit of Spanish equestrian pride, from which Puerto Rico gets its tradition.
The only real difficulty English speaking tourists will encounter is that the commentary and explanations are in Spanish. But they try to have a bi-lingual guide if you ask./p>
Hacienda Don Carmelo and the school is located in Vega Baja, only 35 minutes from San Juan.
Obviously the walk around the property is outside, and on grass/trails, so wear appropriate shoes. The show part is presented under a roofed open air arena. There are bathrooms on-site and free parking.
Reservations are required. Call them for ticket information. These prices do not include sales tax.
Tour is from 11am – 1pm. Call them or Check their Facebook page for next dates (usually the first Saturday of every month). .
Call 787-991-7044 for more information.
Visit the Arte Ecuestre Facebook page for more information. For more info or to buy tickets either send an email figueroam5@hotmail.com or call 787-991-7044.
We are in the process of updating the maps we use on our web site. While we're working on that, you can click on the GPS coordinates below to view the location on Google Maps ...
PuertoRicoDayTrips.com assumes no responsibility regarding your safety when participating in the activities described in this article. Please use common sense! If your mother or that little voice in your head tells you that you are about to do something stupid … then don't do it!