Discover the City of Ponce via Trolley
Update Oct 10, 2018- Post Maria- They are not yet running the trolleys. We will update the article when they reopen.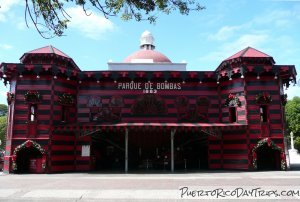 I enjoy visiting Ponce because it is an old city that has a lot to offer. But the city of Ponce is spread out over a large area, so walking around the city to see everything can be overwhelming for a first-time visitor. Luckily, Ponce offers a trolley tour that takes you around the city and shows you some of its major attractions. These tours have changed over the years, but they still offer a great way to see some of the highlights.
Before we get into this too far, let me explain something … Ponce has two trolleys: one that tours around the city, and another that provides transportation from the city to the waterfront. This article is about the first one – the one that takes you on a tour of the city. On a recent visit to Ponce, we took the trolley tour and really enjoyed ourselves.
It appears that they offer one tour that travels on the same route each time. This tour takes you around the city, explaining some of the points of interest, and stopping at others for a brief tour. The tour is bilingual, though depending on the crowd (if it is all English speakers or all Spanish speakers on board) it will be in one language. We were a bi-lingual group and I have to admit, this day, our trolley driver had a LOT more to say in Spanish than he did in English. I think we missed a few things interesting things. But I guess it depends on the driver and how "into it" he is.
You need to buy tickets ahead of time, and confirm what time your trolley actually departs. Tickets for the tour are available in the Red and Black Firehouse in the center square of the town.
There are a couple routes now that go by different places (I hear one goes by the Serrelles Castle). We did the long route.The route starts at the Plaza de Las Delicias behind the Cathedral.
The tour took us all around Ponce and the driver pointed out numerous interesting sites, including
Ceiba Park – see and learn about the 100 year old tree
a park containing busts of famous Poncerians
Calle 25 de Enero – a street of red and black wooden houses given to the brave firemen for their efforts in the fire of January 25, 1899
Parque de la Abolición – which has a beautiful statue in commemoration of the abolition of slavery, ampitheater, and park
In addition, the trolley made three stops where we could get off and take a little tour.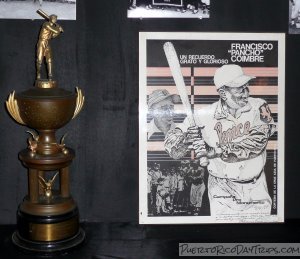 First we stopped at Museo Francisco "Pancho" Coimbre. This is a sports museum of Puerto Rico. I am not a big sports fan, but the tour guide at this site was very enthusiastic and interesting. He had some very enjoyable stories of old and current Puerto Rican sports figures. There are tons of pictures and sports memorabilia, from baseball to boxing.
The second stop was to an open air shopping area – Plaza Juan Ponce de León. This small market has a number of booths selling local items. We really enjoyed getting home-made "Limbers", which are like tropical fruit flavored ice pops. They were very tasty and they were only 35-cents each. What a bargain!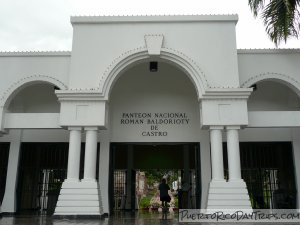 The final stop was at the Panteón Nacional Román Baldorioty de Castro, which is an old cemetery. The guide explained why the graves are mostly abandoned. It is a very beautiful place, in a morbid kind of way.
The trolley also passes the Ponce Museum of Art. It will stop and let you off so you can go and visit the museum on your own. When you are done, you can board the next trolley that comes along and continue on with the tour.
The one problem we and some other people on the tour had was that the parking meters have 2 hour limits. So try to get parking in a lot, otherwise you will be worried about getting a ticket for your expired parking meter (luckily we did not!).
Tickets cost $2 per person for the short no stop tour and $5 for the 2 Hr tour with stops.
The tours run at various times throughout the day, every day ( Monday- roughly on the hour and Tues-Sun 9am,10am, 12 noon, 1pm ,3pm and 4pm). But realize on Mondays, most of the museums are closed.
The tour with stops lasts approximately 2 hours. Note: We recently (3/12) went on a Monday when the museums were closed and they do more of a no stop narrated site-seeing tour. Takes about 45 minutes-1 hr.
From the San Juan area, take Route 52 south all the way to Ponce.
The drive from the San Juan area to Ponce is approximately 1 – 1½ hours.
We are in the process of updating the maps we use on our web site. While we're working on that, you can click on the GPS coordinates below to view the location on Google Maps ...
PuertoRicoDayTrips.com assumes no responsibility regarding your safety when participating in the activities described in this article. Please use common sense! If your mother or that little voice in your head tells you that you are about to do something stupid … then don't do it!