Nature & Art Collide in "Puerto Rican Light (Cueva Vientos)"
This exhibit has ended. Check the Para Naturaleza website for other tours in the area.
Our Visit
This is an easy tour, and it is free. I say "tour", but it is really a "self-guided tour" — they set you up with everything you need to safely explore the area, they explain how to follow the trail to the cave, and they send you off on your own to explore.
The morning of our tour, we got a call from our bilingual guide, to confirm our participation. I was really impressed! He double-checked our driving directions, and, as planned, we met him at their red gate at 11:30am. We followed him to the open air "reception area", where we did some paperwork, got walking sticks, some snack bars, filled our water bottles, and used the restroom (composting toilets). The our guide walked us to the beginning of the forest trail, and we began our experience.
The trail through the forest is beautifully maintained, and it winds past streams, natural pools, and caves. There may be some mud, dirt, and rocks that can trip you along the trail, so wear closed-toe shoes!
When we got near the area of the caves, there was another guide waiting for us to get us fitted into our helmets (safety first!). Then we headed up to the caves.
One of my reasons for doing this tour is that I wanted to find this place, and see the caves, so we can come back and do some of the other tours they offer.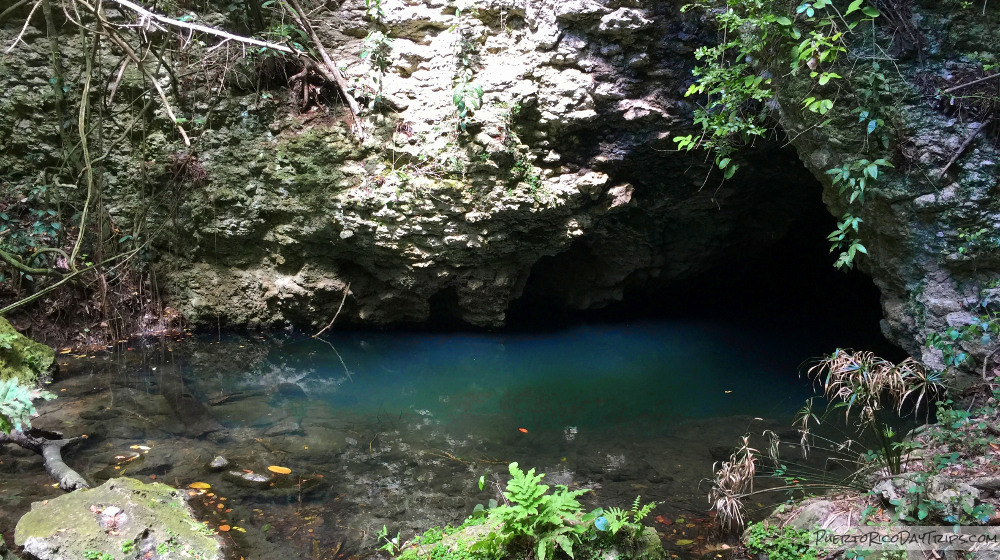 At the beginning of the cave area, there is Charco Azul (blue pool), and farther along the trail is Cueva El Convento (where you might get lucky and see Puerto Rican boa constrictors around the cave entrance or in the trees). One of the tours they offer is an early-evening tour on which you watch the snakes catch the bats as they are flying out of the cave!
Finally, the trail leads to Cueva Vientos (Wind Cave). At this point, it is up hill to the cave entrance, and it can be hot. We took our time, stopping to check out the rocks and things along the path. At the top of the steps, we got to Cueva Vientos, which is a large-mouthed, open cave (it's not dark inside).
The art installation is a colored light piece at then far end of the cave. There is a flat rock at the entrance of the cave where you can sit and reflect if you want.
They ask that you not photograph the art installation … so sorry, no photos of it here.
We stayed awhile, taking photos of the cave, and then retraced our path through the forest back to the reception area.
Once back at the reception area, we spent some time taking with the guide about the art installation. While I enjoyed the installation, I think that having this discussion beforehand would have helped me appreciate the piece more. I am more of a scientist than an artist … so I had lots of Who, What, When, Where and Why types of questions. Once I had answers to those questions, I "got" the piece more! But that is just me. I am sure other people want to see it without pre-conceived interpretations.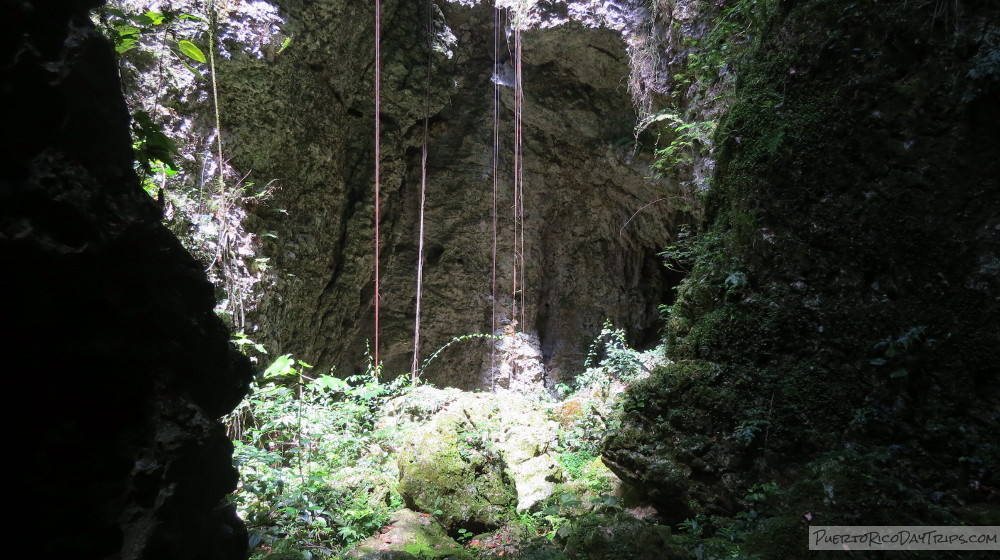 Art Appreciation (or Who, What, When, Where, Why & How)
If you want to make your own interpretation of the art installation when you visit, skip this section … Spoiler Alert!
The original art work was made in 1965 by the artist Dan Flavin. It is comprised of 3 fluorescent bulbs in festive colors. Our guide told us it was originally unnamed, but the artist named it Puerto Rican Light (to Jeanie Blake) after someone (Jeanie Blake) mentioned how the festive colors reminded her of the Puerto Rican Day parade in New York City.
Allora & Calzadilla thought that by putting the piece in a cave in Puerto Rico, it could evoke many conceptual meanings.
On a basic level, they put this "light" in a cave … where the sun doesn't shine. The juxtaposition of a colorful, modern, and abstract object a placed in a blank, natural, and dark cave gives way to all kinds of interpretation.
The electricity for the installation is generated by solar panels. The symbolism here is that Puerto Rico's sun lights up Puerto Rican Light (Cueva Vientos)!
Another interpretation could be how early man made markings (art) in caves to record their experiences, and to pass on information. Today, this art installation in this cave is passing on a message … But what message is it trying to deliver?
There are other possible, deeper, meanings … It could be showing how difficult it is to fit in to a new place — like how many Puerot Ricans are leaving the island to go to the States, struggling to fit in, and here is something from the States, relocated to Puerto Rico, trying to fit in. There are a number of other possible interpretations that we discussed, and I am sure as people view this exhibit, they will find their own meaning.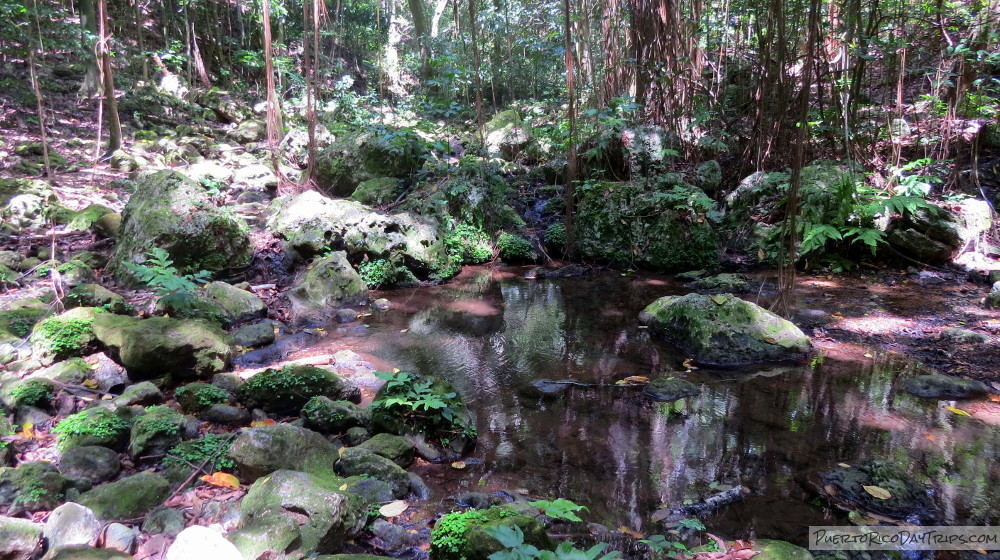 Details
This is a free tour, but reservations (made through their web site) are required. They take a maximum of 6 people per day, Wednesday to Sunday. No tours Monday or Tuesday.
They ask you to be there for your tour at 11:30am. The tour starts at 12noon, Wednesday to Sunday.
Wear closed-toe shoes, and bring a water bottle. They will provide drinking water (for your water bottle), insect repellant, snacks, walking stick, and helmet. There are restrooms (composting toilets) on-site in the reception area.
The experience, from start to finish, takes a minimum of 2 hours
You can call Para Naturaleza at (787)722-5882 for more information.
You can visit the Para Naturaleza web site for more information or to make a reservation.
This tour takes place at Cuevas El Convento in Guayanilla-Peñuelas (in the south part of the island, west of Ponce). From San Juan, take Route 52 south, to Route 2 west, and continue past Ponce. From Route 2, take exit 207 and turn right to get onto Road 127. Follow Road 127 to a left onto Road 383. Continue on Road 383 until it ends at a red gate. Wait at that gate for the guide to meet you.
Allow about 1½ hours to drive from the San Juan area.
We are in the process of updating the maps we use on our web site. While we're working on that, you can click on the GPS coordinates below to view the location on Google Maps ...
PuertoRicoDayTrips.com assumes no responsibility regarding your safety when participating in the activities described in this article. Please use common sense! If your mother or that little voice in your head tells you that you are about to do something stupid … then don't do it!