Get a Full Day of Adventure Fun in a Half-Day with Rocaliza
Rocaliza has resumed operations with COVID restrictions.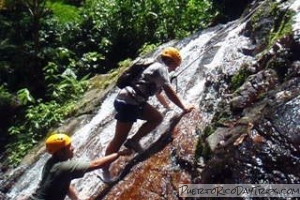 What do you do when you don't have a lot of time to spend in Puerto Rico, but you want to do something really fun? You go on Rocaliza's Half-Day El Salto Adventure. This adventure takes you in to the Carite rain forest in Caguas (which is only 45 minutes away from the San Juan area), where you hike, trek through rivers, climb a waterfall and then fly back down the mountain on zip lines. What an adventure — and it can all be done in just a few hours. This is perfect for people in port for the day on cruise ships or anyone who wants a lot of fun in a little time! This excursion is very similar to their El Salto River Zipline & Rappelling Adventure full-day trip, but with a waterfall climb instead of the waterfall rapell.
Transportation Included
Your guides (Diego and Jacob) will pick you up in San Juan and drive you to the Carite rain forest. The van stops along the way, at a Walgreens, so you can grab a quick snack (bring some money) and use a restroom before starting your adventure.
After the snack and potty break, they drove us up the little roads into the mountains. During the drive, they pointed out many of the fruit trees and some aspects of Puerto Rico country living as we drove through different neighborhoods. The drive from the Walgreens to their base camp up in the mountains took about 10 minutes.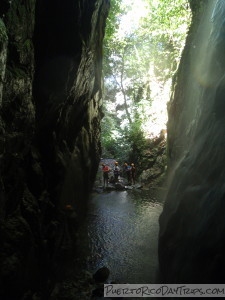 Here, we were introduced to a local teenager, named Samuel, who helped us throughout the rest of the day. Rocaliza practices sustainable tourism — they rent the land they use from a local family and employ people from the local community to help with the tour, trail maintenance and the home-cooked meal the serve at the end of the adventure. It is great to see local companies giving back to the community.
It was at this point that our guides gave us an initial briefing of the day's activities and some background information. Diego had worked, for many years, for other zipline/adventure companies here in Puerto Rico before starting out on his own. Together with the guys from Eco-Quest, they set up this adventure course, taking the best practices from their past experience and then adding their own special touches to it. They use the state of the art safety gear and want people to experience a safe, but thrilling, climbing and zip-lining adventure.
They then explained that our adventure today was going to consist of hiking, climbing up the rivers, climbing up a waterfall and zip lining! They provided water and they had some fresh fruit you could snack on (both at the start and through out the trip). Then they handed out the gear and helped you into your harness, helmet and gloves. We then began the first part of our adventure — our walk uphill into the forest.
Hiking & River Trekking
It was a short walk to the trail head in at the edge of the forest. Once we got there, Diego told us more about what to expect on our hike — some would be on land, some in the water and some would be at the river's edge. We were all set, so off we went. All along the way, they stopped to tell us about the plants that we were passing — the good, the bad and the pretty!
Most of the water crossings were only knee-deep, so you won't be soaking wet all day, unless you want to jump into the deeper areas of the river and play!
During our trek, we climbed & scaled the river rocks. Some of the climbing was pretty steep & challenging. There were some ascents where you needed to use ropes to climb up, while on others you had to find you own foot holds and just go for it. It made you feel like a real jungle explorer! This forest hiking and river trekking continued until we got to a pretty waterfall, were we were able to rest before the next part of our adventure. Some people took the opportunity to take pictures or take a dip in some river pools at the base of the waterfall, have a drink some water, and snack on some of the fruit the guides brought along.
Climbing Up the Waterfall
Once we all had a chance to catch our breath, we were ready for the next part of our adventure. After securing a safety rope at the top of the falls, Diego explained how this waterfall climbing is done. Similar to rock climbing, you have to find the hand and foot holds and pull yourself up. Sounds easy enough, right? Of course for safety, they hooked your harness to the safety rope so you won't fall. But, other than that safety rope, it's all up to you.
And up we climbed, one by one. What a blast! It's not too difficult — but it is not exactly easy either! Sometimes it was easy to find the hand/foot holds, and sometimes you were just slipping and searching for your next step. It was really fun and you really felt like you accomplished something when you got to the top!
I should note that if you have trouble making this climb, or if you just don't want to do it, there is a short forest trail that you can follow that takes you to the top of the waterfall where you can re-join the rest of the group.
Once everyone made it to the top of the waterfall, we continued on a short hike down the river to the next part of our adventure — the zip lines!
Flying Through the Forest
The next part of our adventure was the ziplines. They have 5 zip lines in the forest, all of which were nice length (one was 400 feet long!). Of course, before we got started, they told us how to do it, explained the equipment we would be using and explained their safety procedures.
There are always 2 tour guides for each zipline, one at each end. Basically, once you get to the platform, the first guide hooks your harness up to the lines and away you go. At the other end of the zipline, the second guide unclips you. It is very easy — it takes really no effort on your part, thanks to gravity. It is so neat, seeing the beautiful forest and views from up there as you zip through the trees and across canyons.
Though this excursion has ziplines, and they are fun, they're not the main focus of the trip. The whole waterfall climb and river treking along with some ziplines is what that sets this excursion apart from other zipline attractions on the island.
Finishing Up
After everyone finished with the ziplines, a short hike out of the woods took us back along the path we started on and we were back on the road. The adventure part took our group a little over 2 hours from the time we entered until the time we exited from the forest.
After a short walk back down the road to where the van was parked, we were able to change into dry clothes (they have changing rooms) and then we had lunch. Our lunch was a yummy home-cooked meal of chicken, rice & beans, sweet potatoes and sorullitos (fried corn meal with dipping sauce). But the menu could change every day, depending on what the cook felt like making that day. We enjoyed the meal together on picnic tables at her house, where you met her family. They also let you use the bathroom in their house if you needed to. What a nice way to end the day — riding home, full from a good meal and memories of our great exciting adventure!
Tips and Other Ideas
One super great thing about this company is that they only require 4 people signed up to do this tour. So you really don't have to worry about your plans getting canceled if the tour doesn't fill up (which happens with many other companies) or someone else calls and cancels at the last minute.
I would recommend eating a late (or larger than normal) breakfast the day that you do this excursion — lunch is served at the end of the excursion.
A small knapsack comes in handy for carrying your snack, some fruit, your water bottle and camera. Diego has a couple extra knapsacks in case you forget to bring yours. He also has a dry bag that you can put your camera, cell phone, etc. into during the wettest part of the trip.
As for clothing, I recommend that you wear quick-drying, longer shorts, to protect your legs from the harness you'll be wearing all day. Don't wear jeans! They require that your shoes strap tightly to your feet that have good traction. So wear sneakers, water shoes, or Tevas that you won't mind getting wet. They don't allow flip-flops, slip on Crocs, or anything like that.
Normally, when we review an activity that is not free to the public, we pay the admission price out of our own pockets. However, we just want you to know that the folks at Rocaliza were kind enough to offer us this trip for free. While we don't feel that this free ride influenced our review one way or the other, we felt that we should tell you, just as a matter of fact.


The Details
The cost of this trip is $135/person plus IVU (sales tax). That includes lunch, water, fresh fruit, all necessary equipment (helmet, harness, climbing and zipline equipment), and transportation.
If you're happy, let them know it — Don't forget to tip your your bartender, tour guide or trip operator if you enjoyed yourself. Gratuities are appreciated and typically aren't included in the price they charge you.
They offer this trip 7 days/week. Pick-up at San Juan area hotels begins around 9:00am. They may be a little flexible with these hours to accommodate your needs.
There is a minimum of 4, and a maximum of 10, participants for this trip. If your party has more than 10 people, they'll make an exception and go up to 12 people on this trip, but no more.
This is an adventure tour — you need to be decently physically fit. You will be hiking and climbing. You need to walk uphill for about 15 minutes without getting too winded. There is a maximum weight limit of 220 pounds.
Depending on the group size, the adventure plus meal takes approximately 3 hours, Then by the time you add in driving time from/to the San Juan area … you can figure 5-6 hours for the whole trip door to door.
You can call Rocaliza at 787.268.0101 or 787.366.8209 (mobile) for more information or to make a reservation.
You can visit the Rocaliza web site for more information.
PuertoRicoDayTrips.com assumes no responsibility regarding your safety when participating in the activities described in this article. Please use common sense! If your mother or that little voice in your head tells you that you are about to do something stupid … then don't do it!