See Old San Juan from the Water Side
Update 3/2018- Post Maria- They have started running daytime and sunset boat trips.
Old San Juan is an amazing place. There is always something happening, something new, or something that you just haven't seen before. It is a must-see place for anyone visiting, or living in, Puerto Rico. And viewing Old San Juan from the water adds a new dimension to the experience — it kind of gives you an idea of what the original visitors saw and experienced some 500 years ago.
San Juan Water Tours offers tours of San Juan Bay via boat. They depart from the Bahía Urbana, at Pier 6, along the bay in Old San Juan. Being just a couple-minute walk from the cruise ship piers, it is easy and convenient for anyone visiting Old San Juan. Being out on the water gives you great photo opportunities, too.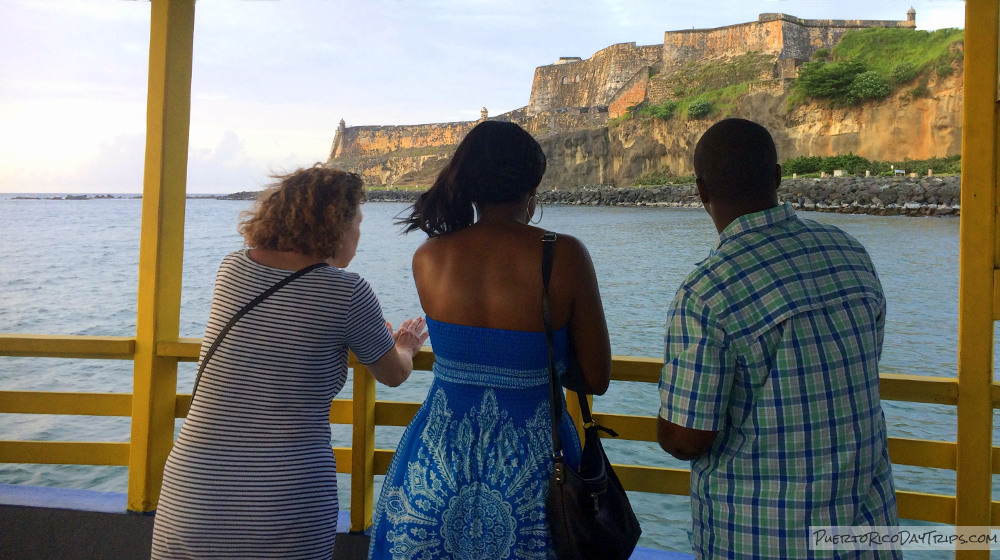 San Juan Water Tours uses a locally made boat, "La Paseadora", which has benches along the sides and front of the boat, so everyone is close to the water and has an unobstructed view. The boat is also covered, so you are comfortably out of the sun, or any rain that may pass. They offer a couple of different tours … a 90-minute Sunset Tour, and a 60-minute daytime tour. Both are similar in where you go and what you will see, except the sunset tour obviously hangs out in the bay a little longer to watch the sunset! Both are BYOB- bring a cooler and snacks…whatever you would like to have during your trip to make it more enjoyable.
Our Trip
We opted to do the sunset tour. We (and the rest of the tour participants) boarded, and met crew. After the safety briefing, we were off. As it turned out, one couple that were signed up for the tour were stuck in traffic and were running late, so instead of having them miss the trip, our crew decided to take us on a little tour of the marina area, showing us the sites that way, like the Capitol and marina, and then stopped back to pick up the late arrivals (how nice was that?). Then we headed outpast the large cruise ships in port.
In between commenting and giving a narrative about the different things we were seeing, our guide was very sociable. He was chatting with everyone, and had all the guests introduce themselves, and we all got to talking to each other!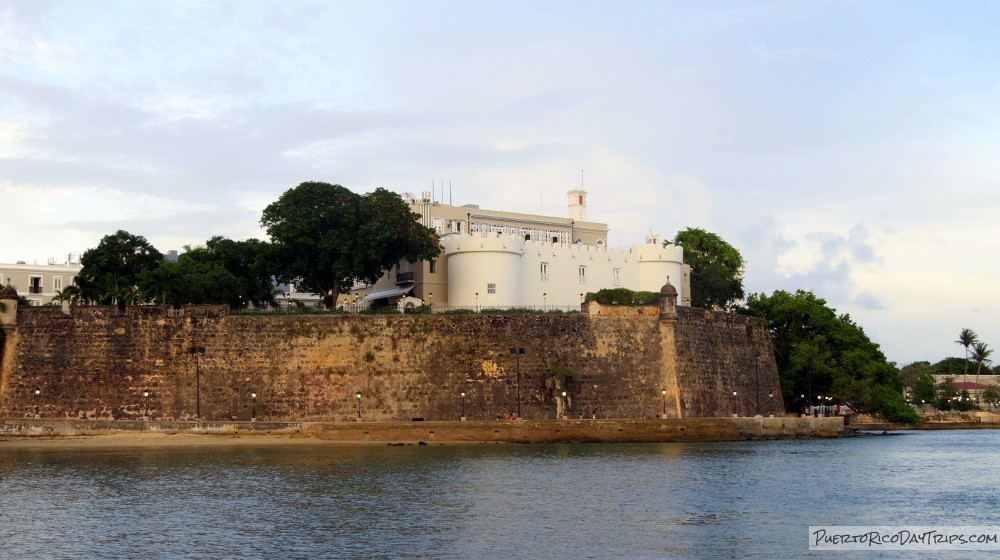 We were out on the water for about 80-90 minutes. The boat motored slowly around the bay, passing a number of sites along the way. Being on the water provides probably one of the best perspectives to see the massive wall and the Gate of San Juan. It is a relaxing trip and, since the bay is calm, there are no waves to bother you.
Some of the things that can be seen from the water include the old Customs Building, La Fortaleza, La Rogitiva, the Raices statue, Paseo la Princesa, Casa Blanca, the San Juan Wall, the Gate of San Juan, and El Morro. On the other side of the bay you can see the Bacardi Distillary and Cabras Island with el Cañuelo fort. Our guide had a number of interesting comments and stories to tell about the different sights.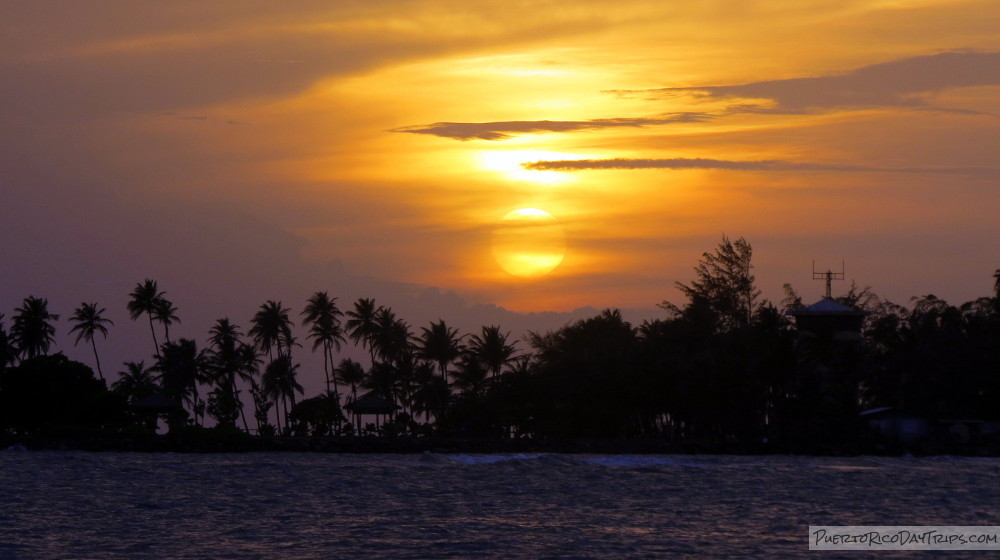 You can obviously see the city sites the best during the day, and going out on the bay at sunset can be magical with the colors in the sky. As we motored around in the bay, the sun was putting on its colorful display. We enjoyed this trip very much, and as we were coming in, we got to see the lights come on in Old San Juan and on the ships. Some of them are lit up dramatically after dark, so it adds another dimension to the trip.
Seeing Old San Juan from the water is a great perspective that not everyone has seen before, and it makes for some great photos.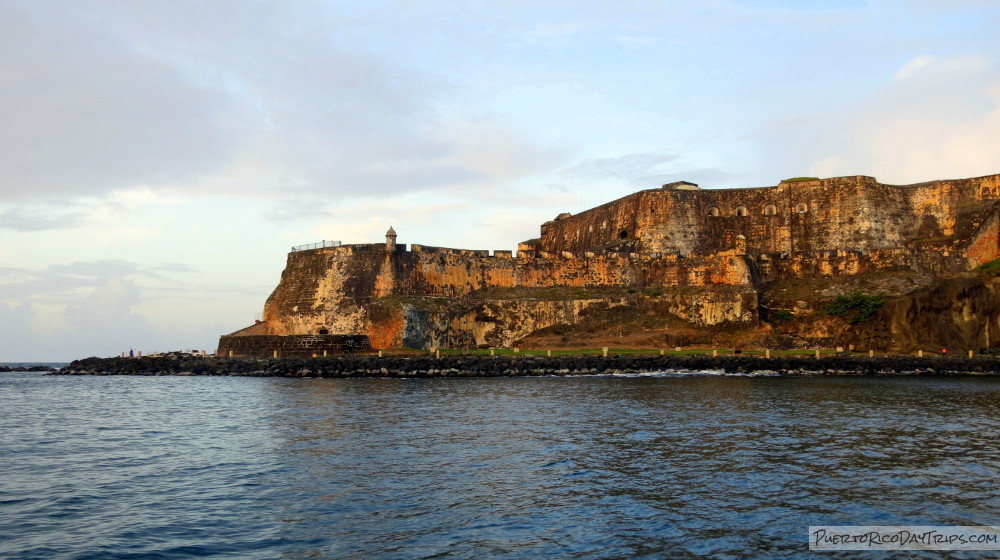 Normally, when we review an activity that is not free to the public, we pay the admission price out of our own pockets. However, we just want you to know that the guys at San Juan Water Tours were kind enough to offer us this trip for free. While we don't feel that this free ride influenced our review one way or the other, we felt that we should tell you, just as a matter of fact.


Details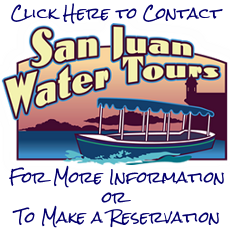 The price for the 90-minute San Juan Bay boat sunset tour is $46/person. Check their Facebook page for current info and special offers. They also have a 60-minute daytime tour everyday for $39/person . All price are subject to sales tax. They are BYOB (bring your own beverage) if you so desire.
If you're happy, let them know it — Don't forget to tip your your bartender, tour guide or trip operator if you enjoyed yourself. Gratuities are appreciated and typically aren't included in the price they charge you.
They run tours 7 days per week, with the 60-minute tour at times through out day and the 90-minute Sunset Tour at 5:30pm or so. Check the website reservation page for exact times- it varies by season. Sometimes, on weekends, they offer another tour during the day. You can make a reservation, or you can just show up and they see if they can fit you onto a tour.
There are no age nor weight restrictions to take a tour. But you do need to be able to step down (1 step) from the dock to get into the boat, and then back up again at the end (but they assist you).
Tours are live-narrated (not pre-recorded), and are offered in both English and Spanish.
You can give them a call at 787-624-6295 for more information.
You can visit the San Juan Water Tours website for more information or to make a reservation.
They also have a smaller 6-passenger Duffy boat that can be rented privately for a special event or tour.
San Juan Water Tours is located on the Bahía Urbana waterfront area, just steps from the cruise ship piers.
The photo of La Pasadora II in front of the San Juan Gate was provided by San Juan Water Tours, and is used with their permission.
We are in the process of updating the maps we use on our web site. While we're working on that, you can click on the GPS coordinates below to view the location on Google Maps ...
PuertoRicoDayTrips.com assumes no responsibility regarding your safety when participating in the activities described in this article. Please use common sense! If your mother or that little voice in your head tells you that you are about to do something stupid … then don't do it!