Good Eats & Music at the SoFo Culinary Festival
No idea when tThe next SOFO Culinary Festival will be held. We will update when it gets scheduled..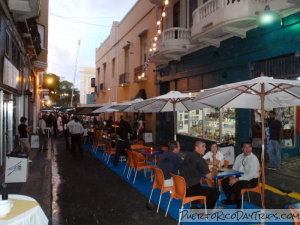 Twice a year the restaurant community in Old San Juan pulls together for their SoFo Culinary Festival. These festivals, typically in summer and early winter, feature lots of great food & drinks, live music, outdoor dining and artisans selling their wares.
The center of the action is Fortaleza Street, on the end near Plaza Colón, not far from Fort San Cristóbal. The city closes down a number of blocks on 5 blocks of Fortaleza and San Francisco Streets to traffic in order to make a pedestrian area where you can enjoy the food and music, and walk around freely with your favorite bar drinks. Most of the restaurants are set up on San Francisco Street, Fortaleza Street and Recinto Sur between Tanca Street and O'Donnel Street.
We went one night for a couple of hours a couple years ago and had a good time. We walked about 3 laps around the whole area before we decided what to have.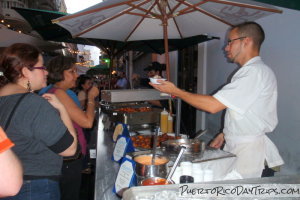 There are usually more than 30 restaurants participating, with all kinds of different food including cerviche, lechon, sweet & sour pork, vegetable lo mein, and sushi. You can get food take-out style served from warming trays, or you can have a full sit-down dinner inside the restaurants or at tables set up in the street. Most restaurants have makeshift bars set up in the streets offering beer, Mojitos, Pina Coladas, martinis and probably just about any other mixed drink you might want.
Once again, we ended up there on opening night, which is a big to-do with the mayor of San Juan making a speech, a ribbon cutting ceremony, TV film crews and newspaper photographers all over. Once the speeches were over the music and food started.
The last time we went, we had a full sit-down dinner in the middle of Fortaleza Street. While the meal was good, sitting at a table in the middle of the street with a gazillion people walking close-by and checking out our food was not for us. Last night we decided not to repeat that mistake. We opted to grab some small, sample-size dishes from a couple different places. We split a ceviche from Aguaviva, I had sweet & sour pork from Dragonfly, and Gwenn had lechon from a small place I didn't catch the name of. Everything was excellent.
For whatever reason, it wasn't very crowded that night. And then it started pouring rain around 6:30pm, which was a real shame because everything set up in the street (linen-covered tables, chairs, the bands and their equipment) got soaked. We used that opportunity to duck into one of the restaurants and tried their SoFo Festival special at the special price.
Because of the rain we cut out of there early, like many other people. I hope that they have better weather this time around.
The festival runs Thursday through Sunday. Most of the restaurants have food available starting around 6:00pm. The live music starts around 7:00pm. The event runs until 11:00pm on Thursday, and until 12 mn on Friday through Saturday. Sunday the hours for food and music are 4:00pm until 10pm. There are different stages for bands set up around the area , so no matter when you go you should be able to find some entertainment.
PuertoRicoDayTrips.com assumes no responsibility regarding your safety when participating in the activities described in this article. Please use common sense! If your mother or that little voice in your head tells you that you are about to do something stupid … then don't do it!