Puerto Rican Sports Hall of Fame Museum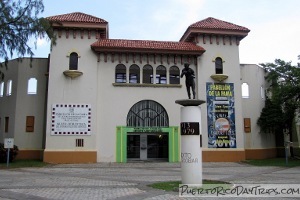 This Museum is not open….at least we have not seen it open whenever we go by it.
Puerto Rico might be a small island, but it is big on sports and it has supplied the world with some amazing sports heroes. While I admit that I am not a big sports fan, we did stop by the Pabellón de la Fama del Deporte Puertorriqueno (Puerto Rican Sports Hall of Fame) just at the entrance to Old San Juan and we learned a lot.
There have been some great local figures in almost every sport imaginable. If you are into sports at all, a quick stop in to this free museum would be enjoyable.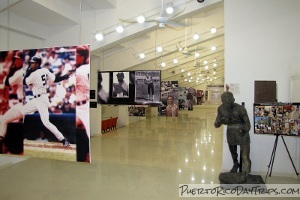 Inaugurated in March 2012, the Pabellón de la Fama del Deporte Puertorriqueno is a small museum and library that has been built under the bleachers at the old Sixto Escobar Stadium (Estadio Sixto Escobar) at the Parque del Tercer Milenio in the Escambron Beach area of Old San Juan. As you enter, the library is to the left and the sports "museum" is to the right.
The museum has basic information (names, sports, and years) for about 600 athletes. Some of the most famous ones get large bilingual informational presentations about them.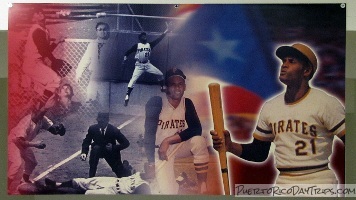 People like ChiChi Rodriguez (golf), Angel Cordero Jr (jockey), Sixto Escobar (boxer), Felix 'Tito' Trinidad Jr (boxer), Roberto Clemente (baseball), and Roberto Alomar (baseball) have large write-ups. There is also detailed info on some great athletes in ice skating, tennis, basketball, swimming, football, volleyball, and track & field.
Seriously! There have been great Puerto Rican players in almost every sport imaginable, even skiing!
Since 1948, Puerto Rico has won 8 Olympic medals, spread across boxing (boxeo), track, and wrestling. In the 2016 Summer Olympics, Puerto Rico was represented by athletes in Boxing, Diving, Equestrian, Judo, Road Cycling, Shooting, Swimming, Table Tennis, Taekwondo, Tennis, Triathlon, Volleyball, Weightlifting, Wrestling. and various track events (Athletics).
It is a great place to learn about the Puerto Ricans who have become world record holders, world title winners, Olympic team members, and World Hall of Fame members. While it is not a "must visit" place, it would be an interesting stop if you are in the area.

Details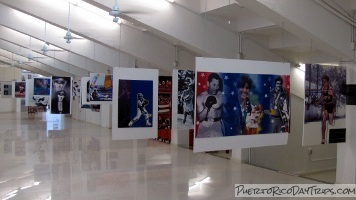 Admission is free.
I don't think it is open anymore. The Hall of Fame is open Wednesday to Sunday, from 10am to 2pm.
Allow 30 to 60 minutes.
It is not air-conditioned inside. They had a number of fans going, so it was not too hot in there.
Parking is across the street in the Luis Munoz Rivera Park or in the Balneario Escambron parking lot.
We are in the process of updating the maps we use on our web site. While we're working on that, you can click on the GPS coordinates below to view the location on Google Maps ...
PuertoRicoDayTrips.com assumes no responsibility regarding your safety when participating in the activities described in this article. Please use common sense! If your mother or that little voice in your head tells you that you are about to do something stupid … then don't do it!