Check Out the Museum of Transportation
June 2018- POst Maria- The Museum is closed to the general public, but is available for private functions and is occasionally open for special public events/car shows. Watch their Facebook page for upcoming events..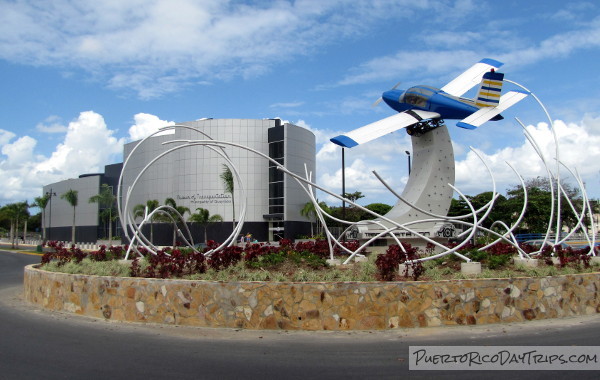 If you are a classic car buff, or if you are just interested in the history of transportation in Puerto Rico, you might want to check out the Museum of Transportation in Guaynabo. From horses, to trains, planes, and automobiles, this museum has a little bit of info on a lot of things related to moving people and things around Puerto Rico.
Background
The Museum of Transportation is two floors of historic information and restored classic cars.
The Museum of Transportation in Guaynabo, just 20 minutes outside of San Juan, opened in December 2013 — .
The first floor is the permanent exhibit area. It depicts the history of transportation in Puerto Rico, starting from the pre-Colombian indian arrivals in their canoes, up through all types of modern transportation, including horse and carriage, bikes, trains, planes and automobiles.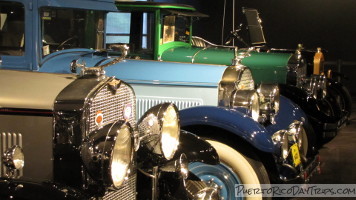 There are a number of historic documents from travelers, road construction, and other transportation-related improvements that have occurred in Puerto Rico over the years. There is almost something for everyone, including small displays of old license plates and toy trucks.
There is a short movie about it too! There are also 5 restored cars of 5 past Guaynabo mayors, with life-size wax figures of the mayors. The School of Aeronautics has some representatives there that help you with a hands-on flight simulator. You can try your hand a taking off and landing at SJU airport.
The second floor houses a rotating exhibit of restored classic cars, and some other collections of motorcycles, bikes, toys, information about some of Puerto Rico's favorite professional drivers, and a Grand Prix Race car simulator.
Our Visit
Being a new museum, we thought we would check it out. The restored vehicles are amazingly well done, and many still are road-worthy as evidenced by the current registration stickers. All of the cars in this exhibit are on loan to the museum from private collectors, and they plan to change them out every 3 months. We enjoyed checking out all the old collections of stuff, and even learned a few things about Puerto Rico's transportation past.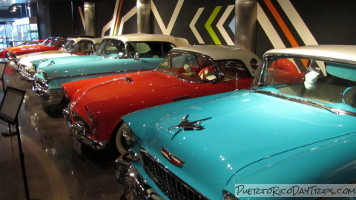 We had a great time on the flight simulators, and the people from the aeronautics school (who even knew we had an aeronautics school here on the island?) were very patient with us. I crashed into a palm tree, but my friend actually landed on the runway at SJU!
The information about each restored car was pretty neat — info on the design changes from year to year, what made this particular car special, top speed of the car, original cost, and some even listed miles per gallon. These cars were beautiful, every detail polished and perfect.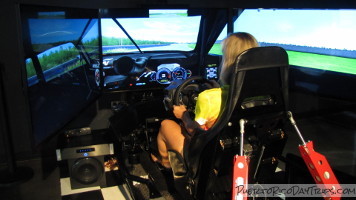 A favorite part of ours was the Grand Prix race simulator. It is a $3 extra charge, but so worth it. You get the feel, sight and sounds of driving a real car in a race. For spectators, it was hysterical, but for the driver it felt realistic. After that, we needed a beer to calm down (seriously!), which we got at the snack bar on the third floor.
Some Observations
The one big disappointment for us was that, beyond the first exhibit on the first floor (which was bilingual), everything was in in Spanish. I was really surprised by this, considering that the official name of the museum is Museum of Transportation as opposed to Museo de Transportación. We talked with the executive director of the museum, and he said that they are aware of that flaw and they are working on how to fix it.
It is not a huge museum, but it was nice. The third floor has a café, with free wi-fi. The bathrooms were clean. There is a gift shop on the first floor.
Details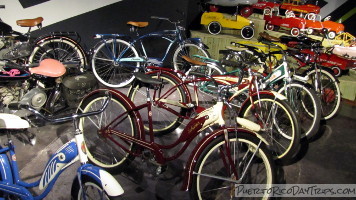 Admission is $5 for kids (age 5-12), $10 for adults, $5 for seniors, and free for folks over 75 years old.
The museum is open Wednesday through Sunday, from 10am to 5pm.
Allow about 1 or 2 hours.
You can call the Museum of Transportation at 787-200-3900 for more information.
You can visit the Museum of Transportation Facebook page or Museum of Transportation web site for more information.
We are in the process of updating the maps we use on our web site. While we're working on that, you can click on the GPS coordinates below to view the location on Google Maps ...
PuertoRicoDayTrips.com assumes no responsibility regarding your safety when participating in the activities described in this article. Please use common sense! If your mother or that little voice in your head tells you that you are about to do something stupid … then don't do it!