Discover Your Inner Artist in the Rain Forest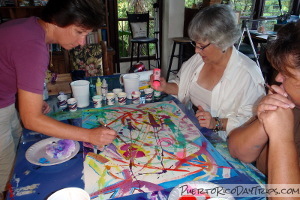 Update- Nov.30, 2017- This art course is not currently available.
I love art. I am in awe of people that can take a blank canvas and make something so beautiful. I always wanted to do it, but I really don't have an artistic bone in my body.
Our friend, Monica Linville, is a fantastic artist, and she has recently started some workshops designed for the beginner, with fun in mind. She invited us to her studio one morning to take one of the workshops, so we, and our friends Marina and Wally, agreed to give it the old college try.
Our Day in the Studio
We drove up to the Monica's Treehouse Studio on a rainy Monday morning. The studio, at Monica's home high up in the mountains, is her working studio — so you can see her current works in various stages of progress. It is such a lovely location in the mountains above Luquillo just at the edge of the El Yunque rain forest, with great views and breezes. I can see how it inspires her.
Monica offers a number of different workshops — some are more like real art classes, while others are suitable even for small children. We decided to spend this rainy Monday taking her Be Me / Be We workshop (a group activity suitable for everyone in the family) using mixed water media.
The morning started with Monica giving us a demonstration and discussion about the paints and materials we would be using. She quickly painted a picture and showed us other examples of actual art she had made using the techniques she was explaining to us. It looked easy enough. Even for us!
After our short "lesson" she set us up with our materials. Since we were doing a group project, we got one large piece of paper and a load of different colors, and types, of paint, and the instructions to "do our thing".
The concept behind this workshop is that everyone expresses themselves differently with color and style — so just do it. There is no need to be careful or exact when working in this medium. In fact, the more abandon the better. So we splattered, painted, squiggled and used the blow dryer to create our art.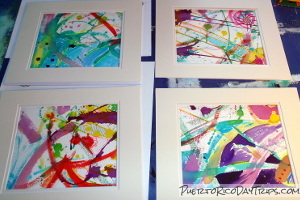 We played … oops, I mean were artists … for about an hour. During that time, Monica gently prodded us to use the right-side of our brains, and showed us different techniques along the way. When we were finished, she then cut it up and matted a piece for each of us — and this big mess became some really neat looking art!
It was fun and it got people (who otherwise were not really into it) thinking that they would like to take some other classes. It brought out the hidden artist in each of us.
This particular workshop is suitable for families (even with young kids), small groups, couples, or even for groups as a team-building exercise. The cost is $65 per person, and there is a 4-person minimum. Be fore-warned that you can get wild with the paint, so there is a chance that you will get paint splattered on your clothes (that may not wash out). So wear older or clothes that can get dirty. Monica can also supply some smocks. This is a half-day activity, lasting about 2 or 3 hours.
Other Workshops, Classes & Studio Time
Monica offers 2 other fun and easy workshops for families (minimum age for these is about 10 years old) that looked like a lot of fun. There's Waterworks, which is watercolor painting class where you actually learn how to use watercolors. She walks you through the painting of a pre-drawn picture. This is more structured than the workshop we did, and each person works on their own piece. The cost is $150 per person and the class lasts about 3 hours.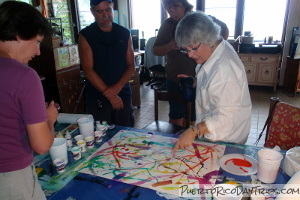 The other "easy" workshop is Postcards from the Caribbean, in which you get a booklet of blank watercolor "postcards" on which you paint scenes from around the property, with Monica's guidance. The cost is $85 per person and the workshop lasts about 3 hours.
If you're looking for something a little more educational, Monica offers a Learn to Draw class in which she teaches you the basics of drawing, in a relaxed setting. This one sounded pretty cool. The cost of this class is $50 per person, and it lasts about 1 hour. The minimum age for the class is 15 years old.
A new offering for art students or artists are informal sessions on Tuesdays from 9am-12 noon. Each student brings and works on his or her own project and Monica is there to guide you and offer critique and help you achieve the goals you set for yourself with your project. The cost is $25.00 per session.
For all the workshops/classes, Monica supplies all the materials needed, and you get something to take home to show off. We did this on a rainy day, and it was a great, fun activity that we all enjoyed — just being together, chatting, goofing around, and making something that we now all have a piece of to remember our day together in the rain forest.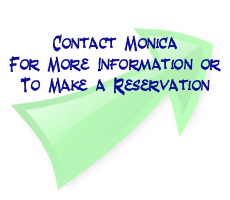 If you are an artist and would like to use Monica's fully-equipped studio during your vacation, contact her to see if she can accommodate you during your time on the island.
More Info
Monica has an amazing gift — her artwork is so beautiful and we have admired it many times. We even own some of her work! At the Treehouse Studio, she has many pieces (oils, watercolors and mixed media), originals and prints for you to see and purchase if you want. Her work can also be seen/purchased at the Puerto Rican Art & Crafts store in Old San Juan, and on the internet at Fine Art America.
Normally, when we review an activity that is not free to the public, we pay the admission price out of our own pockets. However, we just want you to know that Monica was kind enough to offer us this trip for free. While we don't feel that this free ride influenced our review one way or the other, we felt that we should tell you, just as a matter of fact.


PuertoRicoDayTrips.com assumes no responsibility regarding your safety when participating in the activities described in this article. Please use common sense! If your mother or that little voice in your head tells you that you are about to do something stupid … then don't do it!