Get Ready for a Unique Outdoor Experience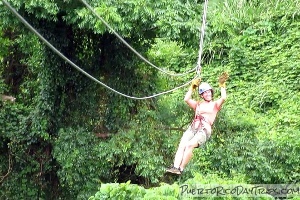 I know many people go on vacation to just relax and do nothing. But if you want to experience something fun that will get your blood and adrenaline pumping, try a zipline adventure trip. Ray and I enjoy these adventure tours very much, so when we find a new company that offers it, we have to give it a try.
One of the newest courses here in Puerto Rico is Unique Outdoor Experience "Tree Top Adventure at Floriham" in Canovanas. 2/15- New Info- the adventure described below is no longer offered. But they have other trips available. This adventure as everything that you need to make a memorable vacation experience — zip lines, rappeling, and hanging bridges.
Ziplines, suspension bridges, rope work, and rappelling used to only be used by scientists and professionals, as a means of working and studying plant and wildlife up in the treetops (or forest canopy). That's why so many of these activities are called canopy tours. But these skills have become all the rage since they were made into a "recreational sport" in 1992. Since then, these treetop adventure courses can be found in many places around the world.
Here in Puerto Rico, we have a number of companies that are offering this type of sport, but each one offers their own take on the skills, so none of them are exactly the same. Ray and I spent one morning with the guys at Unique Outdoor Experience and had a lot of fun on their tour.
Our Trip
We (me, Ray, and our 16 year old nephew Nick) met Giovanny (owner and head guide) and the other 3 people in our tour in Canóvanas, and then drove to the tour site up in Cubuy. After signing the usual waivers, meeting our other guides (3 more guides — Cristian, Omar and Masso) and gearing up (harness, helmet and gloves), we walked down hill to a mini/demo zipline.
The guides are all bilingual and nice guys. They all met in the Boy Scouts and decided to use some of the skills they learned in the Scouts and start a business. Great thinking! But I digress …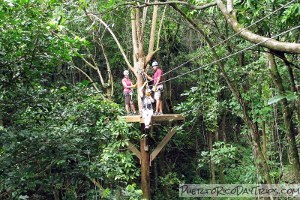 At the demo zipline, they explained the gear, the general working of a zipline, and what we would have to do to safely have a good time. The 3 of us had all ziplined before. This was the first zipline experience for the other 3 people in the group.
Since there were 4 guides, they spread out onto different platforms. This allowed us to zip quickly from platform to platform, and there was always a guide there to clip you on/off each zipline or safety cable. The course is made up of a few ziplines, then a hanging bridge, then more ziplines, another bridge, more ziplines, and then a rappel for the finale.
So we started off over the first couple ziplines. Zip, Zip, Zip! 5 of us came over quickly and then it was obvious there was an issue with the last person in our group … it turns out she was deathly afraid. But she wanted to do it.
Giovanny and the guides were really great with her. She went tandem with them the whole time. About half way through, there is a way to opt out and get out of the trees, but she was determined to finish. And she did finish — she completed the whole course, even though she said she was trembling the entire time.
All in all, Unique Outdoor Experience has 8 zip lines, with 2 rope bridges mixed in. The zip lines range from about 100 feet to almost 200 feet long, and they range in height from 10 to 50 feet above the ground. The hanging bridges were also a fun — 77 feet and 150 feet long. And at the end, you rappel down from the last platform (about 45 feet).
This was Nick's first time rappeling. He said, after his initial fright of stepping over the edge with just some ropes holding him, that he finally remembered to breathe, and he did great working the ropes and rappelling device. If you don't want to rappel, they can just lower you down using the ropes.
At the end, they passed out snacks and water, and then we walked back up to the office. It is a bit of an uphill climb, but they make sure you take your time and have a safe experience. Note: as an update- 2012 they also now hike to a waterfall on the property where you can swim.
Some Thoughts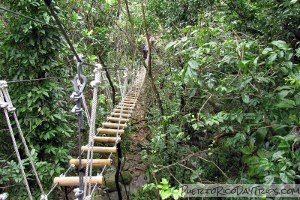 This was an enjoyable trip. There was a just a little discussion about the ecology of the area; it was mostly just moving from platform to platform. The hike between the office and the zipline course is steep, and it can be muddy/slippery when wet. There are some steps up to the platforms. You must wear closed-toe shoes with good grip (sneakers or hiking shoes). You also must be in decent physical shape.
Like all zipline activities, the harness will be tight around your legs, so we suggest long pants (or long shorts) to protect your thighs from harness chaffing.
Details
The cost is $125 per person.This company also offers other tours around the island- check their webpage: https://www.facebook.com/UOEPR/info?tab=page_info
If you're happy, let them know it — Don't forget to tip your your bartender, tour guide or trip operator if you enjoyed yourself. Gratuities are appreciated and typically aren't included in the price they charge you.
They offer a morning trip (around 9am) and an afternoon trip (around 2pm). They also offer a nighttime trip around the nights of the full moon.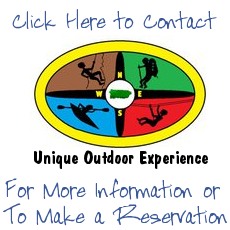 There is a minimum weight of 50 pounds and a maximum weight limit of 250 pounds. Minimum is 8 years old. These limits may be a bit flexible, you need to call and talk with them about your particular situation.
They need a minimum of 2 people to do a tour. If you're a small group, they will put you in with other people.
The tour takes about 3 hours, but it could be more or less depending on the number of people on your tour and how fast everyone goes.
You can call 787-366-3555 for more information or to make a reservation.
They can help arrange transportation for groups of 4 people or more.
We are in the process of updating the maps we use on our web site. While we're working on that, you can click on the GPS coordinates below to view the location on Google Maps ...
PuertoRicoDayTrips.com assumes no responsibility regarding your safety when participating in the activities described in this article. Please use common sense! If your mother or that little voice in your head tells you that you are about to do something stupid … then don't do it!