Go on Safari at the Museo de Vida Silvestre
This museum is permanently closing it's doors mid 2017.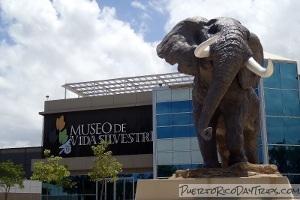 The new Museo de Vida Silvestre (or Wildlife Museum) in San Juan allows people to see what all sorts of wild animals from around the world look like. It is filled with a variety of mounted animals in displays that depict their natural origin and behavioral habits. It is a great way to learn about animals from far and wide without ever leaving the metro area.
The Museum
Ray and I love animals and always enjoy learning about them. We have been spoiled by visits to other Natural History museums (like the Smithsonian, the Natural History Museum in NYC, etc.) and loads of zoos, and we've had the opportunity to observe different types of wildlife out in their native habitats. But not everyone is as lucky as we are. So this museum fills a void for many people.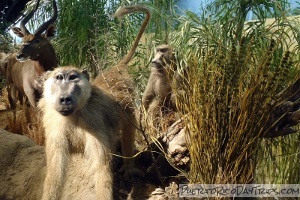 We heard about this museum long before its opening, and we eagerly awaited the day when we could walk through the museum ourselves. While we waited for opening day, we got into the habit of jokingly referring to the museum as the dead animal zoo since it was to contain real, stuffed animals.
We finally got a chance to visit the museum about a week after it opened, and we were pleased with what we found there. It makes us happy this museum gives more people the opportunity to become educated about the planet, its animals, and why we need to cherish and protect it.
Our Day at the Museum
The museum itself is not that large, but it is well done and presented. The ground floor has its main feature — a 2-story Tree of Life display featuring a huge Baobab tree, along with the many animals that depend on the tree for water and food. All sorts of wonderful animals are set there. It is amazing to see how long a giraffe's legs are!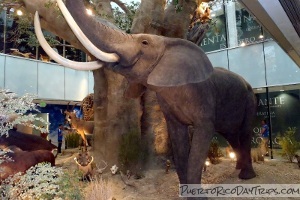 The second floor is divided into the 12 biomes (environments) that are found throughout the world. As you walked from biome to biome, the dioramas of animals and plant life changed. It was really good. I thought the artificial snow and water used in the displays was really lifelike. There were educational placards at the start of each biome. And they had some hands-on stuff for the kids to play on and learn about animals and their special adaptations.
You can walk around on your own, reading the information and really looking at the dioramas. There are English/Spanish bilingual signs at each display describing the animals and their habitat. But do not miss the guided tour. They have 6 educators on staff, and they are able to offer tours in Spanish, English and 3 additional languages. It was really good, and well worth the hour or so that it took.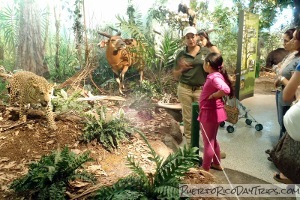 They start by explaining taxidermy and how the animal mounts were made. Then, the guide takes you around to each exhibit and discusses each biome and the animals that live there. They supplied lots of good information that was not on the signs. And they really involved the children along the tour. There is a short (7 minute) movie about the undersea world of Puerto Rico. It was very pretty and enjoyable.
The guides made it a point to explain why we need to protect the environments. They put an emphasis on those biomes that we have here in Puerto Rico, which is good and much-needed education for people on the island.
This museum is still in its infancy. They have big plans for it and expansion, including animals from Puerto Rico, a Sensory Safari for blind visitors, additional movies and a nice restaurant.
So Where Did They Get the Animals?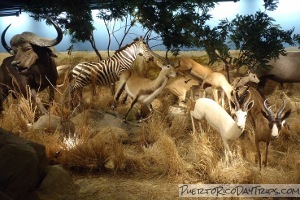 I would guess that, currently, about 90% of the animals on display in the museum are "real" (taxidermic specimens) and more are coming to replace the plastic "placeholder" animal representations.
I read there are about 200 animals on display. They said that most of the animals were donated. I don't know, but I have to assume (and hope), that they were not killed for this museum, but were already dead and are now being used for educational purposes.
Details
Admission is $10 for adults, $7 for kids and $5 for seniors 60 years old and over. Plus IVU (sales tax).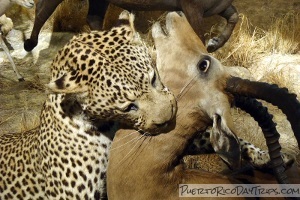 The museum is CLOSED.
Allow about 2 hours to get through the museum.
You can call the museum at 787-480-5440 for more information.
You can visit the Museo de Vida Silvestre web site or their Facebook pagefor more information.
The museum is located on Route 2 (John F Kennedy Avenue) in San Juan, near the golf driving range.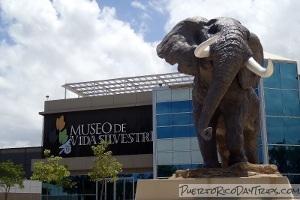 El nuevo Museo de Vida Silvestre de la ciudad capital de San Juan les permite a las personas observar como son los animales salvajes que habitan alrededor del mundo. Esta lleno de una variedad de animales disecados los cuales exhiben su origen y su hábitat. Es una gran forma para aprender sobre diferentes animales del mundo sin tener que alejarse de San Juan.
EL MUSEO
Ray y yo amamos los animales y siempre hemos disfrutado cuando aprendemos algo nuevo sobre ellos. Hemos sido agraciados al poder visitar varios museos de historia natural, tales como el Smithsonian y el Museo de Historia Natural de Nueva York entre otros. Tambien hemos tenido la oportunidad de observar diferentes tipos de vida silvestre y los animales que allí habitan. Pero no todas las personas son tan agraciadas, así que este museo llena un vacío existente para muchas personas que disfrutan de este tipo de actividad.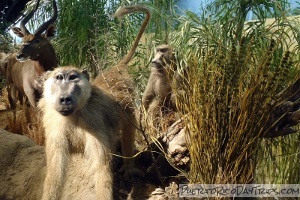 Escuchamos acerca de este museo mucho antes de que abriera y estábamos esperando su apertura ansiosamente. A menudo bromeábamos acerca del museo refiriéndonos al mismo como el museo de los animales muertos ya que no hay animales vivos allí, solamente animales disecados.
Finalmente tuvimos la oportunidad de visitarlo una semana después de abrirse al público y nos agradó lo que vimos. Nos hizo felices el hecho de que este museo educa sobre el planeta, sus animales y la necesitad de apreciarlos y protegerlos.
NUESTRO DIA EN EL MUSEO
El museo no es tan grande pero esta muy bien presentado. El primer piso tiene como atracción principal al Árbol de la Vida el cual tienen dos niveles y en él figura un enorme árbol de Baobab junto a muchos animales los cuales dependen de él para su subsistencia ya que del mismo comen y sustraen agua. Hay todo tipo de animales aquí. Es sorprendente ver cuan largas son las patas de la jirafa.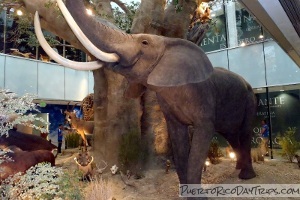 El segundo piso esta dividido en 12 ambientes del mundo animal. Mientras se pasa de un ambiente a otro, los dioramas de los animales y la flora cambian. Realmente bueno. Me pareció muy natural la nieve y el agua artificial usada en las exhibiciones. Tienen carteles educativos al comienzo de cada ambiente y diferentes actividades y juegos útiles para que los niños aprendan sobre los animales y como se adaptan de forma especial a su ambiente.
Si desea puede deambular dentro del museo por su cuenta mientras lee la información sobre los diferentes animales y aprecia los diferentes ambientes. Hay letreros en ingles y en español. No se pierdan la visita guiada. Tienen 6 educadores en el personal y pueden ofrecer tours en español, inglés y en 3 lenguajes adicionales. Disfrutamos mucho esta visita guiada o tour que dura más o menos una hora.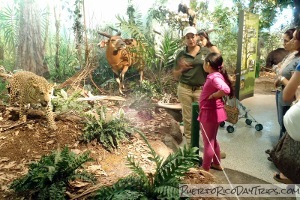 Comienzan por explicar sobre la taxidermia y como se disecan los diferentes animales. Entonces el guía te lleva a cada exhibición y discute cada ambiente y los animales que habitan ahí. Proveen muy buena información, adicional a la que se encuentra en los carteles. Tratan de que los niños se involucren en la charla. Hay una película corta (7 minutos) sobre las profundidades del mar de Puerto Rico. Muy buen tour y muy agradable.
Los guías enfatizan cuan importante es la protección del ambiente. Dan atención especial a los diferentes ambientes que existen aquí en nuestra isla, lo cual es realmente necesario para la gente que habita en Puerto Rico.
Este museo aún está en sus comienzos. Tienen grandes planes para su expansión. Entre otros, el incluir animales de Puerto Rico, un Safari Sensorial para personas no videntes, exhibir más películas y abrir un buen restaurante.
¿DE DONDE TRAJERON LOS ANIMALES?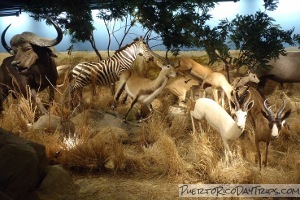 Me imagino que cerca de un 90% de los animales en exhibición son "reales" (especímenes de taxidermia) y que traerán más para remplazar las representaciones de animales no reales.
Estaba leyendo que hay cerca de 200 animales en exhibición. Dicen que la mayoría de estos animales fueron donados. No lo se, pero me gustaría pensar que estos animales no les dieron muerte para poder ser exhibidos en el museo, sino que ya estaban muertos y ahora se utilizan con propósitos educativos.
DETALLES
La admisión es $10 por adulto, $7 por niños y $5 para los ciudadanos de la tercera edad mayores de 60 anos. Tax de 7% es adicional.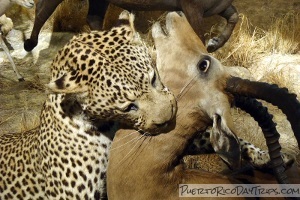 El museo abre de martes a domingo desde 10 am a 6 pm
Tomará cerca de 2 horas el recorrer el museo.
Para mayor información puede llamar al museo 787–480–5440
El museo esta localizado en la Avenida Kennedy (Carretera # 2) cerca del Campo de prácticas de golf.
We are in the process of updating the maps we use on our web site. While we're working on that, you can click on the GPS coordinates below to view the location on Google Maps ...
PuertoRicoDayTrips.com assumes no responsibility regarding your safety when participating in the activities described in this article. Please use common sense! If your mother or that little voice in your head tells you that you are about to do something stupid … then don't do it!