VW Enthusiasts Will Enjoy VolkyLand
July 2018- The Museum has usually closed, but occasionally they have a Sunday they open to the public. Check out their Facebook page for dates.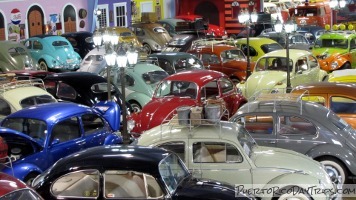 What do you do when your pastime or hobby gets out of control? You open an exhibition to show off your collection! That is a great thing if what you are collecting happens to be a type of car to which many people have a fond attachment.
The VolkyLand of Puerto Rico (or VolkyLandia) is a "museum" dedicated to "all things Volkswagon".
Located in the small coffee town of Yauco, it is one of the largest private collections of Volkswagon-related stuff in the world. The collection is open for tours only 1 day a week, so come revel in Volkswagon history!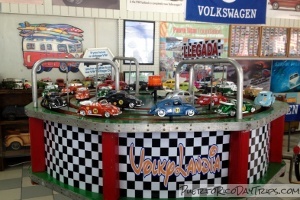 The Volkswagon Beetle (aka Bug) is one of the most popular cars ever manufactured. Millions were made starting in the late 1930s. The last original model rolled off the assembly line in Mexico in 2003.
People have deep attachments and fond memories of their own Bug. Everyone we talked to at the museum talked about their own old Bug — the model year, its quirks, the ease of fixing its quirks — it was pretty funny!
But VolkyLand is more than just a collection of VW Beetle cars (though they do have a bunch of them). It also contains a huge number of other types of VW cars and memorabilia, such as jewelry, lunch pails, toys, tools — almost everything that had the VW logo. VolkyLand is part of the collection of Dr Norman Gonzalez and his wife Diana.
Our Visit
OK — right off the bat — I had a VW Beetle in my college years so I "get it". But Ray and I are not at all what one would call car buffs. We figured we would get in, check it out, take some pictures, and get out 20 minutes later.
As it turns out, it is not a museum but a guided, formal tour. The tour is broken into two parts because the cars are on display in two different buildings. They have over 200 vehicles on display — mostly VW models (of all types), a number of kit cars, and some other cars affiliated with VW (like Porsche).
The front of the first building is the air-conditioned waiting area, filled with all sorts of VW paraphernalia.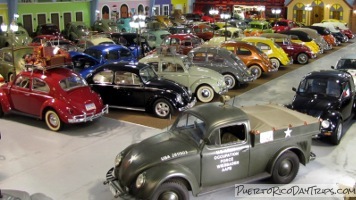 The tour started in the large open air "show room" behind the waiting area. This area had loads of Beetles (early models on up to the last 2003 model). But it also had loads of other VW styles like the campers, square backs, and some military vehicles. Most have been restored to showroom quality, though they did leave a few as is.
There are also some cool manifestations of VW that have been made into ambulances, tow trucks, fire vehicles, and even race cars. And, of course, famous cars like Herbie the Love Bug and some cars from the Valkyrie movie.
The tour guide stopped at each batch of cars and explained some of the more significant information about the different types, the changes through the years, and other VW factoids. It was actually interesting, even though we were not totally into VWs.
The second building had other types of VW-related vehicles (including an airplane with a VW engine), and other types of show cars that I guess the owner likes! A car enthusiast and a VW lover would be in Heaven here!
Our Comments on VolkyLand
All in all, it was interesting. However, we did have some real issues with VolkyLand.
When you walk in, there are no signs or any indication of what to do. Just lots of people milling about and a large counter against the back wall. We wandered over to a guy standing behind the counter figuring that he could help us. But he didn't speak English. It turns out that he is who you pay, and then you write the name of each member of your party in a book. This associates you to a number, which you need to remember since it how you will be called for your tour.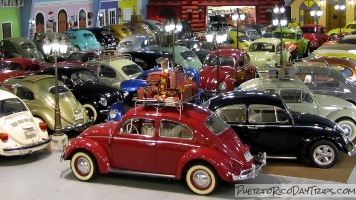 The problem is that these tours occur every 45 minutes or so, and are limited to a small number of people (maybe 20).
We went on a Sunday afternoon. When we got there, there were about 30 people already waiting, and as we waited (almost an hour), more people showed up. After a long time, they called 2 groups of about 20, leaving another 20-30 people waiting.
After the guided walking tour (conducted in Spanish), they return you to the waiting area. Then they call you in 6 people at a time to get into an electric cart for a riding tour of the second display area (which is in a large hanger across the parking lot).
Since we had 20 people in our group, we ended up waiting another 20-30 minutes for this part to start.
All in all, what we figured to be a quick museum visit turned into a 2½ hour stop, much of which was spent just hanging out in the waiting room. It is very popular!
Details
Admission is $10/person. Kids under 12 are free. Parking is free in the adjacent lot.
The museum is usually closed, so check if opened before going. Occasional Sundays, 9am-4pm
Our tour was in Spanish. We were told that they can offer tours in English (or bilingual) if you call ahead and make arrangements for a bilingual guide. But probably not on the weekend (when they are busiest).
Allow at least 2 hours, especially if you go on the weekend.
You can call them at 787-267-7774 or 787-267-7775 for more information.
You can visit the VolkyLand web site for more information.
VolkyLand is located on Road 121 KM 13.2 in Yauco. To get there, take Route 52 to Route 2 to exit 198. Turn left at the second traffic light onto Road 121. Continue on Road 121 toward Sabana Grande at the Y in the road. Eventually, you will see the VW Beetle on the pole on the left.
We are in the process of updating the maps we use on our web site. While we're working on that, you can click on the GPS coordinates below to view the location on Google Maps ...
PuertoRicoDayTrips.com assumes no responsibility regarding your safety when participating in the activities described in this article. Please use common sense! If your mother or that little voice in your head tells you that you are about to do something stupid … then don't do it!