Take a Fishing Trip out of Fajardo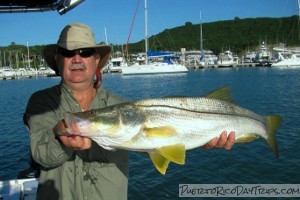 A couple hours on the water … relaxing … waiting until … SNAP … you have a bite! And then fighting the fish into the boat.
If you are a fisherman you know how enjoyable it is to spend time out on the water, especially when you catch something. While no captain can guarantee a catch, Captain Marcos of 787 Fishing or Light Tackle Paradise is known to have lots of luck.
He takes people out from Fajardo, and features Light Tackle and Fly Fishing, but is also equipped with rods/reels for Deep Sea Fishing, Bottom Fishing, Night Fishing — anything and everything any fisherman would want.
We don't fish, but our friend Wally is an enthusiast. Any time he can drop a line into the water, he will. He has been out with many boats here in Puerto Rico, and his absolute favorite is Captain Marcos. So, we decided to interview him in order to document his experience from his "birthday" fishing trip last week.
Wally's Birthday Trip
Wally took Captain Marcos' half-day morning trip with friend, and fellow fisherman, Anton. Wally had been out with Captain Marcos a few time before, and though he always came home with some type of fish for dinner, he had never caught a big-game fish. He had had some bites in the past, but never landed it — so he was on a birthday mission! There are different types of game fish available year-round off of Fajardo, including Tarpon, snook, and bonefish.
It was a beautiful morning, and the two of them, along with Captain Marcos, set out in the 26-foot boat. Wally says that both of the boats Captain Marcos has are catamarans, so there is a large flat deck, which makes for a nice, stable platform for fishing. Both boats have a shaded area and a few bench seats. Wally brought their refreshment of choice (homebrew beer) and stored them in the provided icy cooler. Captain Marcos provides water and soda.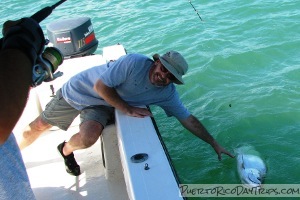 Wally says that you can tell Captain Marcos what kind of experience you are hoping for, and that he just seems to know where to go for that kind of fishing. Captain Marcos emphasizes light tackle fishing, so that you actually have to work at landing your fish. It makes for more fun and better stories.
Wally and Anton both were working their lines, and Captain Marcos set out a number of other lines with live bait. As it turned out, both Wally and Anton got tarpon bites, and both had a great time working the fish to the boat. Tarpon are large, strong fish, so they put up quite the fight. Wally said that Captain Marcos is beside you the whole time, offering suggestions to help. Each tarpon was about 40 pounds. Once you get them onto the boat and take photos for "proof", the tarpon are released.
After the tarpon work out, they decided they needed to catch something to cook for dinner. With that in mind, the fished a little longer and caught king mackerel, groupers and a nice sized snapper. When they got back to the dock, Captain Marcos cleaned and filleted the fish, and Wally and Anton went home with great memories, photos, and fresh fish for dinner.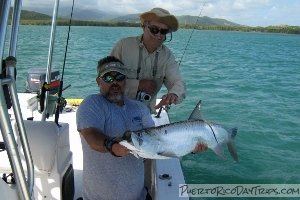 Wally said Captain Marcos is well-educated and experienced as a biologist and fisherman, so he learns something new from Captain Marcos every time he goes out. Captain Marcos explains stuff about the area, the fish and wildlife you see, and also offers lots of info about fishing techniques. Wally thinks that everyone — from newbies to experts — would benefit from a trip with Captain Marcos.
Although neither Wally nor Anton fly fish, Captain Marcos also offers fly fishing for tarpon. He has bait casters and spin casters, so you have many different types of fishing opportunities — from reef fish to big "game fish". Marlin, sailfish, wahoo, tuna and mahi mahi are in season at different times of the year in deep water and inshore. Tarpon, bonefish, snook, and other gamefish are typically available year-round just minutes from the marina. They go out east from Fajardo, so you get great scenery as well as great fishing!
Details
4-hour inshore fishing trips are offered at 7am and at 1pm. Check their website for current prices. Deep sea fishing and extra hours are available for an additional fee.
8-hour fishing trips are offered at 7am, on the 26-foot boat only, with a maximum of 6 people. Check their webpage for current prices. Extra hours are available for a fee.
If you're happy, let them know it — Don't forget to tip your your bartender, tour guide or trip operator if you enjoyed yourself. Gratuities are appreciated and typically aren't included in the price they charge you.
All trips include water, soda, and ice. Alcoholic beverages are not provided.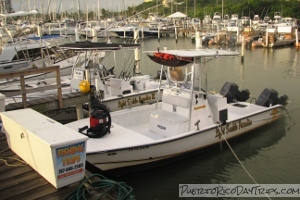 Kids must be at least 5 years old to go on any of these trips.
You can call 787-646-2585 or 787-FISHING (347-4464) for more information or to make a reservation.
You can visit the 787 Fishing website for more information.
In addition to fishing, Captain Marcos is available for sightseeing and bird watching trips. Both of his boats are handicapped accessible. The boats have a few seats, some shade, but no restroom.
Captain Marcos uses Puerto Chico Marina in Fajardo. See the map below for directions.
The Puerto Chico Marina is about 1¼ hours from the San Juan area, and about 30 minutes from the Rio Grande area.
The photos in this article were provided by our friends Wally and Marina Lawson and were used with their permission.
Some other fishing boat charters available from Fajardo include
Click on a placename below to view the location on Google Maps ...
PuertoRicoDayTrips.com assumes no responsibility regarding your safety when participating in the activities described in this article. Please use common sense! If your mother or that little voice in your head tells you that you are about to do something stupid … then don't do it!