Family Fun at Aguadilla Treehouse and Park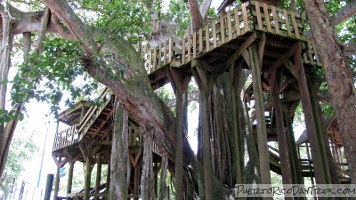 If you are looking for a fun place that the whole family can enjoy, head to Columbus Park (Parque de Colón) on the waterfront in Aguadilla. This little park has something for everyone in the family — a wooden boardwalk overlooking a small beach, playground equipment, and a big wooden treehouse for the kids.
The treehouse (Casa del Arbol) is really nice. It is a large wooden structure built around a huge Banyan tree (a type of Ficus tree).
There are stairs, walkways, overlooks, and benches. All along the route there are signs (in Spanish) describing the tree itself, and other ecological and historical things — all written from the tree's point of view.
I really liked this tree house — it brings out the kid in everyone. But watch your head on the walkways, the tree branches go where they want!
Besides the treehouse, there are a number of grassy/sandy areas with playground equipment and picnic tables.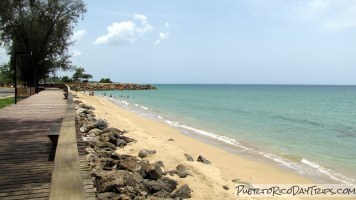 This park is all oceanfront. There is a wooden boardwalk right along the waterfront, and with benches where you can relax and watch the sunset. For beach lovers, there is a nice little beach area here also — though there are no life guards on duty, so be careful.
We also saw bathrooms and food kiosks, but these were not open when we visited. Those are probably open on weekends and in the summer.
The cross monument (Cruz de Colón), which marks the spot where Columbus supposedly landed on/claimed Puerto Rico in 1493, is here, too. Although, this historical "fact" is disputed by a few of the other western towns.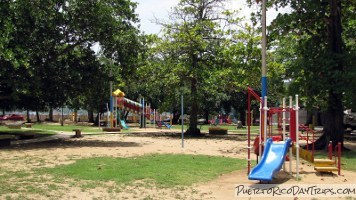 There was also a small, but nice looking, river boardwalk that is currently closed for repairs. I hope they repair and reopen this area, as it looked very pretty, and it would probably be a good place to watch birds and other wildlife in the mangroves along the river.
While you are in the area, you might want to check out the Aguadilla Ice Skating Rink, or the Skate Park.
Details
There is no charge to use the park, beach, nor treehouse.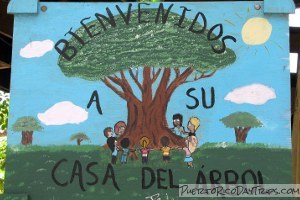 The treehouse is open Monday to Friday from 8am to 3:30pm, and 8am to 5pm on weekends.
Driving directions once in Aguadilla — Follow Road 440 south along the ocean. Road 440 becomes Road 442 or Paseo Colón. Continue south on Paseo Colón until it ends in the park.
Click on a placename below to view the location on Google Maps ...
PuertoRicoDayTrips.com assumes no responsibility regarding your safety when participating in the activities described in this article. Please use common sense! If your mother or that little voice in your head tells you that you are about to do something stupid … then don't do it!