2018 Aibonito Flower Festival
The dates of the festival for 2018 are June 29 to July 8. 2018 is the 50th year of this event!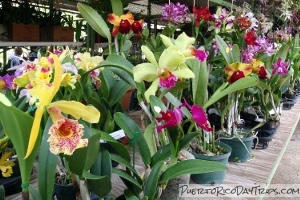 Every year, the town of Aibonito hosts the largest plant show & sale on the island. It features flower & plant displays, a large section for plant sales, live local music shows (of course) and food kiosks.There are also some rides and games for the kids.
My favorite part is the rows and rows of booths selling all kinds of plants — orchids, fruit trees, vegetable plants, heliconias, gingers, hibiscus … just to name a few. I look forward to this event all year and it is now that time of year again!
In 2017, the Aibonto Flower Festival (Festival de Flores de Aibonito) will be held from June 30 through July 9. This is the 49th anniversary of the Flower Festival!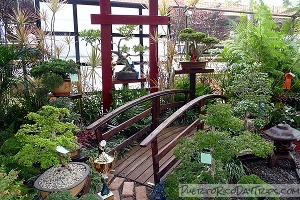 Finding the Festival is not too difficult — just follow the cars! It is a hugely popular event. This is one of the town's claims to fame — they even have a permanent Flower Festival Area, behind the Coliseo los Polluelos de Aibonito. This is where all the "official" sales booths, entertainment and food kiosks are set up. In addition to that, you will be able to find small vendors set up selling everything from plants to perfume, flowers to food all along the roads leading to the park.
Most people go on the weekends and in the afternoon. So, if you want to avoid the biggest crowds, plan on going mid-week in the morning.
If you are a tourist from the States, just keep in mind, the USDA does conduct mandatory luggage inspection at the airport. So if you plan on buying plants to take back the the States, you might want to review the Predeparture Passenger Baggage Inspection Notice for Travelers from Puerto Rico to the US Mainland (PDF file) regarding what plants you are allowed to take home with you.
Entertainment Schedule for 2018-
This is the entertainment schedule published by the event organizer. It is subject to change.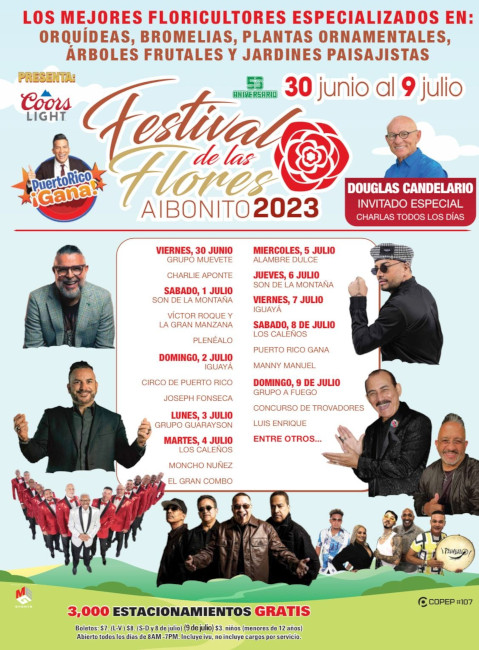 Friday, June 29
11am-3:30pm: Tati Caraballo y su Trio/Local Talent
• 3:30pm-5pm: local talent
Saturday, Juune 30
• 10:30am-2:45pm: Los Calenos
•2:45p-3:30p- Atencion Atencion
•4pm-5:30pm: A son de guerra
Sunday, July 1
• 10:30am-12:30p: Orquestra Muevete
• 12:30pm-3:30pm: Concurso de Trovadores "Pico a Pico"
• 4pm-5:30 pm: Charlie Aponte
Monday, July 2
• 11am-4pm: Conjunto Variedad
Tuesday, July 3
• 11am-4pm: Grupo Saborinquen
Wednesday, July 4
• 11am-4pm: Tati Caraballo y su Trio
• 4pm-5:30 pm: Elvis Crespo
Thursday, July 5
• 11am-4pm:Waldo Torres
Friday, July 6
11am-3:30pm: Conjunto Varidad
• 4pm-5pm: Orquestra Muevete
Saturday, July 7
• 11am-4pm: Local Talent
• 4pm-5:30pm Pedro Capo
Sunday, July 8
• 10:30am-2pm: Los Calenos
• 2:00-3:30p: Moncho Nunez Y su Orq
• 4pm-5:30pm: El Gran Combo
Check Sanabria Events Schedule for the complete schedule.
Details
Entrance fee to the festival is $6 per person (M-F), $7 per adult Sat, Sun and July 4th. Kids under 12 years old are $2. This includes Tax. Parking is free. Tickets are available at the door.
In 2018, the festival starts on June 24 and ends on July 4. The festival is open from 8am to 6pm every day.
Including driving time from San Juan, plan on spending most of a day.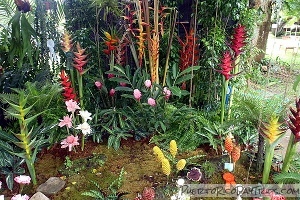 From San Juan, take Route 52 South to exit 39 (it's the second exit for the town of Cayey). Turn left onto Route 1 south. Follow Route 1, past Route 206, until you get to Route 7722. Turn right onto Route 7722. Follow Route 7722 until you get to Route 722. Turn right onto Route 722. The festival is on 722, on your right at KM 6.7.
The drive from San Juan will take about 1½ hours.
We are in the process of updating the maps we use on our web site. While we're working on that, you can click on the GPS coordinates below to view the location on Google Maps ...
PuertoRicoDayTrips.com assumes no responsibility regarding your safety when participating in the activities described in this article. Please use common sense! If your mother or that little voice in your head tells you that you are about to do something stupid … then don't do it!