Disappointment in the Town of Añasco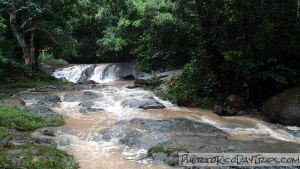 During a trip to Rincon, we took some time to explore the western coast and tried to find things in various little-known towns. Añasco, a town just south-east of Rincon, is along the west coast of Puerto Rico and has beaches and forests to explore. We didn't have a lots of time to spend in this area, but we did visit two points of interest.
Unfortunately, they left me sad. Let me explain …
As we explore the island, we find many wonderful things … and sometimes disappointments. One of the biggest disappointments for me is when I see that the local and/or state government had invested a lot of money into some great project that they don't maintain over the long term — the investment gets destroyed by nature, vandals, or both.
That is what we encountered, to varying degrees, in Añasco. We visited the Salto de Encantado (Enchanted Waterfalls) and the Mirador (Observation Tower). Both needed work to make them great again, though they are both sort of usable.
The Mirador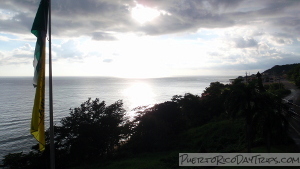 This lookout tower is easy to see and get to, since it is located right on Route 115 as you drive south out of Rincon. There is plenty of parking, the view is great in the parking area, and it just gets better as you go up into the tower.
Made of concrete, it seems sturdy and about 3 stories high, so you get a really nice view of the ocean and the Mona Passage. I am sure you could do some whale watching or sunset viewing from here. Officially, it's open 7am-6pm, 7 days/week, though I don't know if it is ever "closed" since I didn't see a way to prevent people from entering it.
Obviously, some people use this tower to hang out, enjoy a beer or two, and, when they are finished, relieve themselves and break their bottles all over the steps, and then spray-paint graffiti all over the tower. It needed a good cleaning. Update-7/19- Good news, the Mirador has been cleaned and repainted and is nice and clean! Hope it stays like that!
Salto de Encantado
This was once a beautiful place, with walking paths and bridges across the cascading water and around the park. It had picnic areas and benches so people could enjoy the day in this pretty place. Now, it has been left to decay in ruins.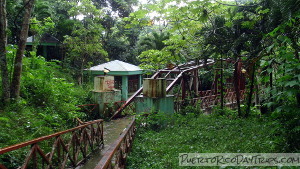 The wooden boardwalks and cement paths are slick with mold (I almost fell a few times just walking around for the few minutes we were there). The paths and picnic areas are overgrown. The picnic shelters and bridge are covered with graffiti. There was trash everywhere. Even the steps down to the water were partially destroyed.
That being said, the water cascades are very pretty (they look brown due to recent rains).
It was a little difficult to find since there were no real directions or signs. Here are some directions that should help: Take Route 402 until KM 1.8, where you will turn left onto El Salto Road. There is no sign for this road, so look for the Gulf gas station right there on the corner and there is a hospital-looking building across the street. Follow this road until you see the wooden boardwalk on the right-hand side. There were only a few spaces for parking.
I am not writing the town of Añasco off my list — there are still more things on my list of sites to see there. I can only hope that other sites in that town are maintained better than these two.
Click on a placename below to view the location on Google Maps ...
PuertoRicoDayTrips.com assumes no responsibility regarding your safety when participating in the activities described in this article. Please use common sense! If your mother or that little voice in your head tells you that you are about to do something stupid … then don't do it!