Walk Angelito Trail to a Great Swimmin' Hole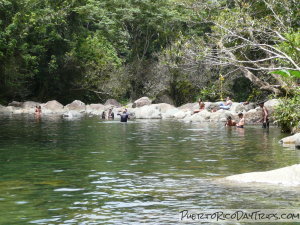 Update- This trail is open, however ONLY PARK IN DESIGNATED AREAS. If designated parking is full, try again later. They will ticket cars that are parked illegally.
What could be more refreshing than taking a swim in a crystal clear river on a hot day? If you are in El Yunque and want to do some swimming, you can try Angelito Trail. The trail leads to Las Damas pool in the Mameyes River.
This trail is not on the trail map the forest gives you, so here are the secret directions:
The trail is located on Road 988, which is a left turn just a little after El Portal Visitors center on Road 191. There is no trail head sign, but you will find the trail on the right side of the road, at KM 3.5, which is just about ½ mile after the river bridge. There is no real parking area. Just pull off to either side of the road.
This short trail (about ½ mile) is an in and out and takes about 15 minutes to walk one way. As you will notice, this trail is lower in the forest than the other trails, so you will see different types of vegetation. Things we noticed were lots of heliconias and gingers, breadfruit trees (of the Mutiny on the Bounty fame) and philodendrons climbing on many trees. You will see fewer of these things as you walk on trails higher up the forest.
The trail starts out as packed gravel, but deteriorates to uneven mud and concrete. As long as it is not too muddy it is not too difficult to walk, but it is not level or even. You will eventually get to a river crossing , there is a bridge to cross. This is pretty and there is a little pool there, but KEEP GOING! The prize is a little further on.
At the end of the trail is a fantastic pool area where people love to swim, the best that I have seen so far in my travels on the island.
To the right is a natural pool that is about 8+ feet deep in areas. When we went, there was a rope swing (which I think is now gone) and some local kids were swinging from it and dropping into the water. Besides that area, to the left of the trail end, there is another more shallow pool with a small natural beach. And all along the huge boulders, nature has made little "Jaccuzzi" areas. It feels great on a hot day!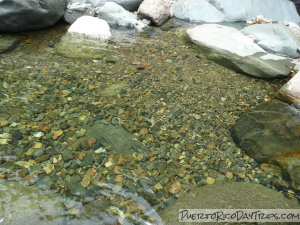 The water is crystal clear – fed from the rain forest above. There were lots of little fish swimming all around us as we waded through the river.
Stay out of the rivers when it has been raining, flash floods are common. Some of the rocks are slippery, so be careful. There are no facilities here (such as bathrooms, etc.), please carry out your trash, this is soon to be a trash-free zone.
Note: this is very popular with locals in the summer, and especially on holidays and weekends. If you want a more peaceful experience, go mid-week.
There is now a park employee set up at the beginning of the trail, where they can see/watch the parked cars.
There is no entrance fee for the national forest.
El Yunque is open daily 7:30am until 6:00pm . Note: The trailhead for this trail is on a public road, so this area is always accessible (no gate).
Angelito Trail will take about 15-20 minutes each way.
You can visit the El Yunque National Forest web site for more information.
Follow Route 3 to Rio Grande. Look for the intersection with Route 955. There's a big sign pointing to the rain forest. Follow Route 955 to Road 191. Turn onto Road 191 (there's another sign for the rain forest here) and you're there!
Click on a placename below to view the location on Google Maps ...
PuertoRicoDayTrips.com assumes no responsibility regarding your safety when participating in the activities described in this article. Please use common sense! If your mother or that little voice in your head tells you that you are about to do something stupid … then don't do it!