Get Nostalgic at the Drive-in Theater in Arecibo
Update- The Auto-Cine /Drive in movies has reopened! They are open and operating their movies. Ticket window opens at 6:30pm.
Surprisingly, I never went to a drive-in movie growing up … I guess they just weren't near where I lived. But I would see them all the time on TV shows and in movies. They looked like fun! Now, too many years later, I finally went to a drive-in and it is fun! The Auto-Cine Santana in Arecibo is the last drive-in movie theater on the island. It is an experience I think everyone should try. They show new movies, but have old-fashioned prices, it is a great budget-friendly, family experience. Their newest feature is that they have two screens, each showing a different movie, but at the same time!
Background
In the 1950s, when Auto-Cine Santana opened, there used to be other drive-ins around Puerto Rico. But times changed, and people wanted indoor theaters. Throughout the years, the other drive-in theaters closed. Auto-Cine Santana also closed for a bit in the 1980s, but re-opened in the 1990s and, luckily, is still going strong.
The town of Arecibo is on the north coast of the island, maybe a little less than 1 hour from San Juan. There are a number of things to do in the area during the day, but it is worth staying late and catching a movie at the drive-in. Most of the movies are shown in English, with Spanish subtitles. However, some of the children's or animated movies are in Spanish.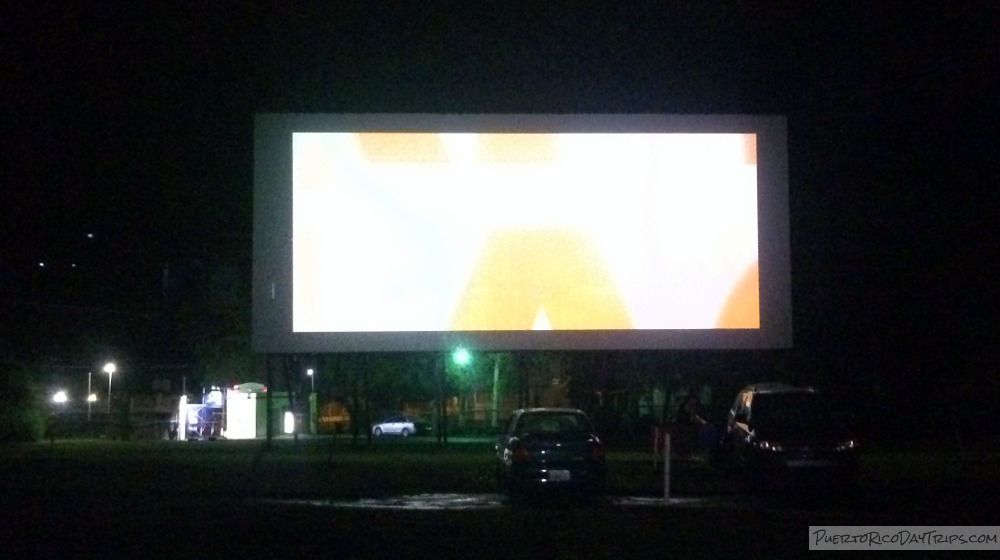 Our Night at the Movies
We went on a Wednesday night, and the movie started on-time. We arrived about 20 minutes early. You pay for your tickets at the ticket office at the gate, and then just park anywhere between the old "speaker posts". There were only about 7 cars the night we went, so we got a prime spot!
The large screen can be seen at any of the hundreds of parking spaces in the field. To watch the movie, you can stay in your car, or set up your "spot" with lawn chairs outside by your car (or even sit on your car if you wanted). Now you are set to tailgate — they allow you bring any snacks and drinks you want in your cooler.
Before the movie started, we hit the concession stand and restroom. The popcorn was good and inexpensive (about $1.50/bag). They also have a huge, old-style movie projector on display. After all that, we headed back to the car (and angled it so the folks in the back seat could see), tuned the radio for the movie audio, and settled in for the movie. We started with the windows open (bring insect repellent), but it started to drizzle, so we had to close the windows and use the AC. They also have some outside seating (hard, cement benches).
We had a great time … everyone talking back at the movie, and passing around snacks. In our own car, we could comment on the movie without bothering anyone else, and had our own climate control, so we were comfortable. It was great!
This is an experience I hope continues for a long time. I highly recommend going. The price can't be beat, and the movies are new release and change every week or two. All around a great experience the whole family can enjoy.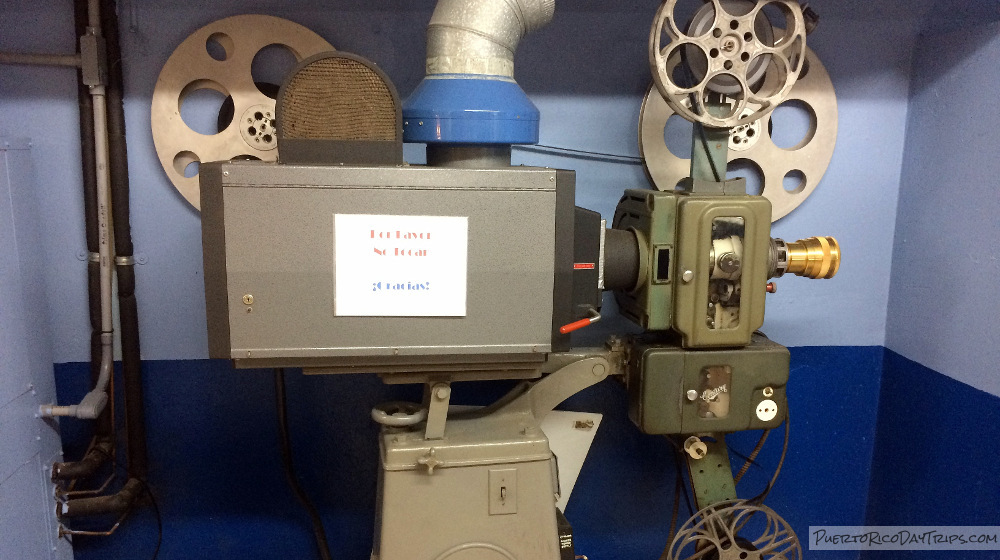 Details
Tickets are $3.50 per person.
Show times are Monday, Wednesday, Thursday, 8pm, Friday, Saturday and Sunday at 7:30pm and 9:30pm . (closed Tuesdays)
You can call Auto-Cine Santana at 787-881-7869.
Check the Auto-Cine Santana Facebook page for more information and to see what is currently playing.
You need to tune your car radio to 107.9 FM for the movie audio.
Directions from San Juan … Take Route 22 west to exit 64. Turn left at end of ramp, and then right onto Route 2 west. Then turn left onto Road 6662. The theater is on Road 6662 at KM 0.5 on your left.
Directions from the west … Take Route 22 east to exit 71. Turn left at end of ramp, and then a quick right on Road 6662. The theater is on Road 6662 at KM 0.5 on your right.
The drive from San Juan is normally less than 1 hour, without traffic. If you are heading out of San Juan during rush-hour (4pm to 7pm), you'll end up sitting in traffic, so watch your time.
Click on a placename below to view the location on Google Maps ...
PuertoRicoDayTrips.com assumes no responsibility regarding your safety when participating in the activities described in this article. Please use common sense! If your mother or that little voice in your head tells you that you are about to do something stupid … then don't do it!