Visit the Arecibo Lighthouse – A Great Park for Kids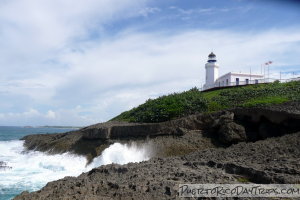 If you have children, I think they will love this place. The Arecibo Lighthouse & Historical Park sounds all historical, boring and grown up, but don't be fooled. This is a children's park that tries to be mildly education, but mainly it is just for fun. We stopped here one afternoon on a trip out "west". When we got there, it was full of children's laughter and squeals!
I don't have kids, but I am pretty much just a big kid myself. So we stopped in. They give you a guide map of the place (they have them in English and Spanish). The park is not huge, but it has some neat, kid-friendly stuff.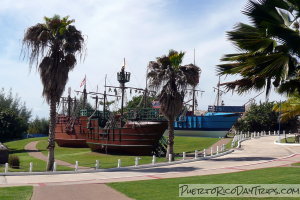 You start at the replica Taino village. It has huts and a "ball field" with the typical Taino symbols. It also has life-sized "mannequins" representing the chief and family. The woman is bare breasted, which must be a hoot for the kids!
Then the ships – they have 1/3-sized replicas of Columbus's ships and a larger pirate ship – that the kids can climb and play around on.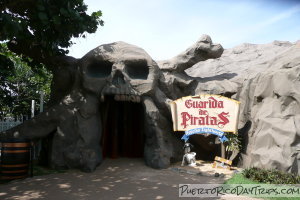 The "best part" is the Pirates' Hideout. It is an air conditioned cave that has all sorts of twists and turns in the dark with dioramas of pirates doing things like burying treasure or drinking rum or just playing with the gold. I bet it could be a little scary at first for little kids (it is dark and they have a motion sensor parrot at the beginning that is startling). But coax them to continue in, I think they are going to love it.
Right in the middle of the cave is an aquarium. One large tank has a sunken ship with (small) sharks and other fish swimming around. The other exhibits have different fish, an alligator, some turtles, etc. I really liked this pirate cave, kids would LOVE it! Of course, aka Disney, you end in the gift shop, full of fish and pirate-related stuff.
After the cave, we stopped for a bite to eat and a drink. Don't expect too much – a lot of fried food, hamburgers, chicken nuggets and hot dogs. But an empandilla and a soda suited us fine for a snack. And the view is lovely – you sit on a deck overlooking the blue Atlantic waters. You can see the natural caves the water has made in the limestone all along the coast here.
After lunch, we went to the lighthouse. Built in 1898, the lighthouse is in great shape.Locally called Faro "los Morrillos" de Arecibo. You have to walk up a pretty steep hill to get there. Inside the lighthouse they have some nautical antiques and things they found in the water. Then you climb some stairs and get to the viewing area. The views are great, once again.Note- The lighthouse is closed after Maria- you can't go inside.
From there, we went down to the mini zoo. Small area/pens for the animals. It has birds in cages – all sorts of parrots and love birds. There was a pony, a burro and a chicken or two. There also happened to be a puppy hanging around there, she was so cute!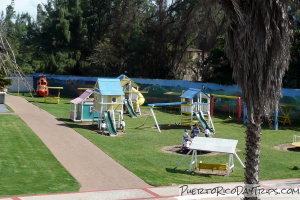 When you come out of the zoo area, you'll find a helicopter (which you can only look at from the outside). And then the thing that it seemed like was a big hit with the kids … a large playground. There were a few school groups there, and they were having a ball on the play equipment.
There are also a replica slave hut, a small wooden Jibaro house and a few other things. The guide map gives some small descriptions of what you are seeing. There are bi-lingual signs around the "educational" parts of the park, explaining the historical aspect of the feature. Unfortunately, when we went, a few signs were missing. I hope they are refurbishing them (which I assume so since the park was very well maintained).
New feature- 2013- Splash by the Lighthouse and free admission with park admission. It is for little ones, but it is fun with shallow splash pool and some small water slides. And there is also some boats with water pistols! Great to cool down on a hot day.
There is a clean bathrooms and changing rooms and lockers available also. The staff was all bi-lingual and very nice.
I think this park is best for kids from about 3-11 years of age, but there is something there that everyone can enjoy. This was a great stop during a trip out to this area.
The entrance fee is $12.00 for adults (13-64 years old), $10.00 for children (2-12 years old) and seniors (65+). There is a parking fee of $3.50 per car.
The park is open 9:00am – 6:00pm Monday to Friday, and 10:00am – 7:00pm on weekends. They are open regular hours on holidays, too.
Allow 1 or 2 hours, or more if your kids want to spend time playing.
You can call 787-880-7540 for more information.
You can visit their web site for more information.
Directions from the San Juan metro area: Take Route 22 West to exit 71 (Domingo Ruiz / Bajadero), and make a right at the end of the ramp, continue to the intersection with Road 2 and make a left. Continue on Road 2 to the next traffic light (with a Shell gas station) make two rights and take Road 681. At the intersection with Road 655 turn left. The park is located at the end of Road 655. Once you get to Route 2 you'll see brown signs for the park that you can follow.
Travel time from the San Juan area is about 60 minutes.
Click on a placename below to view the location on Google Maps ...
PuertoRicoDayTrips.com assumes no responsibility regarding your safety when participating in the activities described in this article. Please use common sense! If your mother or that little voice in your head tells you that you are about to do something stupid … then don't do it!