Learn About Rum Tasting at Bacardí
Bacardi is only open by reservation. Check their webpage for dates/tours/times.
If you like savoring good quality liquor, want to learn more about the how it is made, or even want to try it for the first time, the Bacardí Rum Tasting tour is for you. This tour includes a brief tour of part of the distillery ("behind the scenes"), but it also includes rum, and lots of it! You get to taste some of the best and most exclusive Bacardí sipping rums available. Afterwards, you can relax and enjoy the breezes and views at the Bacardí Pavilion. It's a great way to spend an afternoon.
The Bacardí Distillery is located in Cataño, just across the San Juan Bay from El Morro. It is a quick drive or ferry trip from Old San Juan. They offer a few tours, including a Historical Tour, a Mixology Tour/Class, and a Rum Tasting Tour/Class. Having done the other two tours, we had to complete the trio — so we went again to enjoy some rum on the Rum Tasting Tour.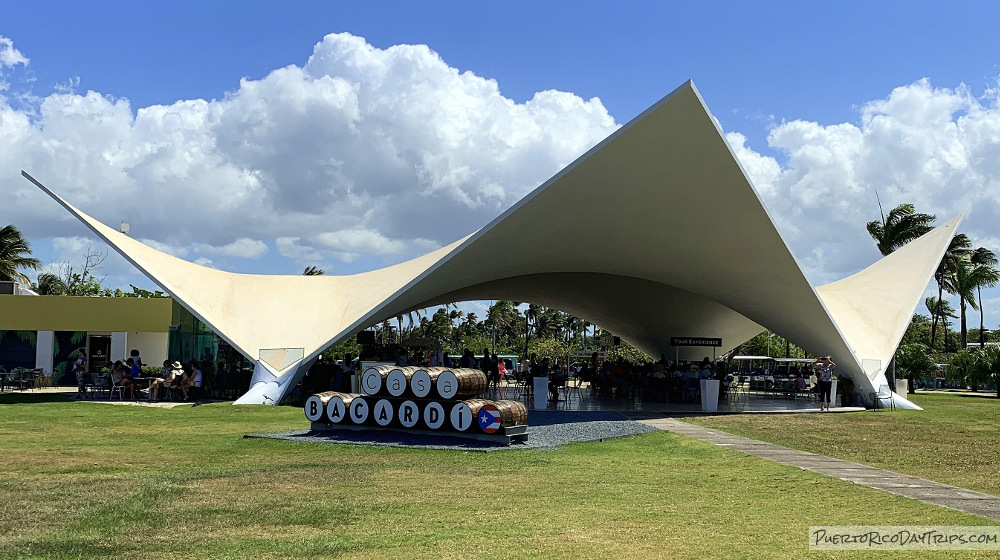 Our Tour
All the tours at Bacardí start the same wonderful way … they hand you a souvenir cup and a token for a free drink. We usually get there a little before our scheduled tour, so we have time to relax, enjoy our drink, and get in the rum mood. The pavilion is right on the bay, and it is open air. It is always breezy, which is really nice. But if you don't get there early, you can always enjoy your drink after your tour.
When you check-in for your tour, they give you a beeper, which goes off when it is time for your tour to start. You hop the tram for a short ride around the Bacardí complex, while the guide tells you about the buildings and art you are seeing along the way.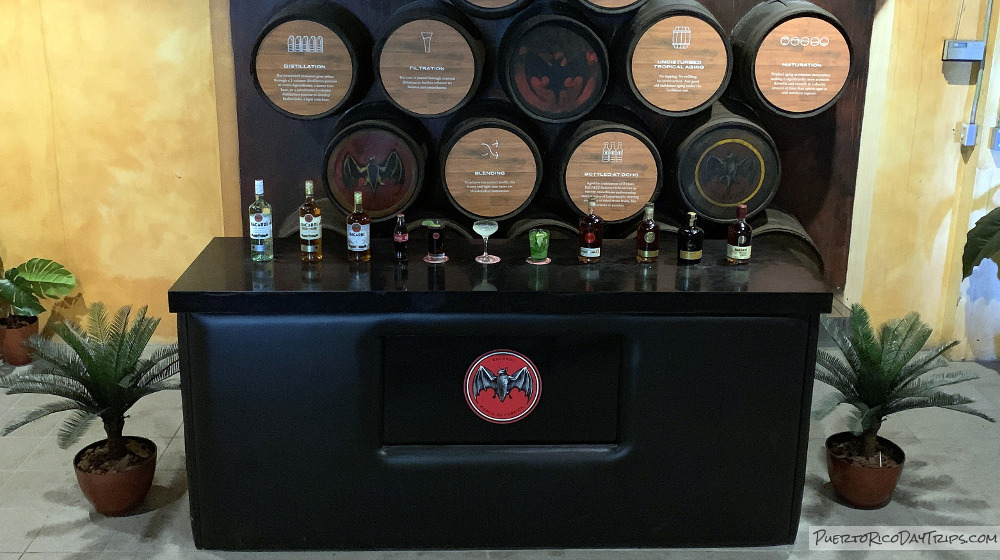 The tram stops at one of the buildings – the Cathedral of Rum. Here, they take you to a room that has art, historical things, and a cool bar. The guide explains all about the origin of rum, Bacardí's origin, and how the different types of rum are made. They give you time to take photos in this area. When we went, we went upstairs to an observation area. I am not sure they do this now, as they say you get a movie and family museum visit.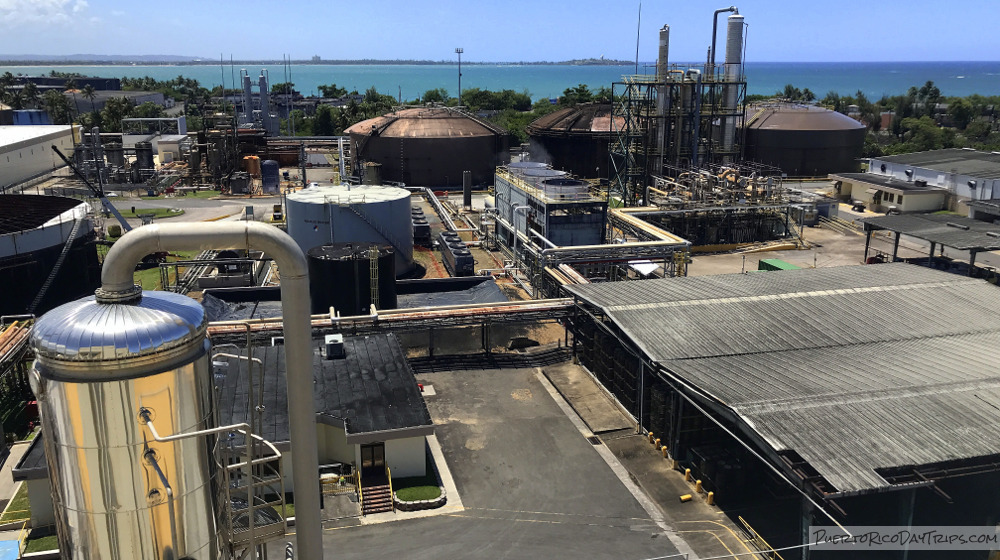 Then you go to the "classrooms" , where there is a place set up for each person in the class, with 6 covered snifters of rum. For the next 20-30 minutes the guide explains how to properly taste rum. We first sniff the rum, to find notes of flavors. Then the small sip where you swish it around your mouth before swallowing, to allow the tasting different qualities and flavors in each rum. Our guide explained how the rums are made, how they differ, and what makes each one special. Our guide also makes this an interactive tour … you talk and compare answers, likes/dislikes, and laugh with the other tour members.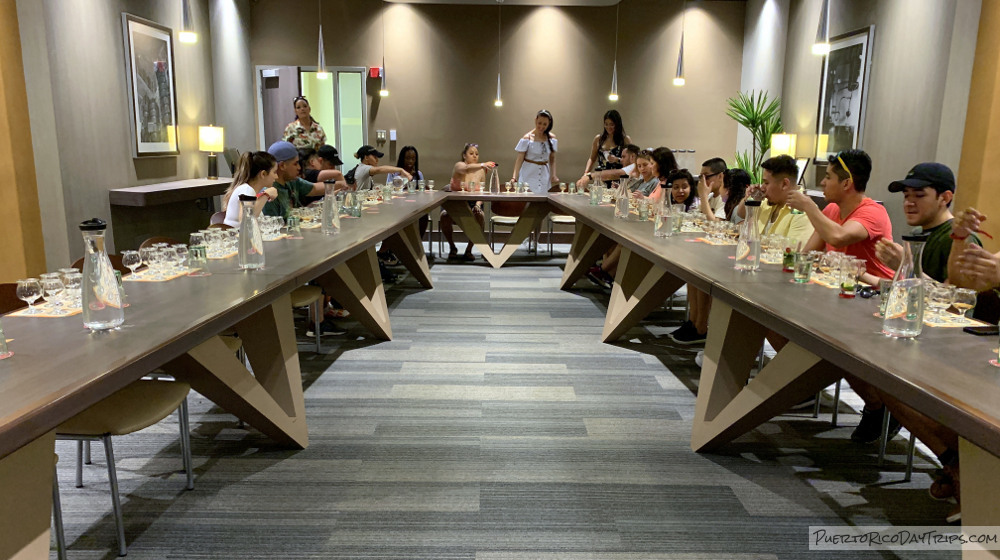 We got to taste 6 rums (you get 1-1½ ounces of each). Starting with Superior clear, then Gold, then Anejo (aged 4 years), Reserva (aged 8 years), Gran Reserva (aged 10 years), and Bacardi Special Reserva (which is only available at this Bacardi distillary). They have water so you cleanse your palette between tasting the different rums.
They also sometimes have chocolate pairings with the rum– YUM! and a Founder's Experience tour. Check their page for details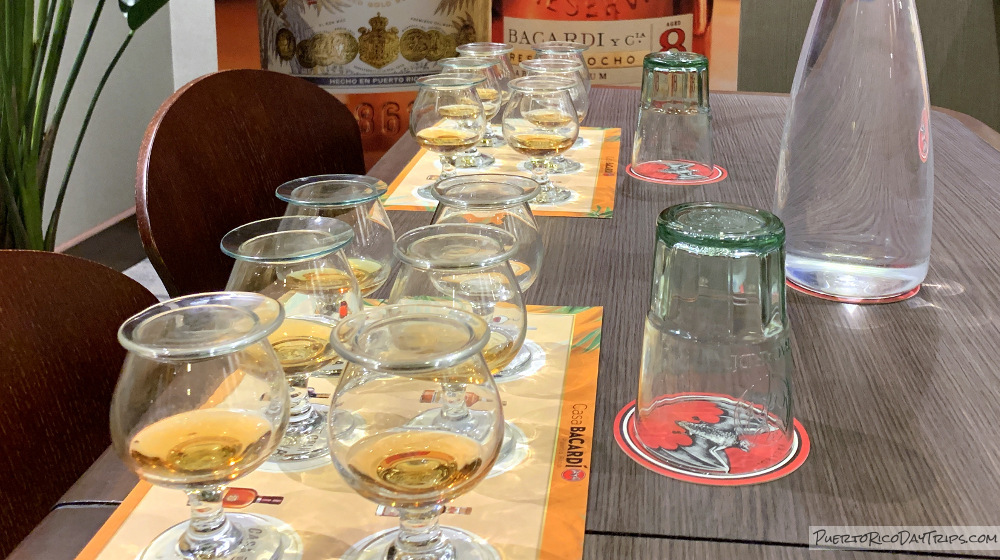 This tour is not for everyone – you will be drinking rum straight, not as a mixed drink. So if you are not used to that, it might be overwhelming at first. But if you do enjoy a sipping rum, you will really enjoy this.
Our group had a few guys who were whiskey lovers, and they were pleasantly surprised that there are sipping-quality rums. They really enjoyed the tour and tastings.
Naturally, you end up in the gift shop at the end of tour. But this is a Bacardí play round. All sorts of clothing, rums, and Bacardí paraphernalia. We always find something to buy (usually a different type of rum that is not available elsewhere). When you are done, you go back to the pavilion, where they welcome you to hang out and enjoy.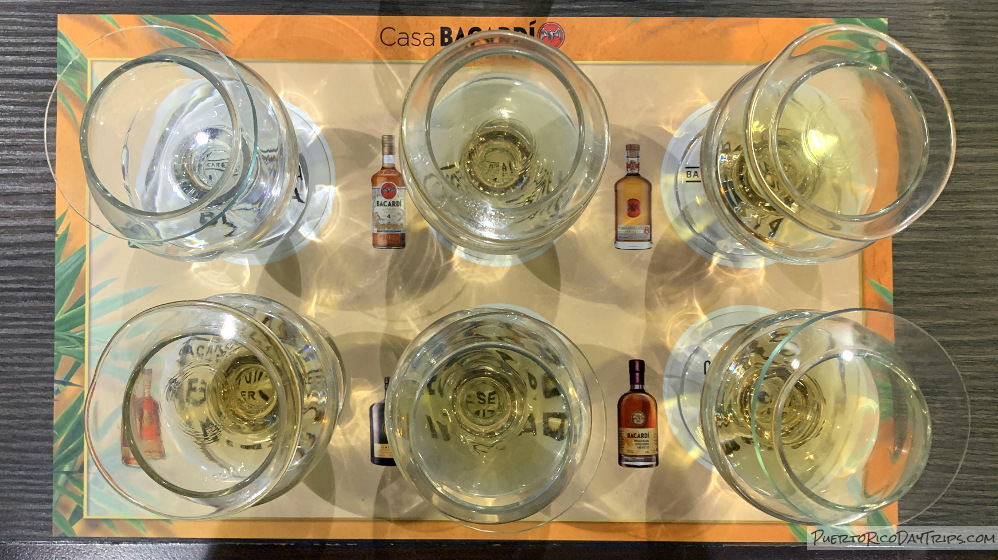 Details
This tour is offered 7 days a week. Check days/times when you make reservation online.
Rum Tasting Tour – First tour starts at 11:00 am, last tour starts at 5:00 pm
The Rum Tasting tour is $75 per person.
Other class available Mixology Class – (cost is $75 per person) and Legacy Tour ($30).
You must be over the Legal Drinking Age to participate in this tour. This is a premium spirits experience. Children cannot accompany adults.
Remember to drink responsibly, and never drink & drive. Uber and taxis are available to/from Bacardí.
The Rum Tasting Tour takes approximately 75 minutes.
You can call Casa Bacardí at 787-788-8400 for more information.
You can visit the Bacardí web site for more information or to buy tickets.
Directions from San Juan – By car, get out of San Juan, go on Rt 18 until Highway 22 West, get off at the exit for Catano / Road 165. There is a little brown Bacardí sign. Take Road 165 until KM 2.6 – follow the brown Bacardí signs. The Bacardí factory is visible on the right side just before the exit. You can also turn right at the light at Int 888 (it is in an industrial park area).Uber's also run in the area.
From Old San Juan – Take the ferry from Pier 2 to Catano, for $0.50 per person, each way. When you arrive in Catano, go to the right for a taxi or call for an Uber to the factory.
It should be about 20-minute drive from the San Juan area.
Click on a placename below to view the location on Google Maps ...
PuertoRicoDayTrips.com assumes no responsibility regarding your safety when participating in the activities described in this article. Please use common sense! If your mother or that little voice in your head tells you that you are about to do something stupid … then don't do it!