Beach Fun in the Sun at Balneario Carolina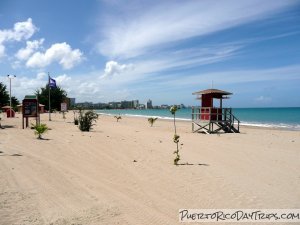 You might think that all beaches in Puerto Rico are the same. If you do, then you couldn't be more wrong. Every beach has something different that makes it special, so you will want to visit a few different beaches during your time on the island. If you are looking for a nice light sand beach, that is close to San Juan, then you'll want to check out Balneario Carolina.
All beaches in PR are "public", which means that you can go to any beach, even those in front of the fancy hotels. But on those beaches, you won't have lifeguards, nor will you have use of the hotel facilities (beach chairs, restrooms, etc).
The Balnearios, on the other hand, are government-run beaches, which are maintained, have restrooms, lifeguards, a fenced parking lot, and other facilities to make your day at the beach both pleasant and safe. There is a small fee for parking. This one is run by the town of Carolina, as opposed to PR government Parques Nacionales. It has won the Blue Flag Beach award a number of times, but not this year.
Balneario Carolina is a long stretch of white sand just outside of San Juan, so there is plenty of room to spread out. This large beach is actually a series of 3 beaches in a row, each with facilities. They are located between Isla Verde and Pinones along Route187. It used to be called Balneario Isla Verde, so some people might still refer to it as that.
It is a nice beach, lots of sand and large palm trees. The water is an aqua-marine, greenish color, which makes a pretty color combination with the blue sky and beige-white sand. The water is warm(ish), that feels great after a few minutes of tanning in the sun! For a view, you can see the crowds at the hotel beaches of Isla Verde to the west.
Besides being pretty, Balneario Carolina is one of the Blue Flag beaches in Puerto Rico. This means (among other things) that the water quality is monitored and clean, there are facilities including showers, lifeguards and bathrooms. Balneario Carolina also has some food kiosks, a couple of places that rent chairs and First Aid centers. What more could you want?
During the winter, this beach is almost empty. You can find a place under a palm or almond tree to get some shade and enjoy the beach. The surf can get a bit rough (especially in winter) but I found the swimming to usually be OK. They will fly colored flags to notify people of water conditions- only swim if the green flag is flying. The sand is fine, so the first few feet of water is sandy from the breaking waves, but it is clearer out a few feet (not crystal clear, but clean).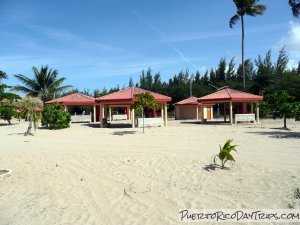 During the summer, and especially on summer weekends, it can get busy. This is a well-used family-friendly beach. There are picnic pavilions with barbecue grills where families spend the day and have cook-outs, etc. There is a small fee for use of the picnic pavilions. It is a great people-watching place, lots of people, noise and fun! You need to get there early to get a good spot under a tree for shade and make sure there is parking.
The beach has recently been refurbished. They did this neat net thing and were able to collect sand from the natural water currents, adding many feet of new sand. It looks like it will be beautiful when it is all done. The beach also haas chairs and umbrellas for rent!
There are a few draw backs to this beach. It is located right behind the airport, so it can be loud when the planes are taking off. You will not be able to take a nap! I have found that it is pretty windy in the winter, and the sand blows. I also noticed the food stand is closed during the weekdays.
Important note: Wear LOTS of sunscreen and re-apply often. If you are on the beach for as short as 15 minutes without sunscreen you will be toast!
The beach itself is free. Parking is $4.00 .
The beach is open from 8:00am until 5:00pm, Tuesday through Sunday.
This beach is located just north of the SJU airport on Route 187. From the Isla Verde area, simply follow Route 187 east for about 5 minutes.
Click on a placename below to view the location on Google Maps ...
PuertoRicoDayTrips.com assumes no responsibility regarding your safety when participating in the activities described in this article. Please use common sense! If your mother or that little voice in your head tells you that you are about to do something stupid … then don't do it!