Visit Balneario Punta Salinas Beach in Toa Baja
6/23 Beach has partially reopened! You can get into the beach area (drive through the out gate). They are doing for rennovations, so there are no facilties open/lifeguards etc. But free to enter and use beach at own risk. Rennovations should be done "soon" and then facilties will reopen and entrance fee will be charged again.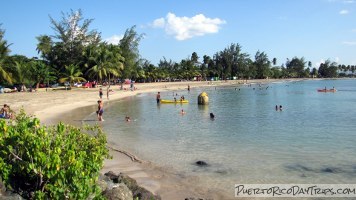 One of the great things about living on an island is that there are beaches all around you. While sometimes it is nice to be alone on a deserted beach — just yourself, the sand and the ocean — at other times it is nice to have all the facilities and securities that make you feel comfortable.
Balneario Punta Salinas, in Toa Baja, is one of those beaches. Located on the north coast, not too far from San Juan, Balneario Punta Salinas is popular with the locals, but it does offer the facilities that you may need/want. It is situated on an islet — one protected side for swimming, and the other side has rough water but with great views of Old San Juan.
Balneario Punta Salinas is a large beach located on the west side of the islet. This large crescent cove beach usually has calm water. Inside this crescent is the swimming area, which has life guards. The beach sometimes gets the Blue Flag Beach award.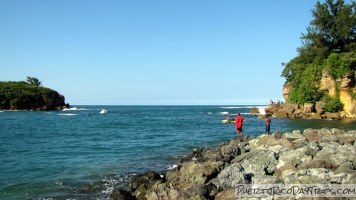 Outside the Blue Flag area you can enjoy kayaking and other water fun, like fishing. The water quality is tested and there is a display with lots of information about the area. This is a manatee area and a sea turtle nesting site, so keep your eyes open and you might get a lucky wildlife sighting.
To the south end, it is forested and to the north end, there are some rocks and a nice "island" that helps block the rough Atlantic waves. There are picnic pavilions of different sizes for rent.
Regarding the beach itself, the sand is a dark beige color, not white sand. There was a bunch of natural debris (seaweed) the day we went, but I think that all depends on the recent weather and currents. It was a pretty beach, but not my favorite.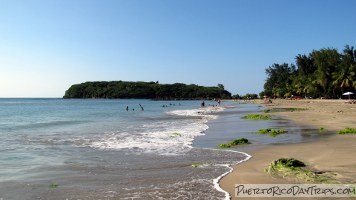 Facilities at the balneario include restrooms, showers, changing rooms, life guards, water quality monitoring, basketball hoops, consession stands for food/drinks during high season, and floating wheel chairs (supposedly, but I would call first). If you go during Puerto Rico's local "low season" (mid-August to May), don't expect everything to be open.
The eastern side of the islet get the winds and the waves. It also gets all the run-off from a river, so the water isn't clear and there is lots of debris washed up along the shoreline. Swimming is not allowed on that side.
Details
Currently free until they finish rennovations and reopen balneario services. Usually Entrance to the balneario is about $5.00 (plus tax) per car for parking.
Hours of operation are Wednesday- Sunday 8:30am-5pm (closed Monday/Tues). The balneario is open on most holidays, regardless of season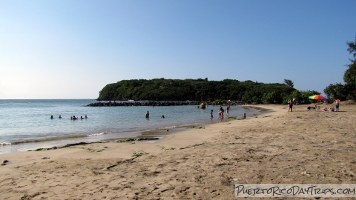 You can call 787-795-3325 for more information.
Directions from the San Juan area — Take Route 22 west to Road 167 (exit 13). Follow Road 167 north to Road 165. Turn left on Road 165. Follow Road 165 until you see the sign for the balneario on the right.
Driving time from the San Juan area is about 20 minutes.
Click on a placename below to view the location on Google Maps ...
PuertoRicoDayTrips.com assumes no responsibility regarding your safety when participating in the activities described in this article. Please use common sense! If your mother or that little voice in your head tells you that you are about to do something stupid … then don't do it!