Find Lodging for Your Puerto Rico Vacation on a Budget
One of the most expensive parts of your vacation will be your lodging. And in that department, Puerto Rico is not the most wallet-friendly island to visit if you're trying to travel on a budget. However, don't be discouraged.
If you do some research and planning, you can have a fun-filled vacation without breaking the bank. When it comes to finding a place to stay, you do have different options. And we're here to give you some ideas to kick-start that planning.
Hotels & Resorts
Most people immediately look for a hotel room. In Puerto Rico, the large "chain" hotels (like Marriott, Hilton, Wyndham, Embassy Suites, etc.) are expensive, sometimes $250 or more per night! There are some smaller hotels that are less expensive, but they are usually small and more basic. Of course, you may be able to find some good deals at Travelocity or similar sites if you book airfare and room together.
With hotels, you are paying a lot for one room. You are also paying a higher room tax and sometimes resort fees, parking and then you have to eat every meal at a restaurant. These things can add up quickly and you'll be in for a rude surprise, especially if you charge everything to your room and you don't see the total until the end of your trip.
All Inclusive Resorts
People often look for all-inclusive resorts (like Sandals or Beaches) because, even though you're paying a lot, you know what the final bill will be up-front because everything (meals, activities, etc.) is paid for in one set price. Due to minimum wage and other worker benefits required in PR, the all-inclusive market isn't profitable for the resorts .
There is a hotel in the south-western part of the island that offers an "all-inclusive package", that includes meals/drinks. But that's just not the same as a true all-inclusive resort where everything is included 24 hrs/day.
Hostels, Guesthouses, Inns, B&B's and Camping
Camping can be found at a few of the beaches and forests around the island. Contact Parques Nationales for more information. These other types of accommodations all may vary from place to place, but here is a general idea of what to expect: Guesthouses are where you rent a private sleeping room but share a common space (like a common kitchen or living room) with the other people in the house. This is similar to most Bed and Breakfasts (B&B's), but at a B&B, they provide breakfast. A small Inn is usually where you are renting just a bedroom and don't have access to other rooms, but will share common outdoor spaces. There are even a few hostels around the island that you can rent a private or even a shared sleeping area. These are usually very inexpensive. With any of these types of accomodations the amenities are more basic, but they can be a good option for people who don't mind vacationing with strangers.
Private Rentals
An excellent option (in my opinion) for the budget-minded traveler is a private rental. In general, these types of rentals are called vacation rentals, though you'll see them advertised as villas, apartments, condos, private homes, among other things. There's no set name for what you're getting.
Vacation rentals are usually a house or an apartment/condo, and they are generally less expensive than hotel rooms. They can range in size, but they usually all are more than one room. If you have kids, that extra space can be a blessing when you're on vacation! You end up with more bang for your buck, since you have room to spread out. And there is usually a kitchen so you can prepare your meals and drinks.
Each vacation rental is individually owned, operated, maintained and decorated. You need to check out each one the see what amenities they offer, and exactly what you're getting for your money.
There are a number of web sites that list vacation rentals. Those sites are similar to the phone book Yellow Pages or classified listings in your newspaper — they list places you can rent and give you a way to contact the property owner/manager. But you'll end up booking your rental directly with the property owner or manager.
You can look at web sites like TripAdvisor, AirBnB, Flipkey, VRConnection,or VRBO, among others. Another option is to go to your favorite search engine and search for "vacation rental" plus the area where you want to stay. For example, "vacation rental el yunque rio grande puerto rico".
Coqui's Hideaway Rain Forest Villa
In addition to this travel web site, we have a vacation rental called Coqui's Hideaway that's located in the foothills of El Yunque. It is a single rental home that we offer as either 2 bedrooms / 2 bathrooms (for up to 4 people) or 3 bedrooms / 3 bathrooms (for up to 6 people).
It has a full kitchen (and all the cooking implements needed), a living room with satellite TV/DVD and lots of movies, complimentary WIFI for your laptop, indoor and outdoor dining areas, porches, a private pool area with BBQ/mini-kitchen and free parking. Plus 9 lush acres to spread out, wander around and enjoy the tropical fruit and flowers that we grow.
Stop by our web site and check us out — www.CoquisHideaway.com. You'll be glad you did!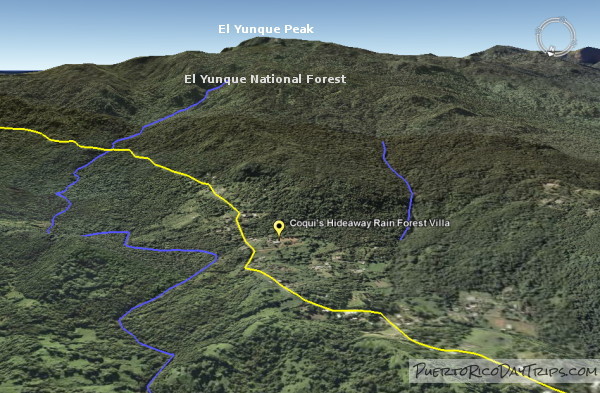 PuertoRicoDayTrips.com assumes no responsibility regarding your safety when participating in the activities described in this article. Please use common sense! If your mother or that little voice in your head tells you that you are about to do something stupid … then don't do it!