Who is Ready to Get Bushwacked?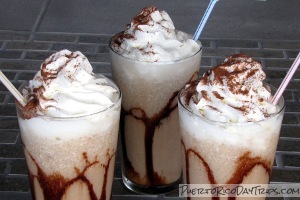 Though you can find Bushwackers throughout the Caribbean and Florida beaches, we first discovered this adult slushy while visiting Culebra, where it is unofficially the island's "signature drink". It is frozen coconut-chocolate deliciousness that really packs a punch! It is similar to a Mudslide, but with a hint of coconut.
There are lots of different recipes on-line — some have milk, some have ice cream, some have more or fewer types of liquors. The common denominator is that all have a billion calories and contain a pretty high percentage of alcohol!
Research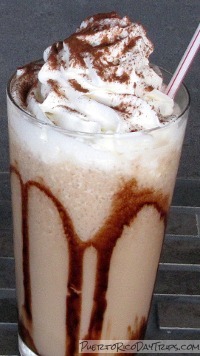 We wanted to share this recipe, but first we had to do some "research". We tried a bunch of different recipes, and we tweaked them along the way to better suit our taste. After the first few pitchers of the evening, they all started tasting the same … maybe it was all the alcohol! But after lots of trials (we even had to drink the "bad" batches), we finally came up with an easy
1 ounce coffee liqueur (Kahlua®)
1 ounce Irish creme liqueur (Baileys®)
1 ounce chocolate liqueur (creme de cacao)
1 ounce amaretto
1 ounce vodka
1 ounce rum (gold or clear or coconut)
2 ounces cream of coconut (Coco Lopez®)
Combine all of the ingredients with about 2 cups of ice in a blender. Blend until smooth. Drizzle chocolate syrup on sides of the glasses before pouring your drinks. Top with whipped cream, and sprinkle with nutmeg (the typical topping) or cinnamon (which we preferred).
If you want it to be a little more coconutty, you can use replace some of the rum with coconut rum.
Enjoy, but beware. These go down way too easily, and you can get bushwacked very quickly!
Remember to drink responsibly, and never drink & drive.
PuertoRicoDayTrips.com assumes no responsibility regarding your safety when participating in the activities described in this article. Please use common sense! If your mother or that little voice in your head tells you that you are about to do something stupid … then don't do it!