Discovering Playa Buyé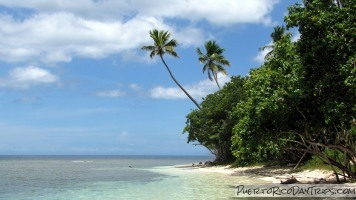 Are you looking for a beach with soft, light sand, and warm, clear, blue water, with just little waves lapping at the shore? Well then look no further — Buyé Beach fits the bill.
Buyé Beach (or Playa Buyé) is a bit tricky to find. But once you do find it, it is really nice. Located in Cabo Rojo, in the south-west corner of Puerto Rico, this beach is worth a stop if you're in the area.
Considering all of the hidden places that we've found on the island, you would think that it would not be too difficult for us to find a beach called Buyé located at the end of a road called Calle Buyé. But you would be wrong to think that!
We have tried to find this beach a few times, but none of the directions I got really explained what we saw when we got to the end of the road — A one-lane dirt track with a row of houses, no beach access, and no parking. But we didn't give up!
Armed with new information, we tried again and finally found it! We also found an easier way to access the beach, which we'll share here. Once we found it, we were happy that we persevered.
It seems that, over time, houses, a trailer park, and a small "resort" have been built on the beach, blocking what used to be beach access. While that does mess up the view, they do offer some amenities to the general public during the busy seasons — food/drink kiosks, some parking, bathrooms/showers. But during the slower season, the businesses there are not operating and you need to be self sufficient.
About the beach
I think Buyé Beach is probably second on my list for prettiest beaches in the south-west of the island, with La Playuela being first on my list.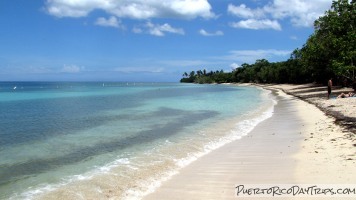 The sand is very light beige color, almost white. It's a long beach; you can walk for about ½ mile, and then farther around bend corner for some less-frequented areas.
There is a large roped-off swimming area, where the water is calm, crystal clear, and warm almost all year. That makes this beach a family-favorite.
Palms and almond trees provide some shade. The houses that block the beach are painted bright colors, so they look cute from the beach.
We spent some time walking the beach, taking photos, and enjoying the warm water. It's really lovely here.
There was some trash on the beach, but overall it was pretty clean. There are a bunch of trash cans along the beach, so maybe those help.
During the busy season, Buyé Resort sometimes offers showers, restrooms, and changing rooms, for about $1. From what we've read, the cleanliness of those facilities can be questionable at times.
Details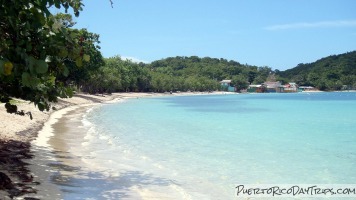 There are no lifeguards at this beach. Swimming is at your own risk. Don't forget your sunscreen!
This is a very popular "local" beach. Expect crowds during the summer and on weekends.
Parking is along Calle Buyé (for free), in the Buyé Beach Resort lot (for $3), or in the field on the left of Calle Buyé (where someone supposedly charges a parking fee, but the gate has never been open the 3 times that we were there).
To get to the beach from Calle Buyé … Walk to the end of Calle Buyé, and turn right at the T. Go through the gate at the end of the dirt road. If you park in the Buyé Resort parking lot, you will have direct access to the beach.
If you turn left at the T at the end of Calle Buyé, you'll come to a small beach area (La Posita) that supposedly has snorkeling. It didn't look too good for snorkeling to us. And that little beach could only hold about 20 people. So we say "skip it".
To get to Buyé Beach, once in Cabo Rojo, take Road 307 to KM 4.8. That's where you'll find Calle Buyé.
Click on a placename below to view the location on Google Maps ...
PuertoRicoDayTrips.com assumes no responsibility regarding your safety when participating in the activities described in this article. Please use common sense! If your mother or that little voice in your head tells you that you are about to do something stupid … then don't do it!