Cabo Rojo Beaches
The Vacation Center at Balneario Boqueron is still closed, but the beaches are open.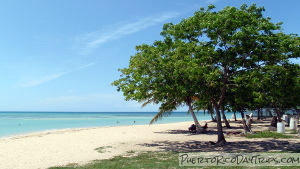 The south-west tip of Puerto Rico is generically referred to as Cabo Rojo, even though there is a town in that area by the same name. The Cabo Rojo area has some beautiful beaches, and even a lighthouse with breath-taking views.
On a recent trip we visited two lovely beaches, each different, but special — Combate and Boquerón.
Combate Beach
Located at the end of Route 3301, Combate Beach was a little confusing for me. As we went down Route 3301, we ended up at the water near a restaurant called Annie's Place, among a number of other bars and restaurants. Here, we had to make a decision — either park here and go to th beach on the left, or follow the road to the right and down a bit, where we found a parking lot and picnic tables. Both areas are Combate Beach.
The beach with the picnic tables was small, and would probably fill up quickly with familes on weekends and holidays.
The beach to the left of Annie's Place went on for miles! I believe that if you walked far enough, you could find a private spot no matter how busy it got.
The beach itself was thin, but long. The water was clean and just a bit turbid with sand in it. There were no waves on the day that we went. It looked very nice. But with all the bars and restaurants in the area, I bet it gets crazy with people hanging out. It also looked like boats, jet-skis and other small craft could anchor between the roped-off swimming areas (so it probably is not a quiet beach!).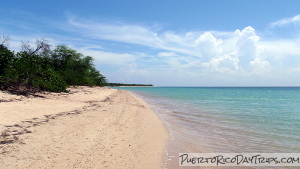 There appeared to be a way to get your car onto the beach, if you turned down the last road before the beach. But the gate was locked the day that we went, so I really don't know.
This looked like a nice beach on a mid-week day, but a popular hangout on weekends and summertime. There are no facilities for the beach, but there were restaurants and bars you could use. At the beach parking area, there were restrooms, though they were closed the day we went.
Balneario Boquerón
Now this was a nice beach. Balnearios are government-run beaches, with facilities including parking, restrooms and showers. It used to be/and may become again a Blue Flag beach, meaning (among other things) that they do water-quality testing, and have conservation & educational information available.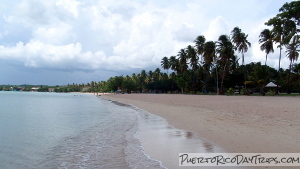 Located off of Route 101W, Balneario Boquerón is another long beach. It has soft sand, picnic tables, shade trees, restrooms, showers, a playground, gazebos, handicap facilities, nearby lodging, and a cafeteria. The restrooms are located in the yellow building. Showers are outdoor, rinse showers set up along the beach.
There is a large, roped-off swimming area, with lifeguards on duty. The water is warm but still not crystal clear, with a little turbidity from the sand. I didn't like the feel of the bottom in the water — the sand had a kind of muddy quality to it. But it was nice to just hang out and float in the water.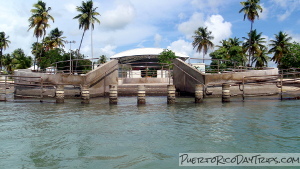 It was a wide beach, but I am sure it can get crowded with families on weekends, holidays and in the summer months. But if you are looking for a beach with facilities, this one has it all.
It also had a Mar Sin Barreras (Sea Without Barriers), to provide handicap access to the ocean. It was obviously built a long time ago, and has unfortunately fallen into disrepair. However they still have a building and handicap accessible restrooms/showers, and the beach wheelchairs for people who need them.
Details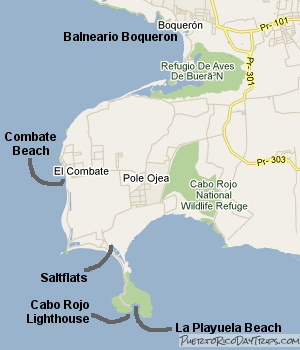 Balneario Boqueron is Open Wed-Sun 9am-5pm. On "closed" days, you can park outside and walk in.
Parking is $3-10 plus tax per vehicle for Boqueron beach.
Click on a placename below to view the location on Google Maps ...
PuertoRicoDayTrips.com assumes no responsibility regarding your safety when participating in the activities described in this article. Please use common sense! If your mother or that little voice in your head tells you that you are about to do something stupid … then don't do it!