Salt Flats & Wildlife Refuge in Cabo Rojo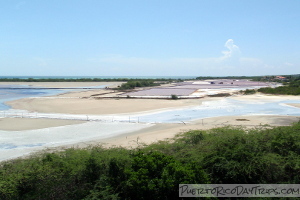 1/23- Past storms and the rising sea level have messed up the salt flats- they are being destroyed. It is possible that you may find some pink flats, but there are times when the flats are not pretty and pink. Lots of debris came up with the rising tides, flooding out flats. Many of the trails are closed. Environmentalists are working to try to reduce the destruction, but sand and water is quickly taking over. I hope they can do something to protect this beautiful area.
While the name salt flats doesn't conjure images of a natural area, it is actually a pretty neat place. The salt flats are part of a larger wildlife refuge set aside in Cabo Rojo. There is an observation tower that over looks the salt mining operation and an interpretative center for information about the area.
As it turns out, indigenous people have been mining salt in this area for over a thousand years before the Spanish came to Puerto Rico. Salt was (and still is) a valuable commodity, so it continues to be mined in this area.
A Visit to the Salt Flats
Our first stop was at the Interpretive Center. Officially called the Centro Interpretativo de las Salinas de Cabo Rojo (CISCR), it is run by local volunteers (from Caborrojenos Pro Salud y Ambiente, Inc.) who really know the area and the salt-mining process. There are all sorts of information posters, pictures and displays in this center. The bilingual guide told us the process of salt mining.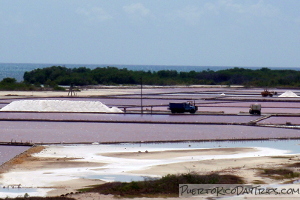 It seems the water in this area is very salty. So, using the same pits that have been used for generations, they flood the pits, and then let the wind and sun evaporate the water. This leaves very salty water behind. Salt crystals form and fall to the bottom of the pit. Once there is enough salt built up, they drain the pits of water and then scrape and scoop the salt crystals out using heavy machinery. They put the salt in large piles (which you can see in the photos). The salt is used for non-food purposes, like swimming pools, ice melting and soil amendments. Supposedly, there is a video about it in the info center, but we didn't get a chance to see it.
After visiting the information center, we went across the street and into the observation tower to watch since they were mining the salt that day. It was a great view up there.
The Wildlife Refuge
The US Fish & Wildlife Service maintains over 1800 acres in Cabo Rojo as a National Wildlife Refuge and the salt flats have been incorporated into it. There are walking & bike trails all around in this area. This refuge is a Mecca for bird watching.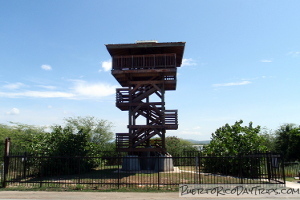 The trails range in length from about 1 to 2 miles, and start right behind the interpretive center. There is a nice loop trail very close to the building that has a lot of informational signs along the way, so one can learn about the nature and wildlife of the area. Or for a fee, they offer interpretive guides that will go on the walks with you, but you need to make a reservation for this.
The wildlife refuge has many ecosystems in it — from dry forests, lagoons ranging from hyper-saline to regular marine, mangrove forests, sea grass and coral reefs. So there is a large variety of different areas, to see different animals and plants that call these areas home. One of the trails is a butterfly trail where you can see among other things … butterflies! There are also bike trails.
Even if you are not their on a day the tower or center is open, you can always visit the actual salt flats (except when they are actively working). Just drive down 301 a little more and you will see the pink pools on your left. When you see a gate, park off the road and walk in. Stay on the paths, it can be muddy! And don't touch the pink water.
After one is done with the salt flats and the wildlife refuge, you might want to visit the Cabo Rojo Lighthouse or La Playuela Beach, which are both just a little farther down Road 301.
Details
The interpretive center is free. They have a donation box to help offset costs, as well as a small gift shop. Trail tours (by reservation) are $6 per adult, $4 for seniors and kids. You can walk them on your own for free.
The interpretive center and observation tower are open Friday to Sunday from 8:30am until 4:30pm.
Bring bug spray and drinking water. Wear closed toe shoes, sun screen, hat and sunglasses. It is hot there!
Allow 30-60 minutes for the interpretive center and for viewing the salt mining. Allow more time if you intend to use any of the trails in the wildlife refuge. These trails can be a bird lovers paradise.
You can check out the "friends" Facebook page for more info.
You can call 787-851-2999 for more information.
There is a composting restroom available.
The salt flats are located at Road 301 Km 11 in Cabo Rojo.
Click on a placename below to view the location on Google Maps ...
PuertoRicoDayTrips.com assumes no responsibility regarding your safety when participating in the activities described in this article. Please use common sense! If your mother or that little voice in your head tells you that you are about to do something stupid … then don't do it!