Chocolate Love at Finca de Cacao La PruVite
Cacao is one of the newest agricultural crops here in Puerto Rico, and we enjoy going on cacao farm tours and learning about the origins of chocolate. Finca de Cacao La PruVite, located in Luquillo, offers a tasty, educational tour of a small, family-run, organic cacao farm.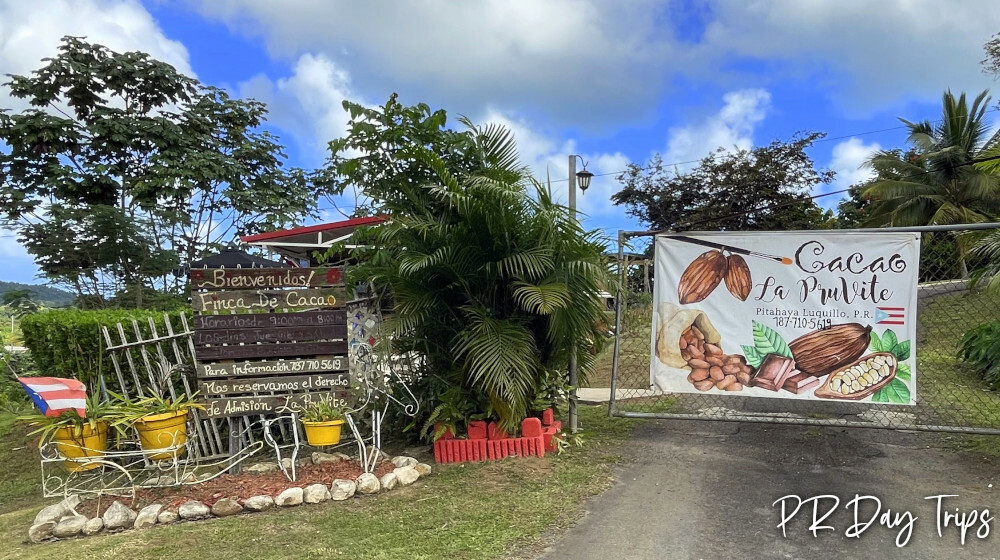 The owner, Virgen Torres, grows her cacao trees from seeds, nurtures them to fruiting size, and then uses every part of the harvested fruit. She personally gave us a tour of the family farm, and an explanation of the whole process she uses to turn the cacao beans into chocolate. Unsurprisingly, we fell in love with all her home-made artisanal chocolate products.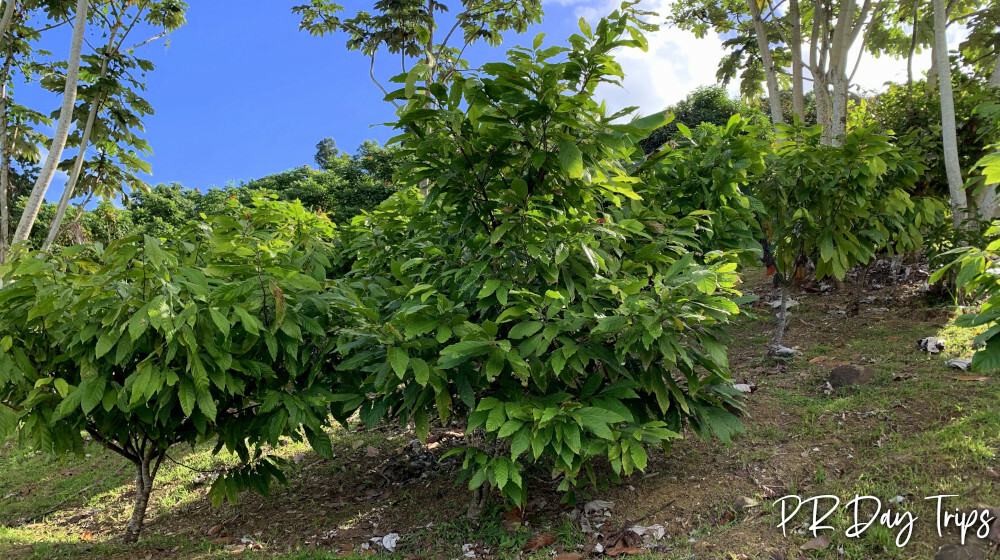 Our Tour
Virgen explained the different types of cacao varieties that she has, the different trees' growing habits, how to grow them, and how to harvest the cacao pods. She even opened a a freshly-picked pod so we could taste the fruit around the seed. Virgen really is passionate about growing cacao, and wants to share her knowledge and experience with others – especially the kids!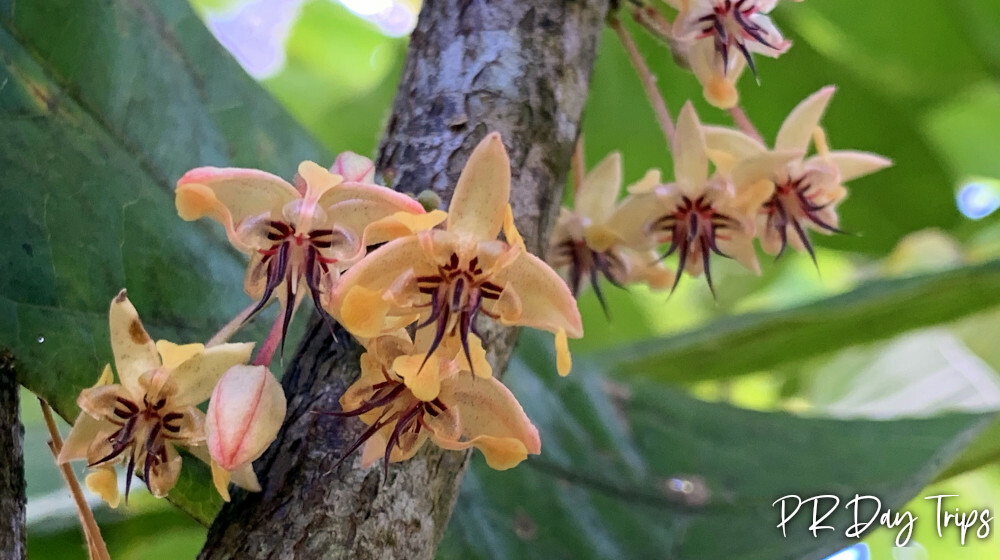 Once back at the work area, she showed the different areas where she processes the beans – from the fermenting, to drying, to roasting, to removing the chaff, to grinding – all the way to edible chocolate. This is a small operation, and you can see some of the "old fashioned" equipment that is used to process the beans. Of course, she has some of the newer equipment used to process the dried nibs into smooth chocolate. Virgen also explains the tempering of the chocolate, which is needed to give her delicious, home-made chocolate bars the crisp snap when you bite into them.
Virgen does not rush you out after the tour. You are welcome to stay and chat, enjoy the hammocks, eat, drink, and relax. She has a little outdoor cafe there where she makes and sells some amazing chocolate goodies. You can't leave with out trying some of the yummy treats. I fell in love with the passionfruit-filled chocolate candies, which was only one of a number of different types of bonbons available. She also has yummy chocolate cakes, candies, shakes, hot chocolate, etc – all home-made right there. She can also make sugar-free treats with advanced notice. There are also other cacao-based products, like jellies and spreads, soaps, and creams, available for purchase. On Saturdays, she makes breakfast at her outdoor café.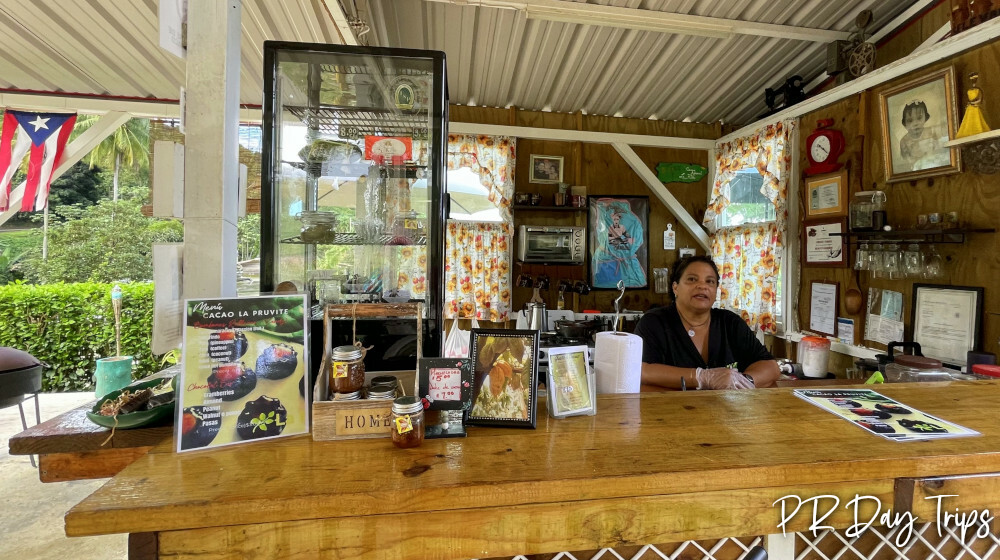 Details
The tours and café offerings are very inexpensive.
Tours are offered Thursdays and Fridays from 10am until dusk, and Saturdays from about 11am until dusk. The farm and café are open until 8pm. Breakfast is available on Saturdays from 7:30am until 10:30am. Tours on Saturdays start after breakfast time is over. Reservations are required for both tours and breakfast.
For the farm tour, the ground is uneven and may be muddy or slippery. Take that into consideration and wear appropriate shoes.
The tour is in Spanish, but Virgen tries to explain in some English if she can. If you need more English, bring a translation app on your phone.
The farm tour takes about 30 minutes.
Call or text 7877105619 for reservations or more information.
You can get more information on their Facebook page.
You can buy her pre-made candy at the farm. She can make sugar-free treats with prior notice. She also sells some of her non-persihable cacao products at the Luquillo farmers' market.
Finca de Cacao La PruVite is located in Luquillo, on Carr 988 KM 12.3.
Click on a placename below to view the location on Google Maps ...
PuertoRicoDayTrips.com assumes no responsibility regarding your safety when participating in the activities described in this article. Please use common sense! If your mother or that little voice in your head tells you that you are about to do something stupid … then don't do it!