Ride an ATV Just Minutes from San Juan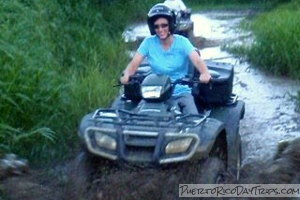 Are you looking for an exciting adventure close to San Juan? We have found an ATV 4-Track tour that is fun and different. Campo Rico Trail Rides ATV Tours at Hacienda Campo Rico is located just a few minutes from San Juan, and yet it feels like a world away.
Hacienda Campo Rico is a 2,200 acre "ranch" so the ATVs have loads of trails. They go through fields and forests, up and down hills and through mud puddles. And then you get to explore a cave filled with bats and more. It was a ton of fun!
First off, I will admit, I love ATV'ing (or any motor vehicle ride!). I also love learning about an area and ancient cultures. So when I tell you I really enjoyed this ATV 4-Track tour, I mean it. Though we live only about 30 minutes away from this area, I never knew Carolina was karst country and had been a place where Tainos lived until I saw it for myself on this tour. Plus, the ATVs were new and really cushy. What's not to love?!
Our ATV Ride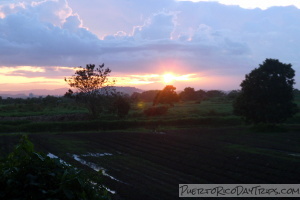 Campo Rico Trail Rides offers 3 ATV tours per day. We decided to do the sunset tour in hopes of seeing lots of bats and getting some sunset views. When we got to the ranch, we were greeted by our guides Andrew and Nate. They explained how to use the ATVs (very easy!), fitted us with our helmets, and had us complete the usual paperwork. Then we each got on our ATVs and we went through a test drive around the area near their office to make sure we understood how to operate our ATVs. Once we got the thumbs up on our driving skills, we were off.
Let me tell you about the ATVs — these were the Cadillacs of ATVs! They use Honda ATVs, which are big, but still cushy — the seats were comfortable, the steering easy and the gas lever was soft. On other ATV tours we've taken, it was hard to steer, my leg got very hot from the motor/exhaust pipe and my thumb got tired pushing the gas — but not on these. I had no difficulty at all. The "dashboard" was digital, so it was an added feature to see how fast you were going (I hit 31 MPH once!). The helmets were even really nice (though hot). They also have storage in each ATV for purses and stuff, and a small waterproof compartment for cameras or cell phones that you may want to use during the tour. These were the nicest, user-friendly ATVs I have ever been on.
We started off going around the lake, looking at the water birds and searching for caimans and iguanas. Then we started off across some fields. It had rained a lot the week we went, so we had a lot of mud and water to go through. That made it extra fun. Being pretty experienced drivers, we also had some "speed" times — Andrew let us gun it. The trails go through the ranch, up and down the hills and through the forest. We got some great views of the rainforest mountains (in the distance) and, toward the end of the tour, a beautiful sunset.
During the trip (especially during the first half) we stopped a few places and Andrew would tell us about the local area, wildlife, and nature/plants we were seeing along the way. He also pointed out some of the other activities occurring at the ranch — horseback riding, zip lines, golf school, and kayaking. The ranch is brand new and they are still working on a place, but it looks like you will be able to spend a whole day there doing all sorts of fun adventures!
The Caves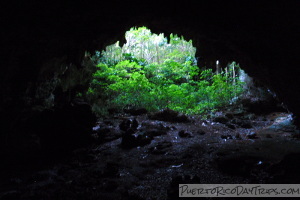 About half-way through our tour, we stopped and went to see the caves, which are a short walk (maybe 5-10 minutes) from where we parked the ATVs. During the walk, Andrew was telling us about the area and the pre-Columbian peoples (the Taino indians) who lived there.
The area is known as karst country (meaning it is limestone). These limestone hills are home to a series of caves and some sinkholes. It was amazing to me that though I live just about 30 minutes away, we have totally different type of soil and rocks.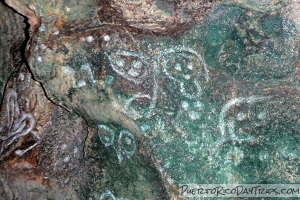 Then there are the caves — I had no idea there were any on the north-east part of the island. I was really excited about the caves, so we went to 2 of them — though most tours will only visit the first one.
The main cave that you'll visit is a beauty. It has beautiful scenery, and a load of bats! And, best of all, Taino Petroglyphs. Nate had a really bright flashlight so we were able to see very well in the caves. The second cave had more stalagmites and stalactites, though they are still a "work in progress". I really enjoyed this unexpected treat.
Random Notes
They modify each tour (and they trails they use) on a particular day based on capabilities and desires of the people on the tour, and the condition of the individual trails. So the route taken on any given tour may differ from any other tour.
This is a new facility that opened in 2009. When we went, the trails were still being worked on and they were just putting finishing touches on the office and showers.
They are working on getting goggles for the participants. In the meantime, bring sunglasses since mud and dirt do fly up at you when you are going fast.
YOU WILL GET MUDDY. Wear clothes that you are OK with getting wet and muddy. Bring a change of clothes. There are bathrooms and showers, so you can clean up after your tour.
Bring a bottle of water for during the tour.
You can store personal items (like your towel, change of clothes, purse, etc.) in their locked office during your tours.
They go on the tours rain or shine, so be prepared to get wet!

Normally, when we review an activity that is not free to the public, we pay the admission price out of our own pockets. However, we just want you to know that the folks at Campo Rico Trail Rides were kind enough to offer us this tour for free. While we don't feel that this free ride influenced our review one way or the other, we felt that we should tell you, just as a matter of fact.


The Details
Check their website for current cost and special offers. There are prices for the 2 hr trip for drivers and passengers. Each ATV can hold 2 people. There are also private tours available. There is a total weight limit for people on the vehicles.
If you're happy, let them know it — Don't forget to tip your your bartender, tour guide or trip operator if you enjoyed yourself. Gratuities are appreciated and typically aren't included in the price they charge you.
The ATV tours are 2-hours long and are offered at 9am, 12pm and 3pm,
Reservations are required, so go online and book. They accept cash and credit cards, though you will need a credit card to make your reservation.
Drivers must be 16 years old and in possession of a valid driver license. Riders have to be at least 12 years old. Drivers and adult riders can switch roles (ages permitting) during mid-tour.
They have 10 ATVs, so the maximum group size is 20 people (10 drivers and 10 riders).
The tour takes 2 hours, but allow some extra time before and after the tour.
You can call them at 787-629-0222 for more information or to make a reservation.
You can visit the Campo Rico Trail Rides ATV Tour web site for more information and to book tours online.
Driving Directions: Take Route 26 to Campo Rico Ave. Take Campo Rico Ave. north until it ends. Directly across the street you will see a closed, chain-link gate. Drive up to the gate and tell the guard you are going to the Campo Rico Trail Rides ATV/4-Track tour and he open the gate and let you in. The just follow the blue and yellow arrows (and signs) to the ATV office.
Transportation can be arranged from your hotel (in San Juan) or cruise ship for a fee.
PuertoRicoDayTrips.com assumes no responsibility regarding your safety when participating in the activities described in this article. Please use common sense! If your mother or that little voice in your head tells you that you are about to do something stupid … then don't do it!