Saddle Up for a Trail Ride Close to San Juan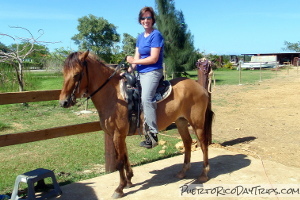 Even before my mother and father sent me to Girl Scout Horse Summer Camp as a kid, I have been in love with horses. They are such beautiful, strong animals, each with it's own personality. I don't get to ride too often anymore, but when I do, I always enjoy the experience.
Campo Rico Trail Rides, a small company who has made a great name for themselves for a really nice horseback experience out in Isabela, has recently opened a new ranch in Campo Rico, right by San Juan. So we checked them out. It turned out to be a great experience.
Hacienda Campo Rico
Campo Rico Trail Rides is located in Hacienda Campo Rico, which is a large 2200-acre property just outside of (and easy to get to from) San Juan. The hacienda used to be a sugar cane and cattle plantation. Today, it is a large parcel of wetlands, mangroves, and waterways, along with acres of fields and forest. There is also a series of limestone hills with caves. They are starting to bring some tropical agriculture back to the hacienda — they have planted many tropical fruit trees and plants all throughout the property.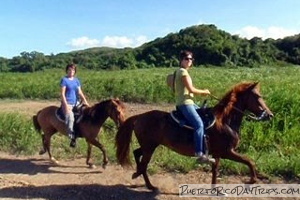 They have about 20 horses there. These horses were bought from private owners and have been trained (or are still in training) to be trail horses. Most are Paso Finos, or mixed Paso Fino and something else.

The horses appear well-fed and cared for by the staff of tour guides. The staff knows each horse's temperaments and cliques (which other horses they prefer to be around). You can see/hear in their talking and handling how much they care for the animals.
Out on the Trails
We decided on the afternoon ride, which (despite it being a hot, sunny day) turned out to be very pleasant since it gets breezy there almost every afternoon. Your first stop is at their office where you pay and sign the required release forms. They have restrooms at the office, so you might want to take advantage of those before you head over to the stables.

When we arrived at the stables, the horses were all saddled and waiting for us. Our tour guide, Kym, met us and gave us a briefing on what we needed to know when working around horses. They have a large sign posted with important information, like don't walk behind the horses and steer the horses around obstacles.

Once we read and understood the hows and whys of the rules, we met our horses. I was given Malibu, a spirited mare and Ray was on Mercedes, who also had a nice personality. After a quick review about how to drive the horse, we were off. The guides assign horses and adapt the instructions & tour route to the experience of the riders, so every tour will be a little different.

Every tour starts off walking on the grass instead of the road, so it is softer on the horses feet. Then, once we got onto the dirt trail by a pond, we were able to trot. Much of the trails/walking is done on relatively flat, sunny areas. We then came around a forested area, past other ponds, into another forested area and then onto the cave area.

At this point, you dismount and take a short walk to explore the caves. While you are having fun exploring, the horses get about a 30-minute break where they can munch on the grass. Since we had already explored the caves on a previous ATV tour, we skipped the cave on this trip and continued around the hacienda trails for the remaining time, getting in some more trotting.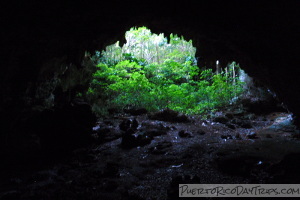 The caves are a highlight of the trip, so let me tell you about them from our ATV experience. The hilly, forested area of the hacienda is karst country (meaning it is limestone). These limestone hills are home to a series of caves and some sink holes. The main cave that you'll visit is a beauty. It has beautiful scenery, and a load of bats that fly around and squeal with displeasure at your visit! And, best of all, the petroglyphs left by the pre-Columbian native inhabitants of the island.

The guide brings a really bright flash light so we were able to see very well in the caves. And there are stalagmites and stalactite formations to see. I really enjoyed this unexpected treat. There is a short walk to the caves, but it is worth it! Take a look at the video in our review of the ATV tour to see part of the cave and the bats.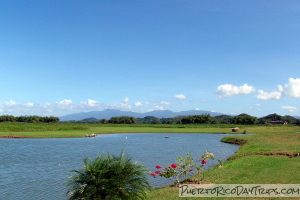 Our tour was just me and Ray. Because of that, we were able to cover a lot of ground quickly. Campo RicoTrail Rides prefers that the horses walk in line, head to tail, but the horse I was on really liked to be on the left side of the guide horse. It was almost comedic how she was only happy in she was in 1½th place, not second. Kym was OK with that, since the horse was happy, and I liked it because it made conversation easier. But Kym did comment that they will work on getting Malibu in line!

We talked all about horses, from the Paso Fino step (which we got to experience — such a nice smooth gate), to care for the animals, the difference between work animals and pets, the training involved … all sorts of horse things. She also told us about the ranch, the plants/fruits we were passing (soon the fruit will be ripe and ready to eat!), the caves and history, and the future plans for the tour.

During our trip, we passed a larger family group that had small children with them, so they were going much slower and just enjoying the family experience. Kym said that they have some really mellow horses that they always use for the children or beginner riders. The large group also had 2 guides & one in front and one in the back.
The Details
Check the website for current prices , they have 1 hour and 2-hour tours. It will include a rest stop (maybe at the cave).

If you're happy, let them know it — Don't forget to tip your your bartender, tour guide or trip operator if you enjoyed yourself. Gratuities are appreciated and typically aren't included in the price they charge you.

They are open 7 days/week (including most holidays) with 2 or 3 rides daily. A 1 hr or 2 hr morning tour at 9am, and an afternoon tour at 3pm and a 1hr at 4:30pm. Each tour lasts approximately 1 or 2 hours. They ask that you arrive 15-20 minutes early so you can do the paperwork, etc. You can ask about special trips — like private tours, 1-hour tours, special tour times, or experienced rider trips. They may be able to accommodate you. Most tours are in English, but they can do Spanish tours, if needed. They go out rain or shine, and can provide a poncho if you need one.

Kids have to be at least 8 years old to participate. .Weight limit is 250 pounds.

Riding helmets are available for anyone else who wants one.

Bring a hat and sunglasses, and wear sunscreen. Bring your camera if you want pictures. Bring a bottle of water with you if you want. Wear long pants and closed-toe shoes are strongly recommended.

They can arrange transportation from the Old San Juan and San Juan areas. That makes this trip super easy for cruise ship passengers.

You can call them at 787-629-0222 for more information or to make a reservation.

You can visit the Campo Rico Trail Rides web site for more information.

Campo Rico Trail Rides also offers ATV rides on this property. Another company has an adventure course (kayak, hike, & zipline) and there is also a golf school on the property. It is in a great location, easy for anyone staying in, or visiting, the north east part of the island.

Driving Directions: Take Route 26 to Campo Rico Ave. Take Campo Rico Ave. north until it ends. Directly across the street you will see a closed, chain-link gate. Drive up to the gate and tell the guard you are going to the Campo Rico Trail Rides tour and he will open the gate and let you in. The just follow the blue and yellow arrows (and signs) to their office. Once you get signed in, they will direct you to the horse stables.

PuertoRicoDayTrips.com assumes no responsibility regarding your safety when participating in the activities described in this article. Please use common sense! If your mother or that little voice in your head tells you that you are about to do something stupid … then don't do it!