Casa Jesus T. Piñero – A Slice of Puerto Rican History
Update 5/23- The Renovations are done and the house has reopened! Highly suggested you make reservations for a tour (especially if needed in English).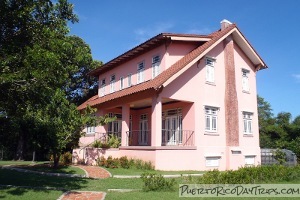 Here is another example of a local historical spot that is way under-visited. The Museo Casa Jesus T. Piñero is located right on Route 3 in Canovanas. Ray and I have passed this place literally hundreds of times and never have stopped in. We finally went for a visit and got a tour of this beautifully restored home that has historical significance for Puerto Ricans.
Some Background Info
Following the US acquisition of Puerto Rico in 1898, the US appointed the governors for the island. In 1946, Jesus Piñero became the first Puerto Rican to hold this office. He was also the last governor to be appointed by the US. His home in Canovanas, lovingly called Casa Rosada, is now open for tours.
Having built a thriving business of cattle and sugar cane, Piñero and his brothers were well-off, financially speaking. When he decided to marry, he wanted to build a house for his new family. Piñero traveled a lot and seemed to take design elements that he like and fused them into one unique house.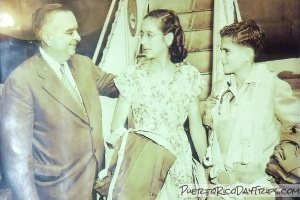 The house was built around 1931. He and his wife raised 2 children here. After his sudden death in 1952, the house was abandoned. It was left in ruins due to some vandalism and Hurricane Georges.
The Instituto de Cultura Puertoriquena (ICP) (Institute of Puerto Rican Culture) acquired the property and restored it to its former glory. The PIñero children have greatly sponsored the efforts for its recovery and maintenance. It now is a nice example of living style between 1930-1950's.
The Tour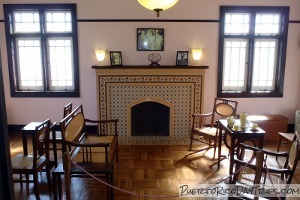 On the day that we stopped in, we were lucky enough to not only have the regular tour guide, but also Dr. Partsch, who is a local historian of the Piñero Collection (who just happened to be visiting the home that morning). Between the two of them, we learned all sort of facts and stories about the family and Piñero. In the hallway of the first floor, there are pictures of the house as it looked when the ICP acquired the building. It was in horrible shape! All that remained of the house was the walls and floors. They did a great restoration job, with help from the Piñero children's and locals' recollection of what the house looked like.
They even have much of the original furniture, which had to be bought back from people who had acquired the pieces. As we toured the house, I was amazed at the size of the rooms, the tile work, the indoor kitchen and bathrooms, and the "modern" appliances. There was even a walk-out basement, which is very unusual for any house in Puerto Rico.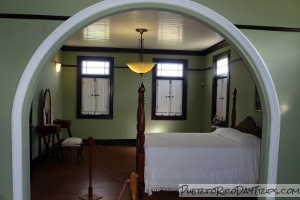 Some displays in the house have been set up to highlight some of Piñero's many hobbies. He was a ham radio operator and film maker. And he was a nature lover, so in his travels he would bring back all sorts of plants and birds. It is said that the yard was full of plants and trees, and that he had an aviary. So now, they have on display an old ham radio and the yard is planted with a variety of trees and there is even an aviary (though no birds). There are a few picnic pavilions if you want to sit and enjoy the yard.
Right next to the house is another building where there are photos and information (all in Spanish) about the political life of Piñero. Not only was he governor, but he was also a the Resident Commisioner, he was influential in starting one of the main political parties in Puerto Rico, and he held local political offices. The ICP also uses this building for presentations, meetings and community service activities.
Details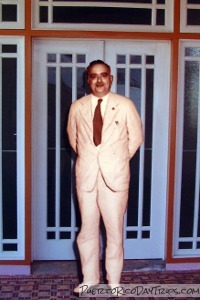 Admission to the museum is $5.58 por adulto, kids (6yo-12yo) and seniors $3.35. Pay at door.
The museum is open Monday- Friday from 8:00am-12p, 1pm- 4pm. You might want to call ahead, just to make sure. Tours are from 9am -4pm.
You need to make a reservation at this link . Select a date and time of tour, then fill in guest info. Make sure to indicate that you need a tour in English (if that is needed). .
All of the written information on the displays is in Spanish, but tours can be given in English if needed. You must make a reservation and tell them you need an English-speaking guide.
The house tour covers 2 floors, so you have to climb stairs (no elevator). The home is air-conditioned. There are clean bathrooms available, too.
Allow about 1 hour to tour the home.
You can call 787-751-0178, ext. 7520 for more information.
You can visit the Institute of Puerto Rican Culture's web site for more informatino. Also, Dr. Partsch has a blog about Piñero that contains lots of information, including info on events at Casa Piñero.
From San Juan, take Route 3 east or take Route 66 east to Canovanas, then take Route 3 west. The museum is located on Route 3 at KM 15.4 in Canovanas. It's across Route 3 from the Hipódromo Camarero Horse Racing Track (which you can't miss).
Click on a placename below to view the location on Google Maps ...
PuertoRicoDayTrips.com assumes no responsibility regarding your safety when participating in the activities described in this article. Please use common sense! If your mother or that little voice in your head tells you that you are about to do something stupid … then don't do it!