Visit Casa Pueblo in Adjuntas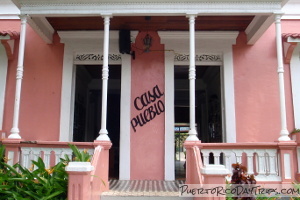 Casa Pueblo is a community-based organization focused on, among other things, the protection and management of natural resources. I am all for groups working to save the planet, so this was a perfect place for us to visit! Their headquarters in Adjuntas is a showcase for all of their on-going eco-friendly endeavors.
Is this a must-see for tourists? No. But it is a nice stop and a chance to see, firsthand, an organization that is trying to change things for the better.
The Casa Pueblo Organization
Casa Pueblo is a non-profit organization that began when a group of community members got together in order to stop a gold mining operation in their area back in 1980. Since then, the organization has continually grown and taken on more projects with a goal of advancing towards sustainable development.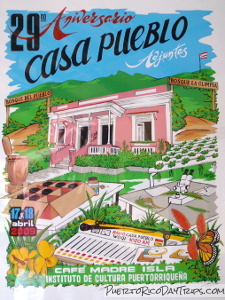 In 1985, they bought the house that serves as their headquarters today. That house, located right outside of the town square behind a school, is their base of operations and a community center. Everyone is invited to stop in, learn about the current projects, enjoy a little bit of nature and maybe do a little bit of shopping in their gift shop.
In 1989, they began producing their own brand of coffee, Madre Isla Coffee. Their self-sufficient coffee farm is maintained by community members and outside volunteers. Their coffee can be purchased at Casa Pueblo and through their web site.
In 1995, the group also purchased Pueblo Forest. This forest is currently only open for educational tours (see their website for info).
In 2003, they opened the Communitarian Institute of Biodiversity and Culture, which offers high school level courses, undergraduate courses during summer, environmental workshops and alternative programs with a couple State-side universities.
A Visit to Casa Pueblo
For the tourist, the house itself is a nice example of an old-style Puerto Rican home, which has been restored. But it also offers an artisan shop, an antiques room, a hydroponics system, samples of their delicious coffee, the broadcast facility for their radio station and a small butterfly garden. The house itself is run on solar energy and has a negative carbon footprint (which means that they produce more energy than they use).
Besides the ecology, I think the best part of a visit to Casa Pueblo for the tourist is the very knowledgeable guides! Anything you want to know about the area — they can help. They were able to give us directions to some area waterfalls and lakes. They also had a nice gift shop where we found a number of unique things, including artisan jewelry and home decorations, and their own Madre Isla brand coffee.
Details
There is a recommended $2 donation/person to visit Casa Pueblo.
Casa Pueblo is open from 8:30am to 3:30pm 7 days/week. It is staffed by volunteers, so call first just to make sure they're open.
A visit to Casa Pueblo is a quick stop. Allow about 30 minutes.

You can call them at (787) 829-4842 for more information.
You can visit the Casa Pueblo web site for more information or to purchase their coffee.
They have clean restrooms, too!
Casa Pueblo is located on Route 123 in Adjuntas, right off the main square and just south of the church. We found it a little tough to get here, so you may need to ask (everyone we asked in town knew what we were looking for). There's not really any parking at Casa Pueblo, but there is a free lot about 2 blocks away (5-minute walk).
Click on a placename below to view the location on Google Maps ...
PuertoRicoDayTrips.com assumes no responsibility regarding your safety when participating in the activities described in this article. Please use common sense! If your mother or that little voice in your head tells you that you are about to do something stupid … then don't do it!