Spend a Day at Cerro Gordo Beach
3/22- Beach is fine and the bike/walking path is cleared and ready for fun! But camping area not open.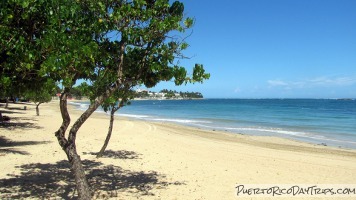 Balneario Cerro Gordo is a really nice government-run beach in Vega Alta, along the northern coast, with all of the amenities that anyone could ask for. It is just 45 minutes from San Juan, yet it has a far away feel — much more local than city. It is a favorite of locals from the surrounding areas (and one of my favorites) in the central northern coastal area.
The Beach
Being a balneario, it is tested every 2 weeks to ensure water quality. It also has lifeguards, a roped-off swimming area, gated parking, bathrooms, showers (though only a few were operational), and even snack bars. The sand is groomed, so the beach looks inviting to lay down a towel and enjoy. The beach area is crescent-shaped, and offers great photo ops looking in either direction. Besides the LONG stretch of light beige sand, it has a large strip of palms and other trees that provide shade, and with picnic tables scattered throughout. There are also gazebos that you can rent for parties.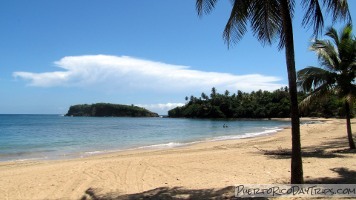 The water is clear, and natural rock formations on the east end make a great wave blocker, so the water is usually calm. On the far east side, there is a small stream that does put some brownish water into the water after it rains, but it is in an area that is not designated for swimming.
From the beach, we could see some reefs out beyond the roped-off swimming area. Supposedly, those reefs are decent for SCUBA diving. We talked to some people that were snorkeling on the quiet mid-week mid may day when we were there, and they said the lifeguards don't let you swim outside the roped area at the balneario part. They said the there is some decent snorkeling at the east end of the beach (by the rocks), but it looked like there was a dangerous current in that area. We didn't feel it was worth the risk to jump in and take a look for ourselves.
There may also be a water sports available, like banana boats or tubes, wakeboarding etc. Check with Exciting Watersports.
The Campsites & MTB (or walking/hiking) Trails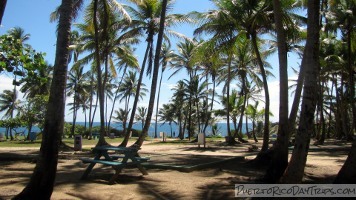 At the far east end of the beach, you can follow a path up the hill to the ramains of a large camping area. It has a lot (almost 100) of raised-rectangle campsites. There are a number of picninc tables, some BBQ grills, and even some electric outlets.
Located under palm trees, it is nice and shaded. Some of the sites have great views, trees perfectly spaced for hammocks, and nice breezes … and some do not. I'd recommend getting there early to pick the best campsite. The restrooms needed major repairs and cleaning when we visited (though no one was camping there at the time). I don't know how the camping is here, but if the facilities were cleaned and repaired, then I would imagine it would be an ideal spot to pitch a tent.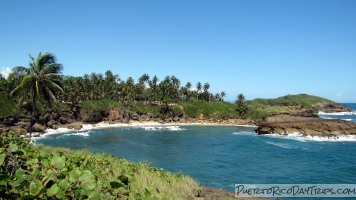 At the periphery of the camping area, there are some amazing views. There is a sign warning not to enter the bluff area (with good reason), and I would never suggest that you do. But we did, and we got some great photos.
The rocks are really sharp and uneven. Luckily, we had on thick-soled shoes. There is a small cove here, but I can see it could have horrible rip currents. Tempting as it is, I would not swim there. Also we don't suggest anyone go out to far on the rocks, as large waves can (and do) suddenly come up and can knock you down (and seriously hurt you).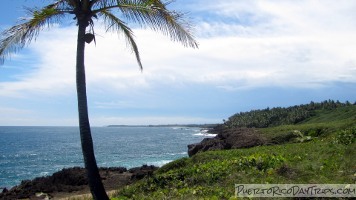 One other really nice thing, just east of the camping area, is about 4 miles of nice walking or mountain biking (MTB) biking trails. Running through the Bosque de Breas, it is a nice area filled with palm trees with many great waterfront views. To get there, you can either drive up and park at the camping area, or just walk from the beach up to the camping area and look for the signs. Follow the trails through the palms and along the coast for amazing vistas.
But all in all, this is a really nice beach! I liked it much better than the balneario in Dorado.
Details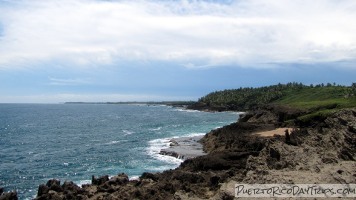 You can walk into the beach for free. If you want to park in the lot, it's $4 for cars, and $5 for trucks and SUVs…
The beach is open year-round Wednesday to Sunday from 8:30am to 5pm. During the summer (mid-May to mid-August) it is open 7 days/week 8:30a-6pm..
You can call 787-883-2515 or 787-883-2730 for more information.
You can visit the Puerto Rico National Parks web site for more information on all of the balnearios.
Nov 2018- Camping is not open. For camping, the fee is $13/night plus parking. Check-in for camping is 2pm. Check-out is 12noon. Visitors are allowed in the campsites from 8am to 5pm. Call 787-883-2515 or 787-883-2730 for more info about camping.
Driving directions from the San Juan area: Take Route 22 west to exit 31. Take Route 690 north, and follow the signs. It's at KM 7.1 on Route 690.
Plan on about a 45-minute drive from the San Juan area to Balneario Cerro Gordo.
Click on a placename below to view the location on Google Maps ...
PuertoRicoDayTrips.com assumes no responsibility regarding your safety when participating in the activities described in this article. Please use common sense! If your mother or that little voice in your head tells you that you are about to do something stupid … then don't do it!