Stand on the Edge of the Earth at Cerro el Rodadero
The central mountain range of Puerto Rico provides many choices for beautiful views. The peaks (cerros in Spanish) are not always easy to get to, but they do reward the strong explorers. Cerro el Rodadero is high in the mountains of Yauco, a town in the south western part of the island. This peak is a rocky outcropping, high up (about 2,850 feet) in the green mountains. From that height, you can see all the way to the coast and many towns in the surrounding area.
If you are a photography buff, this place is a must-see. When I saw some friends' photos of this spot, I knew had to see it for myself. But be forewarned — this place is not for kids, nor the faint of heart. The drive itself is nerve wracking, the hike is really slippery, and the peak … let's just say, you are on the edge and the first step is a doozy! But it is beautiful and well worth the effort!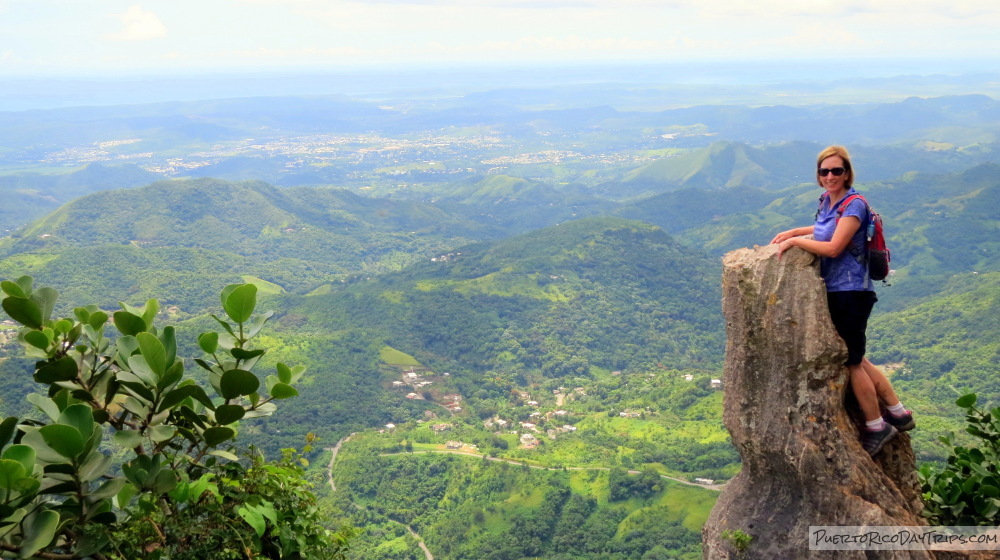 Our trip
The trip to Cerro el Rodadero starts out easy enough on Route 2 to the town of Yauco. From there, you drive up, up, and then up some more. Once you turn off of the "main road" (this is the interior part of the island, so our designation of "main road" doesn't mean a whole lot), you get a treat right away – Charco Piazza!
This little waterfall, river, and natural pool are just as you turn off. You can get down to the river via a path on the left side of the bridge, or down a little road on the right (it really depends on when you want to get wet!). We went on the left side and were able to get pretty close to the waterfall. Getting to the natural pool requires going into the water. It's a nice place to spend a little time and cool off.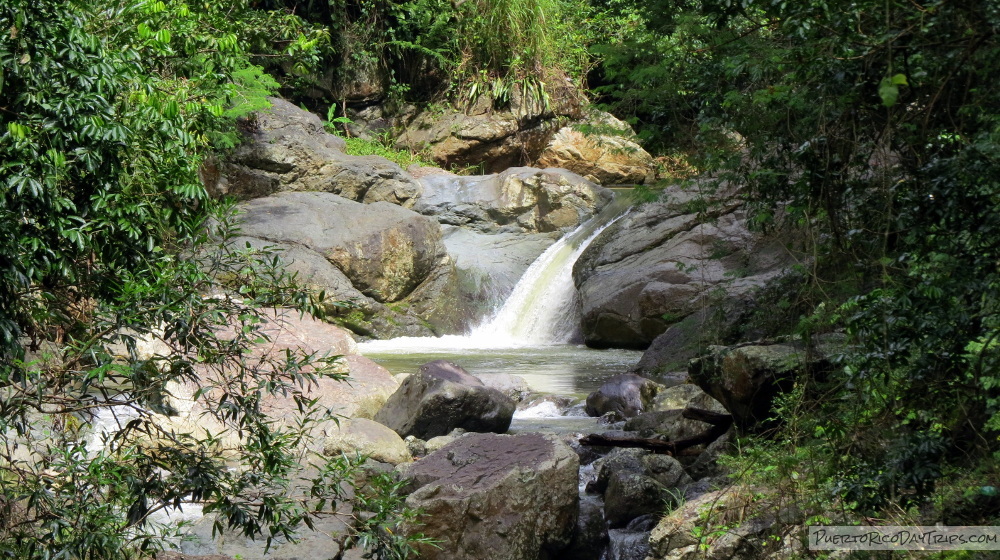 After a short stop at Charco Piazza, we continued on that road and went up, up, and up. It is a little tricky … these roads deteriorate, and at times it seems like you are going up into someone's driveway. But keep going up. These roads are maybe 1½ cars wide, sometimes with steep drop-offs (and no guardrails) to the side. Drive slowly and carefully, and don't hesitate to honk your horn as you drive around blind curves.
The paved road eventually becomes a dirt road. This is were you need to park, being sure not to block anyone's gate or driveway. I would suggest turning your car around before you park, so you're pointed in the right direction for when you leave. There's not a lot of room, and it might be tough to maneuver your car if there are other cars parked there.
Right from your car, you'll start your hike up the slippery (if there has been any rain at all) mud path (bring a walking stick if you have it). People have tried to make "steps" in the mud, but try to stay in the grass to reduce the chance of slipping. Luckily, on the really steep parts, someone has added guidelines to hold on to. It is only about a 15-minute walk uphill.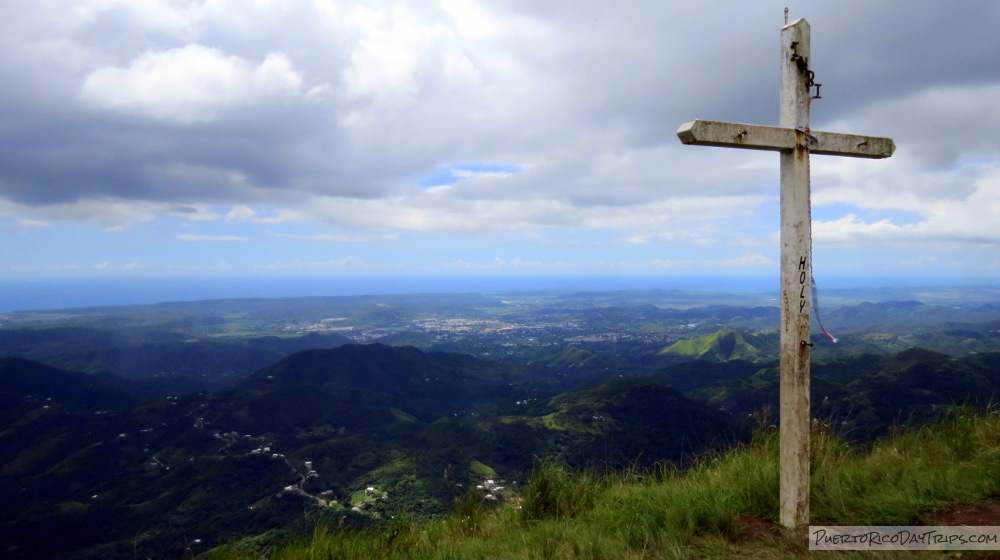 The path leads to a flat grassy area, where you will see a cross. There are great views from this point … you can see Lago Luchetti off to the right, many of the neighboring towns, and to the Caribbean Sea in the distance.
Once you are done there, walk to your left (east) and you will find a trail to the rock outcroppings. There is a small trail up and behind the outcropping that will lead you to what looks like a rock forest. Here, you need to climb up and down until you find the rock at the top that provides the best photo ops.
It is not easy. It can be dangerous. Be careful — there are no safety ropes nor guard rails to keep you safe — you are on the edge of a cliff. The view down is great, but I wouldn't want to see it up close and personal!
We had our lunch up at the top. Surprisingly, there were biting bugs, and it was hot & humid up there (when we went in October). But the views and photo ops more than made up for the irritations.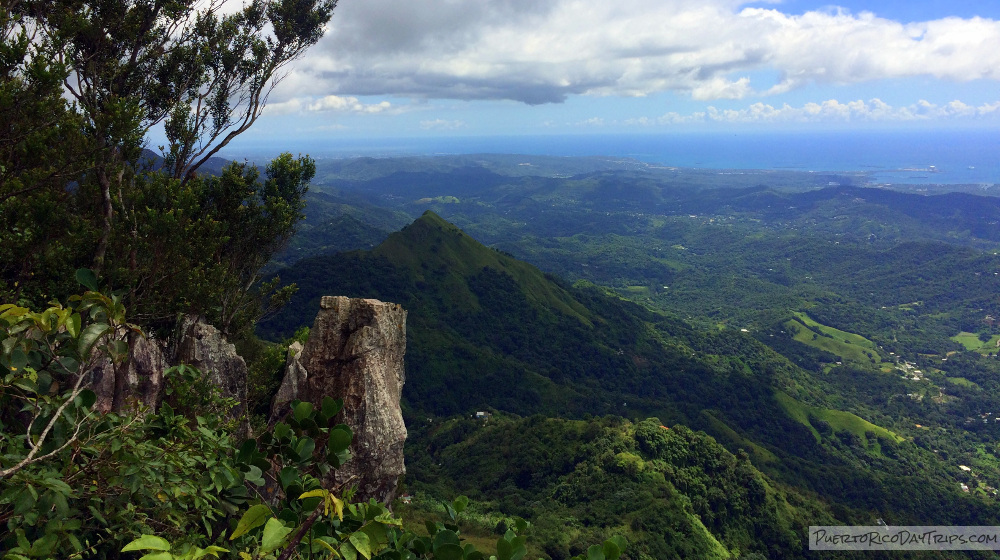 For the return trip back to civilization, I suggest you drive back down the way you came up. We had planned to do a few other things that day, but Google Maps isn't so accurate on those little mountain roads, and we ended up on many dead ends and washed-out roads. Additionally, cellular coverage is spotty in the area, so you can't really depend on navigation apps in general.
Details
Bring water, hat, sunscreen, insect repellent, and your camera. Wear shoes that have good traction in mud and slippery clay.
Allow a minimum of 1 hour for hiking, and taking photos.
You're not likely to find Cerro el Rodadero without the aid of a GPS, Google Maps, or something similar. Having said that, cellular coverage is spotty up in these mountains, so your navigation app on your phone is likely to stop working at some point. Also, Google Maps (from our experience) likes to take "short cuts" on roads that you really won't enjoy driving on, so follow the directions from your navigation app only if you feel comfortable going where it tells you to go.
To get to Cerro el Rodadero, start out by getting yourself to Route 2 in Yauco. We made our first stop at Charco Piazza. If you want to stop at the Charco, from Route 2, take Road 128 to Road 372. Continue on Road 372 until you get to a right onto Road 3375. As soon as you turn onto Road 3375, you'll come to a bridge. The Charco is just up-river from the bridge. After your time at the Charco, continue on Road 3375 until you come to a left onto Road 375. Continue on Road 375 until you come to the end of the road, where you'll park and begin your hike.
If you don't want to stop at the Charco, from the center of Yauco, take Road 375 north, and continue on it until you come to the end of the road, where you'll park and begin your hike.
Click on a placename below to view the location on Google Maps ...
PuertoRicoDayTrips.com assumes no responsibility regarding your safety when participating in the activities described in this article. Please use common sense! If your mother or that little voice in your head tells you that you are about to do something stupid … then don't do it!