Cool Off at Charco Frio or Get Crazy at Las Tinajas
Here is another fun adventure made possible by the rivers that flow down from El Yunque. The Río Fajardo (Fajardo River) in Ceiba offers two types of fun — mild or rugged. For the mild type of nature lovers, there is Charco Frio, which is a series of pools in the river that you can enjoy cooling off in on a hot day. The rugged part is Las Tinajas, which, after a hike in, has a rope swing, a little rock water slide, pretty waterfalls, river views and some nice pools to enjoy.
Charco Frio
It takes a little while to get to this river. But once you find it (located just off of Road 971 in Ceiba), you can just park your car and find a nice secluded spot to sit and enjoy the cool river pools (or charcos, in Spanish). I was amazed how crystal clear the water was. You will notice a blue color when it is deep. Really pretty!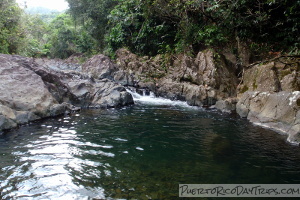 This river can get pretty popular, but you can just walk up the river (yes, you will have to walk in the river and up or around some rocks), but the river has many many private places to enjoy as you walk up stream. Many people bring a picnic lunch or even set up a BBQ along the river with their families and enjoy the day here. This is a place everyone can enjoy.
This spot is great for kids! Some of the pools are deeper than others, but they are all nice and "refreshing" (which is tourism-speak for cold!).
You can park along the road if you can find a spot. Or you can pay $3-5 per car and park at the pink house on the right (up the road a little ways) or any of the other pay lots/fields along that road, all have large parking area. They are open every day from 6-7am until the last car leaves. There is a chain across the parking area, but someone inside will come out to let you in and out. There is a restroom available at this house and a few other lots, but I did not check it out for cleanliness… sorry.
Las Tinajas
This place is not for everyone. It requires some adventurous spirit, and strong legs & arms to climb up the river and rocks to get to the pay off — the falls and the pools.
I highly recommend the easy (and honest) way of going there — go to the very end of the road (past the parking for Charco Frio) and pay to park at the owner's lot, and then take the beautifully easy trail right to swimming area. We did not know about this way until the way back.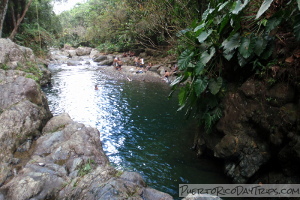 We started out walking up river. It took us about 15-20 minutes of river wading, rock scaling and even some over-land paths (thank goodness!) at the beginning. (There is a point where you can access the owners nice path after his house by going uphill from the river, but that is just trespassing!) It seemed like forever wading the river before we got there — you know you are close when you see the big graffiti on a rock in the river. Once you get to that rock, you just need to do a little more climbing/wading and eventually you get to Las Tinajas.
Las Tinajas actually has two part, both of which are beautiful. The lower section has a deep pool (at least 10 feet in sections), with a rope swing. Some of the kids were even jumping off some really high rocks into the pool. The water is crystal clear, with the deep pools appearing blue/black. There was also a pretty waterfall in this ravine, but to see it the best, you need to be in the water on the right side, or climb the rocks.
After checking the depth of the pool water myself, I decided to do the rope swing. A local guy helped me out with the rope — it wasn't an easy trick to reach it — I assume a stick would make it easier. The hint on this one was to swing out until the rope stops, and just before you start to swing back, and then drop in. This was his advice to me, so I assume it may not be deep enough just under the rope. I did an easy drop into the water, but we stayed here and watched some of the crazy acrobatic stunts the kids were doing. Really fun to watch.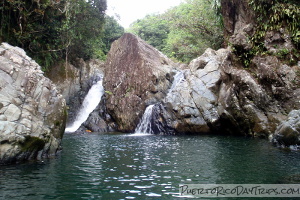 Then we scaled the rocks on the right side (not an easy task) and went up to the upper sections. This was another pretty pool, also deep, with a pair of waterfalls and a small water slide into the pool. Again, the local guy showed me how to do the water slide, and I tried it — it was short, sweet and smooth on the butt! Just my speed!
Some of the local kids were also jumping from the crazy high rocks on the right side, into the pool — not me! But it was fun to watch. Some of this stuff I think requires more guts than brains!
When we were leaving, we began a down-river trek to go back the way we came. But then we noticed the local kids going up a trail on the left side of the pool (while standing looking at the falls). This was the short cut to the beautiful path Mr. Basilo made on his property. Of course, there were no signs at this end it was private (though this obviously was someone's maintained path). When we got to a gate, there were private property signs, but we were kind of stuck (though I guess you could then scale the hill down to the river to avoid the owner).
But we went on and met Mr Basilo. What a nice guy. Of course, he is not too pleased that people just use his private property without asking, but it seems to be a very common occurrence. He unlocked his gate and let out out onto the street so we could walk back to our car.
But, before we left, we chatted with him for a while. Here is the scoop —He said the gate/trail is closed on Saturday, but any other day, people can pull up to his gate, honk to get in to park in his lot and use the path to Las Tinajas. He charges $10-15 per car (perhaps more/less some days/times depending on lots of things I guess), but his path makes it an easy quick walk to the area, it is SO worth it!. This phone number is recent as of 3/19 (787) 342-2415.
Please- anyone who visits Las Tinajas please keep it clean.
Be aware that the rocks are slippery, so you need to be careful when walking around on them. Also never go in the rivers during a rain storm (flash floods happen a lot ) or even a day or two after a rain, since the current can be too strong to be safe. People have been hurt while playing in the water in this area. Respect nature and be safe.
There are two ways to get to Charco Frio, depending on whether you're coming from Route 3 in Fajardo or from Route 53. Both take about 20-30 minutes from the main roads.
From Route 3 in Fajardo: This way is a bit confusing — From Route 3 take the exit for Route 195 and go through the downtown part of Fajardo. Follow signs for Río Arriba and get onto Road 976. Follow Road 976 (for a long time) and then turn right onto Road 971. Follow Road 971 for a little while until you cross a small bridge over the river. Just after the bridge you turn right onto an un-named road. You've made it!
From Route 53: This way is a little easier, but note that Route 53 is a toll road — Take Route 53 to exit #6 for Road 978. Follow Road 978 until you get to Road 975. Turn left onto Road 975, and follow until it merges onto Road 971. Take Road 971 to the right. Follow Road 971 for about 0.4 miles, where you'll make a left onto the unnamed road just before the little bridge.
Click on a placename below to view the location on Google Maps ...
PuertoRicoDayTrips.com assumes no responsibility regarding your safety when participating in the activities described in this article. Please use common sense! If your mother or that little voice in your head tells you that you are about to do something stupid … then don't do it!