Check Out Charco Los Morones in Utuado
Utuado is full of history and beautiful places to see. The Río Pellejas is a long river in Utuado that has a few areas of interest — Charco Los Morones (or Salto Los Morones, depending on who you talk to) is one of those places. It has both man-made and natural falls, and pretty pools. It also has pre-Columbian (and possibly post-Columbian) petroglyphs. Additionally, it is surrounded by beautiful rocks, and lush green mountains. It is just a beautiful area. Photographers will love this place.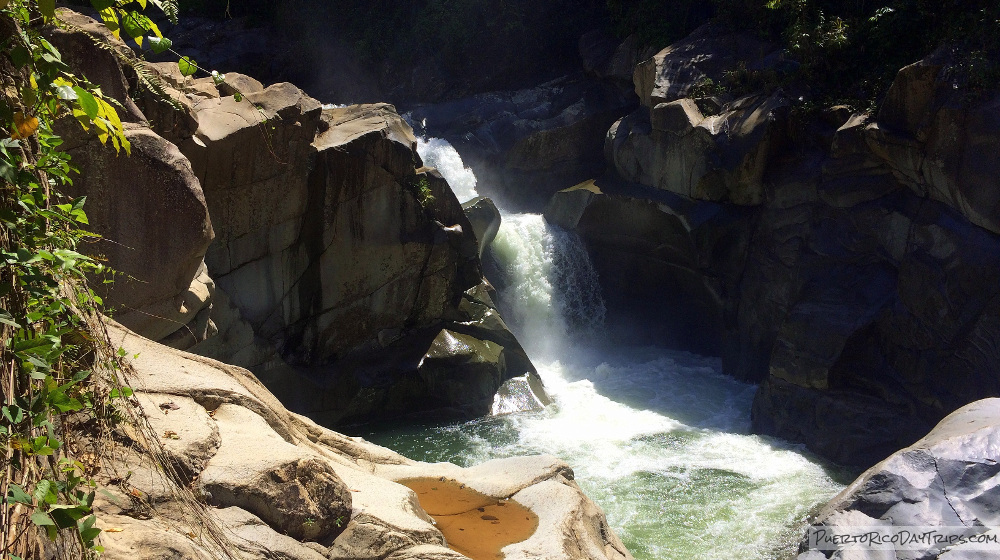 Some Background
The town of Utuado, located in the middle of the island, is one of my favorite towns for exploring. When I saw the pretty photos of Charco Los Morones, I knew that I should check it out.
I didn't have great directions, so at first we ended up-river from the falls. Luckily for us, a local man was walking along, and directed us to the falls. He warned us that the river and the pools by the falls are very dangerous. It turns out that the area got the name "Los Morones" (translates to "the morons") because it is not too smart to go into the water here because there are unseen whirlpools, and multiple people have drowned. We didn't want to be a statistic, so we didn't go swimming.
There are two ways to access views of the falls. One is walking up-river toward them, where you can see petroglyphs, and get a nice view of all the falls. The other is by going down a steep path from the road, right to the top of the dam and falls. We did both in order to get different perspectives. Both options begin at the end of Route 10, where it tees with Route 123. Turn right at that tee, then follow the directions below.
We do not recommend swimming in this river, nor playing in the waterfalls or pools. Before venturing into the river, be aware that flash-floods often occur in this area. If you don't know how to recognize the signs of a flash-flood, then you have no business being in the river!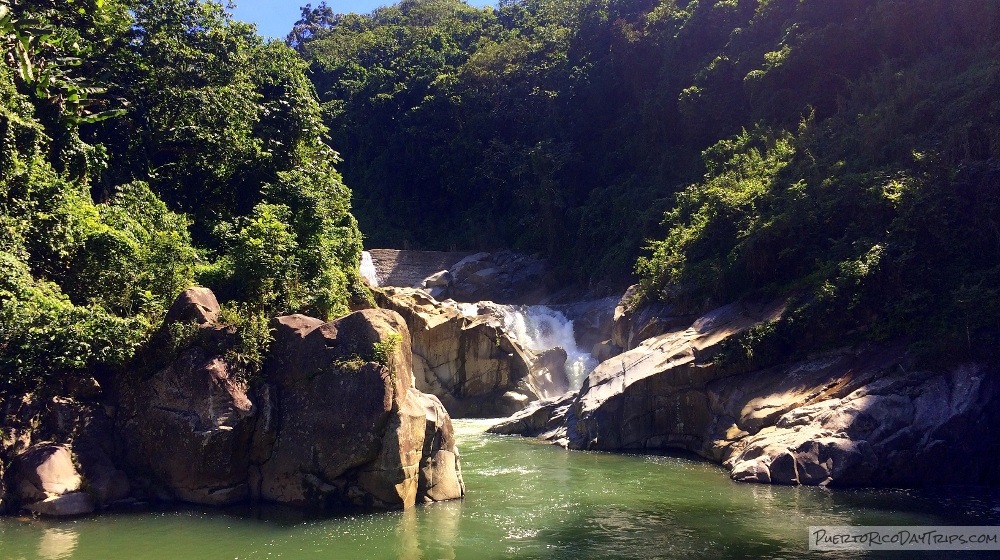 Our trip
We first started out down-river. To do that, follow Route 123 until you see a sign on left that says "Bienvenidos a Sector Salto Arriba" (Camino Bandadero on the map). Turn left onto that thin, STEEP road and go down-hill. Park on the dirt off of the road just across the bridge. If you go downriver, there is a nice large rock with some great petroglyphs on it (on the left side). Walking upriver (on rocks) on the right side, we found some petroglyphs as we got to the section with the larger rocks. If you continue up as far as you can on these rocks, you can get decent view of waterfall. We also tried to go up the left hand side of this river, but it was more difficult, and we didn't have the views we had from the right side. The current was strong the day we went, and it was not easy crossing the river even, in the shallow areas.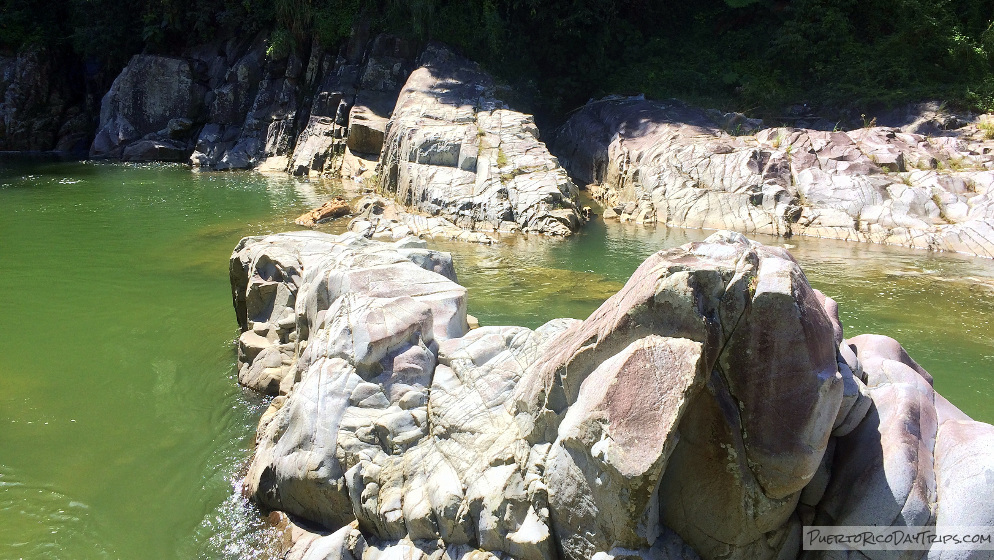 When we finished exploring down-river, we got back in the car, backtracked to Route 123, and found a parking spot close to KM 49.8. Exactly at this KM marker, on river side of road, you will find a steep path down to the dam. It is muddy and can be slippery, but it wasn't too bad for us to do. The trail leads to where you can reach the dam wall, and another path leads just out a little so you can see the dam falls better. We took some photos from there, then we decided that we should be able to better photos if we could find a path down river a little, to the top of the rock waterfall area. The best way is to use the little trail that goes down the rocks …you have to do a little climbing up and over in some places, but it is not too bad. There is a nice petroglyph at the rocks at the top of the rock falls, and the view was pretty impressive, so for me, it was worth the extra effort.
Later, after more online searching, I found there are more petroglyphs both up-river and down-river. There is even a nice boulder with petrogylphs on it (that was taken out of the river) on display at the UPR Technicologio/Agricola building. I will have to go back to check it all out.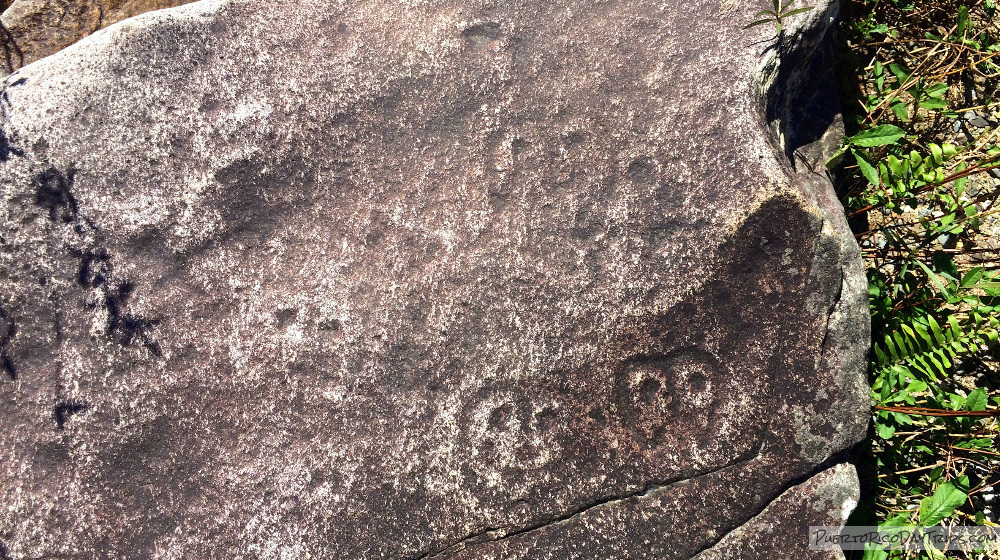 Details
If you plan on going into the river, we recommend that each person has a personal flotation device (PDF or "life jacket"). Everyone visiting should wear shoes, not flip flops!
From Route 22 in Arecibo, take Route 10 South until it tees Route 123 in Utuado. At that tee, turn right onto Route 123, and then follow the directions in the body of the article above.
Click on a placename below to view the location on Google Maps ...
PuertoRicoDayTrips.com assumes no responsibility regarding your safety when participating in the activities described in this article. Please use common sense! If your mother or that little voice in your head tells you that you are about to do something stupid … then don't do it!