Hiking & River Fun at Charco El Pilon in San Germán
If you love hiking and waterfalls, then this is for you! San Germán has a number of neat things to do/see, and this one is high on our list. There is a well-maintained trail to a waterfall that goes through some forest and the river. It is varied enough to be interesting, but not too difficult, so almost any able-bodied person can do it. And as an added feature, for those really daring/adventurous, climb up and over to get to Charco La Iglesia, a beautiful slot canyon.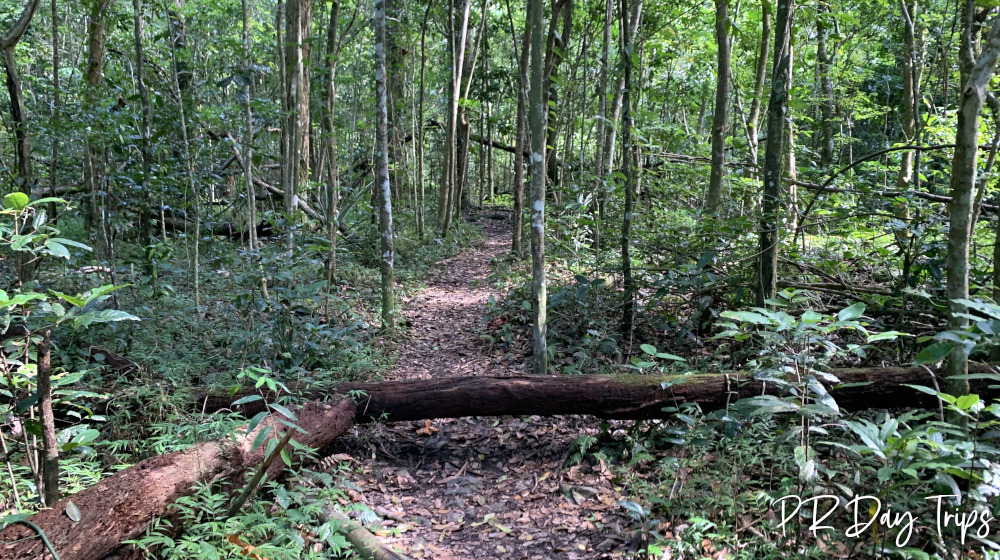 You will find this gem located high up in the mountains of San Germán, in the southwest part of Puerto Rico. The trail head is literally, at the end of Route 362. You can park in front of road barriers or along side of road. Follow the dirt "road" as it goes down to the water company building (2023- there is now a large sign there!). Then you will start looking for the trail. The trial is pretty obvious most of the way. It goes through the forest and crosses the shallow river many times (so your feet will get wet).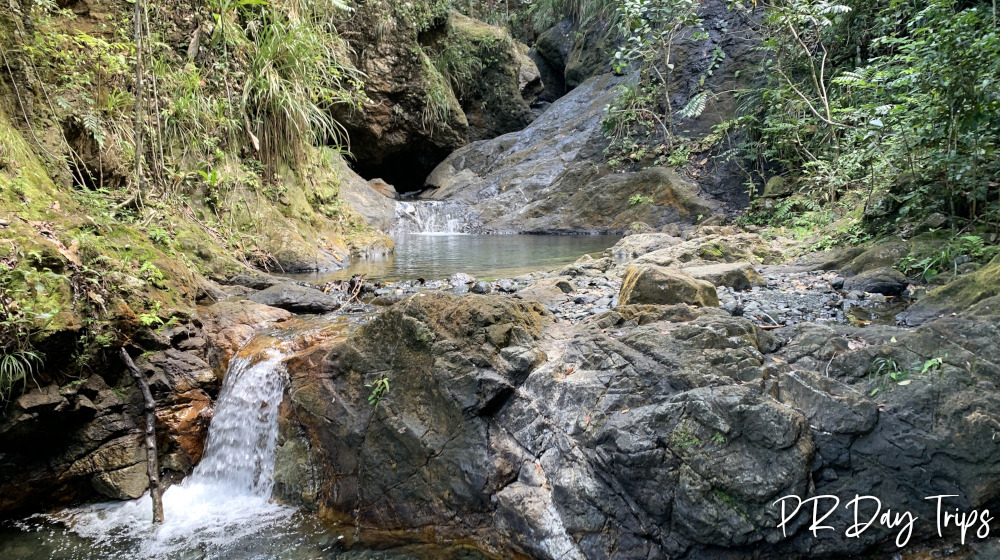 There is one spot where you need to follow the river downstream until you see the trail again. It is a dirt trail, so there are roots/rocks, mud, some fallen trees along the way. But the trail is marked with ribbon and also you will see signs and some rocks painted with arrows. You may have to look closely, but be alert and you will find the trail. All along the way there are a number of pretty pool you can enjoy in the river as you cross it.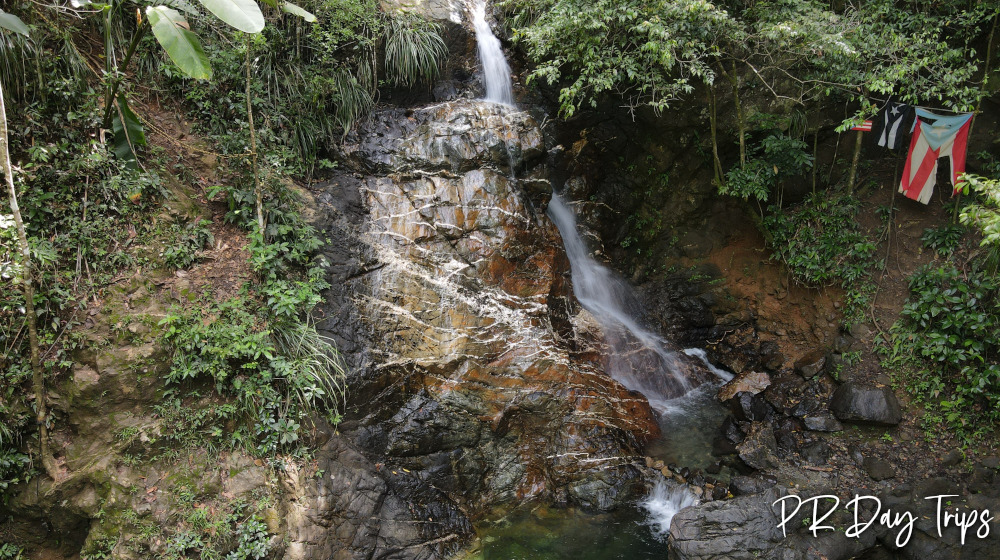 Follow it until you get to the river and hear the waterfall (Charco El Pilón) to your right. Notice, the trail does continue up across the river, which is the "safest" way to Charco La Iglesia – but more about that later. For Charco El Pilón, turn to the right in the river and head upstream. You will have to scramble up and over some big rocks to get there. But, all in all, it should be doable by most people if you take it slow and careful. The waterfall is nice, maybe 30 feet tall, and the pool is crystal clear and pretty. The pool is only about 3 feet deep, so it doesn't look like there is any place safe to jump/dive into the water.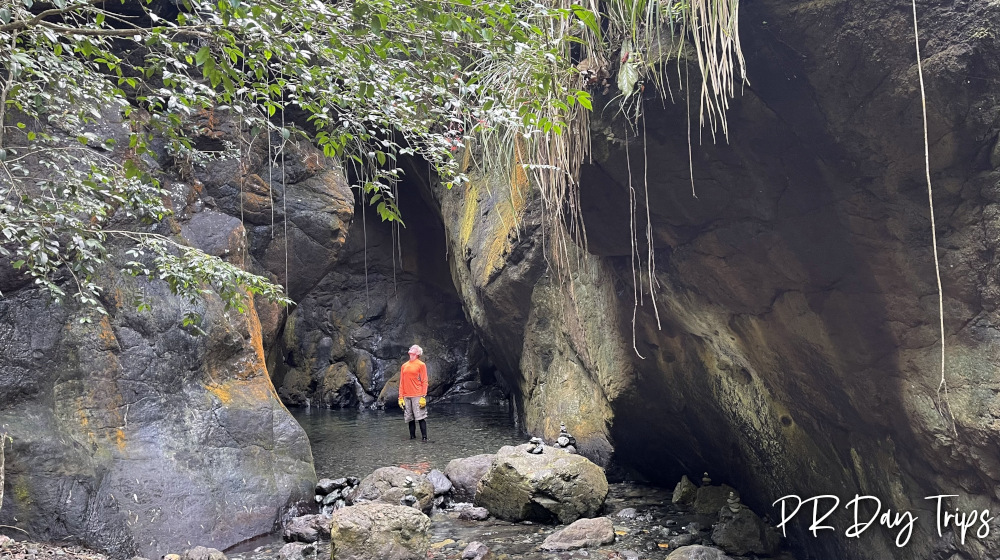 If you are daring, and wearing appropriate footwear (gloves would be helpful, too), you might choose to try to go to Charco La Iglesia. You will see a super steep "trail" and a rope just to the left side up the waterfall rocks. This is a way up, but it is super difficult, scary, and dangerous. I highly suggest, instead, hat you go back downstream to the path across the river, and go up here through the forest. It is still steep in spots and not easy, but at least if you fall, it won't be onto rocks! There are ropes in many of the real steep parts, and you will be grabbing and using many trees/roots along the way. It takes about 10 minutes to get up and over to Charco La Iglesia.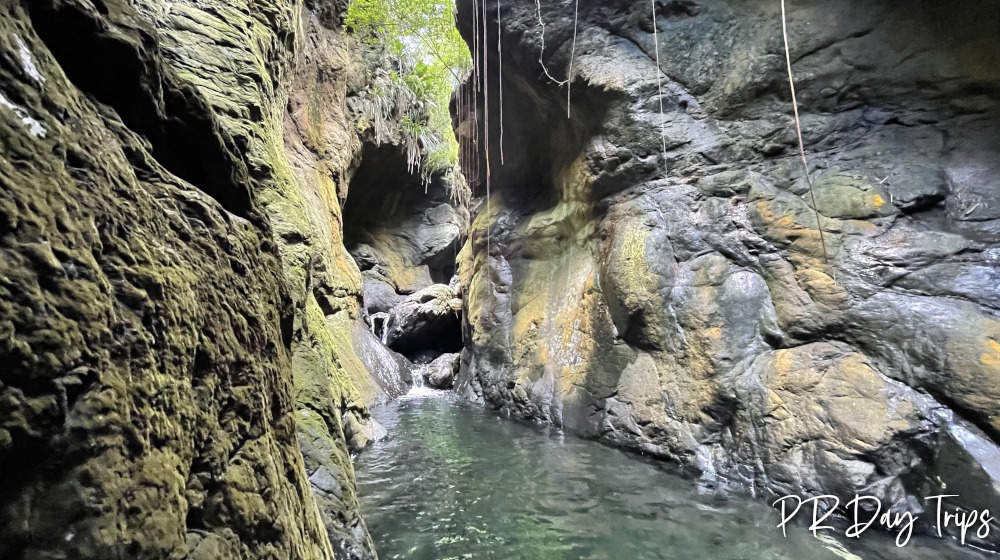 Charco La Iglesia is like a slot canyon. Truly beautiful and worth the difficult climb up there. This water is deeper in spots here, you can swim up to the little cascade and carefully climb up the slippery rocks. But I just enjoyed looking at it.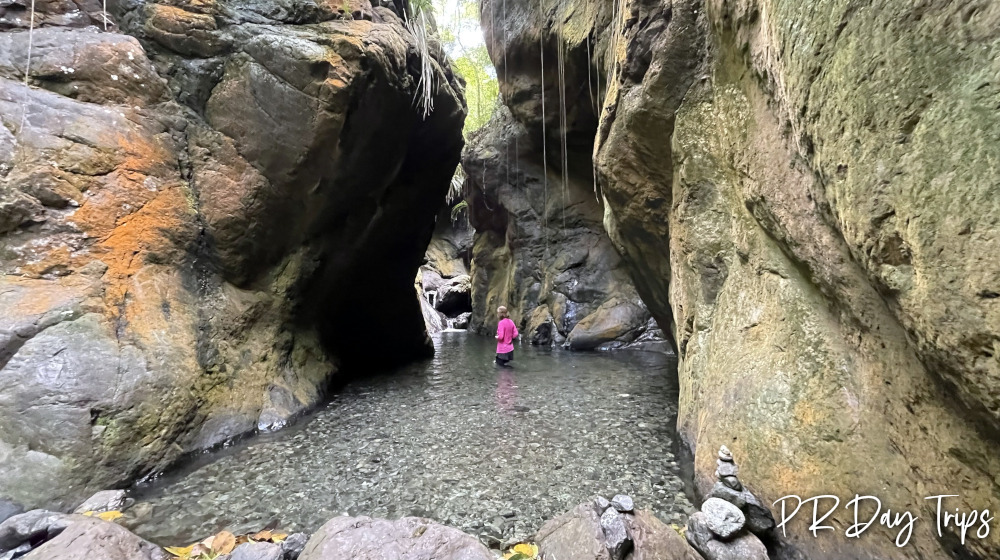 The trails here are well-used and well-maintained, but don't expect to bump into too many people. We went on a Saturday morning (9am) in the summer and had it to ourselves. We only saw 2 other groups of people as we were returning to our car a couple hours later.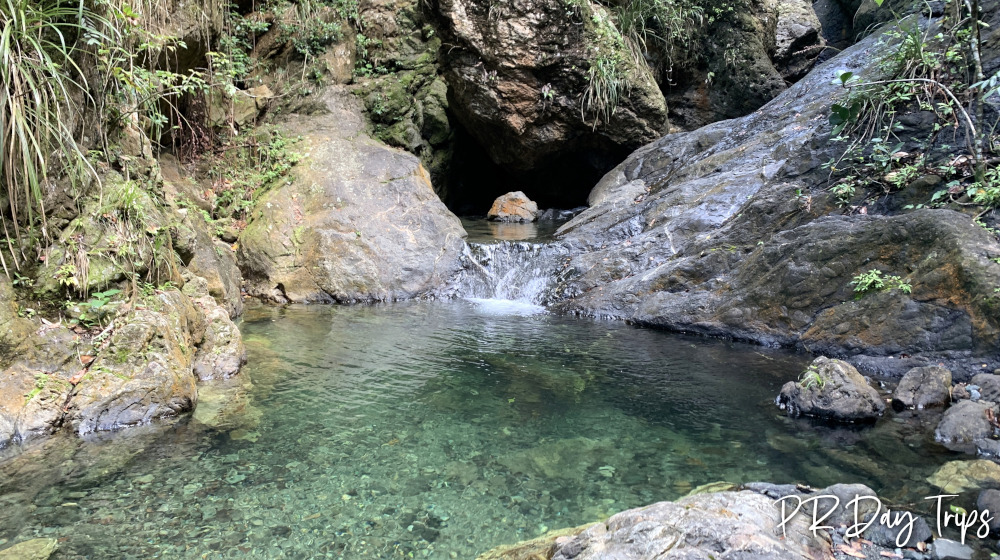 Details
Get an early enough start so that you can make it back to your car before dark.
The hike is through the forest, with multiple river crossings, and some minor rock climbing/scrambling. Wear sturdy sneakers or hiking shoes that can get wet. If you plan to continue to Charco La Iglesia, bring gloves as you will need to hold onto trees, roots, and the occasional rope as you head uphill. You will spend a lot of time on the trail, so bring plenty of drinking water and a snack.
Allow a few hours for this hike. The hike to Charco El Pilón is about 45 minutes one-way. Figure another 10-15 minutes each way if you continue to Charco La Iglesia
Follow Road 362 in San Germán literally to the end of the road (about KM 9.3). Follow the dirt "driveway" to the river (not the house driveway).
Click on a placename below to view the location on Google Maps ...
PuertoRicoDayTrips.com assumes no responsibility regarding your safety when participating in the activities described in this article. Please use common sense! If your mother or that little voice in your head tells you that you are about to do something stupid … then don't do it!