Dare to Experience El Columpio de los Suspiros
Are you looking to challenge yourself and to experience an adventure in one of the most beautiful parts of Puerto Rico? El Columpio de los Suspiros has it all! There's a swing on the edge of a mountain that overlooks the rushing cascades of El Yunque … that you will soon be jumping into! This extreme adventure will get your adrenaline pumping. Montaña Explora offers a few tours on the south side of El Yunque, and this new one gives you a little taste of everything.
El Columpio de los Suspiros translates literally as "the swing of the sighs". But the literal translation of "sigh" is not accurate for this swing. I am thinking that "takes your breathe away" sums it up better. This adventure takes place in Naguabo, up high on the south side of El Yunque. This town, on the east coast of Puerto Rico, is home to some of the prettiest waterfalls, just one after another all in the Río Blanco. That is the backdrop for this swing. The photos just don't do it justice!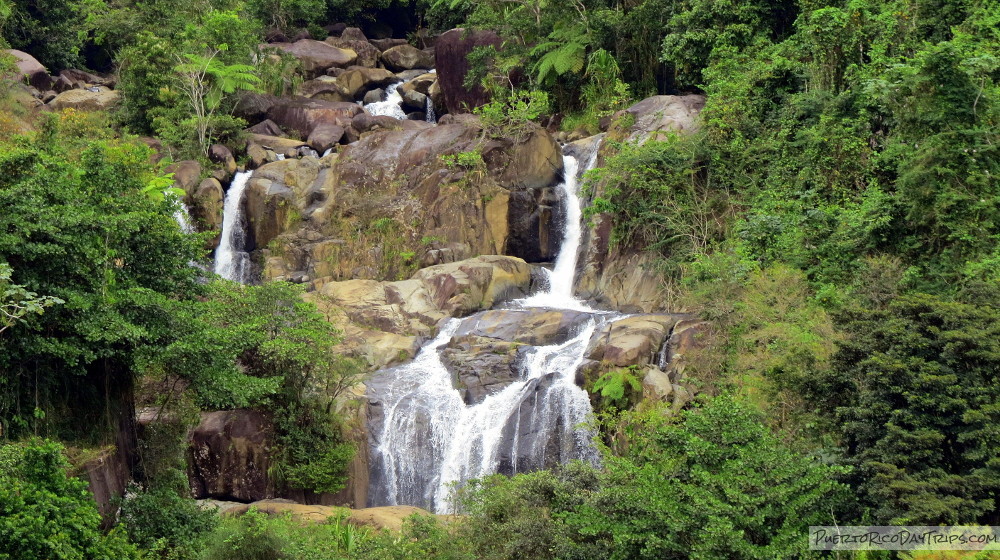 Our Trip
We met our group at the Montaña Explora base camp. After signing the typical waivers, and getting our equipment for the day (helmets and personal flotation devices), we all loaded into the back of a pick-up truck that took us up to the end of the road (at El Hippie) where we began our hike. The hike up to the swing is a real workout, but the effort is so worth it!
We stopped a few times on the walk up to catch our breath and take in the beautiful views. When we got to the tree, one of the guides was just finishing putting up the second swing. For safety sake, the swings are taken down at the end of the tour.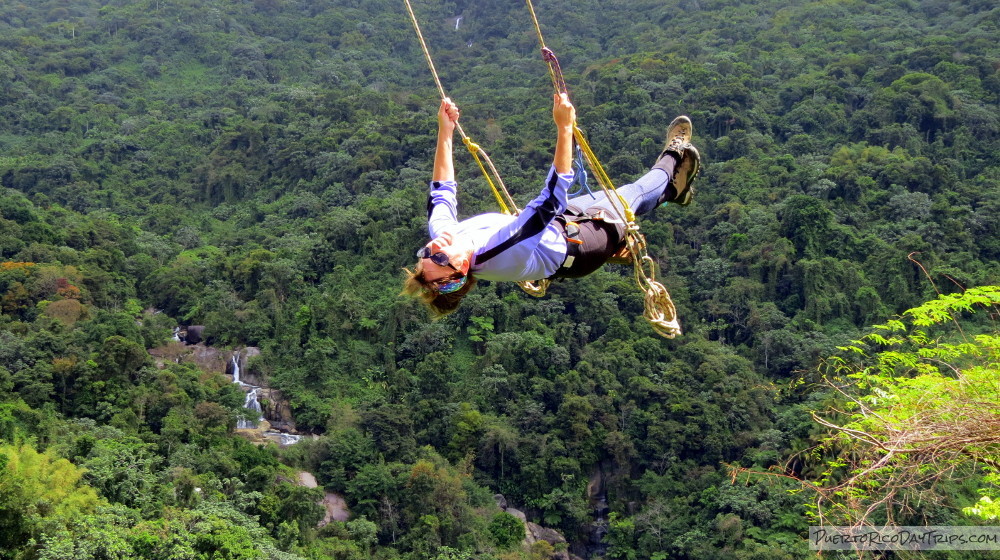 They try to keep the group small (maybe 12 people), so everyone can take their time on the swings. While it looks scary, you are safely attached to the swing by a harness. The guides show you how to do it … to safely swing out, and come back to get another push, and to get the best pictures. There are two swings — one on each side of the tree, so the views are different. One swing gives a view of the waterfalls in Río Blanco, while the other swing gives views of Naguabo, the ocean, and islands beyond.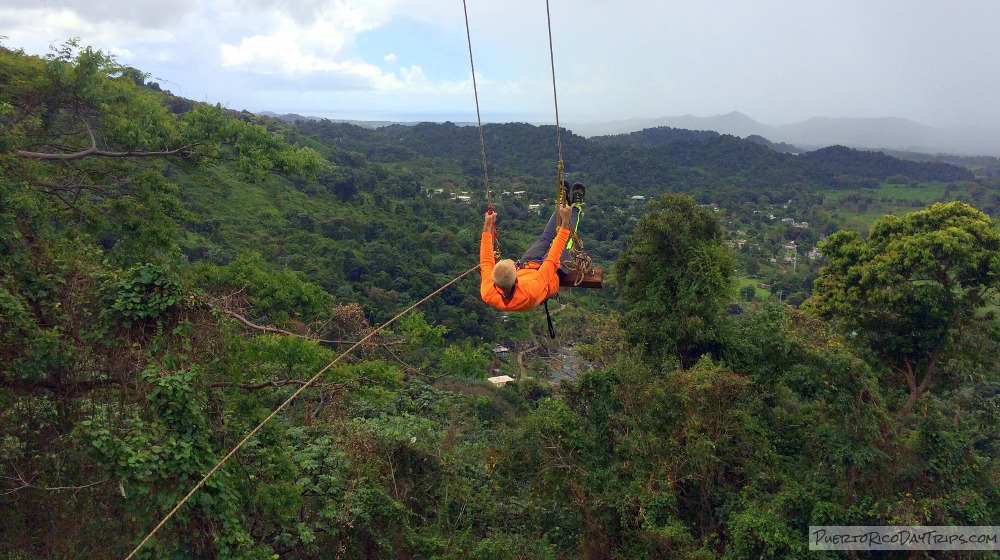 The swing is on the top of the trail on the edge of a mountain, so as you swing out you are really high up. But after a few trials runs, everyone really enjoyed themselves on the swings … really hamming it up for photos. Many people were daring themselves to do more — stand up, let go of the ropes, lay down, etc. We stayed there until everyone was done playing. Bring a snack or lunch to eat because, at this point, the adventure is only half through!
We then walked back down the trail, and veered off to go into the river. People who needed to changed shoes and clothes. We took a bunch of pictures, but soon bagged up things that couldn't get wet, and we left all our stuff on the river bank. Then you start the wet part of the tour, which is a mini version of the usual Montaña Explora trip!
The "cool and refreshing" water felt good after our walk. First, there was the natural rock slides, then river pools, drop offs, and dips. All in the most beautiful and impressive setting. Walking around on the rocks was slippery, but the guides helped you along the way. You didn't "have to" do any of the activities, but that was part of the fun — getting over your fear and just going for it!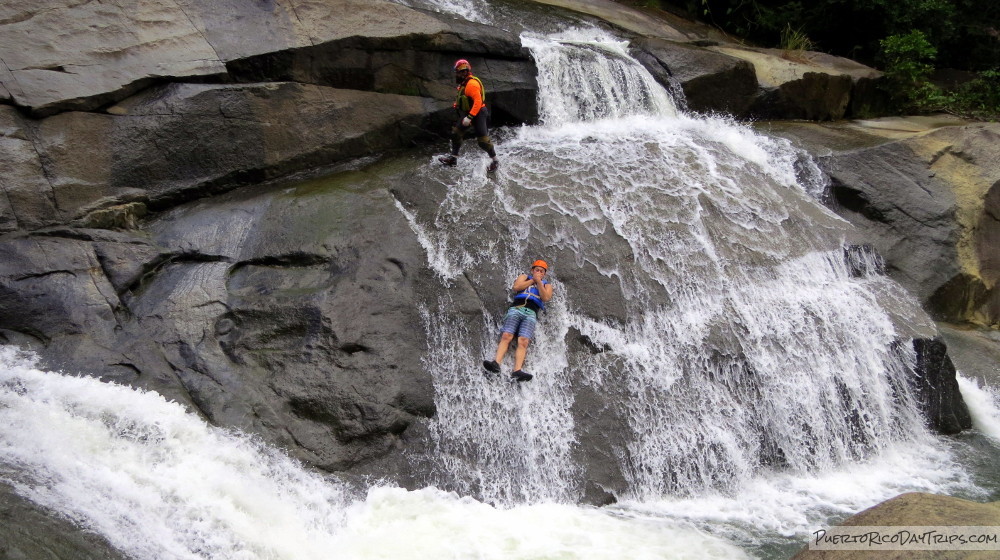 This is an active adventure, so you may get some bumps and bruises, but think of them as proof of your experience and bravery.
It started to rain, so the guides decided it best to finish the tour. They were very aware of the weather and river … monitoring the water levels, etc. Depending on if there is another tour, you either hop back in the truck, or you walk back down to base camp, where they have bathrooms, showers, and changing rooms. Warm dry clothes felt great at the end of the day!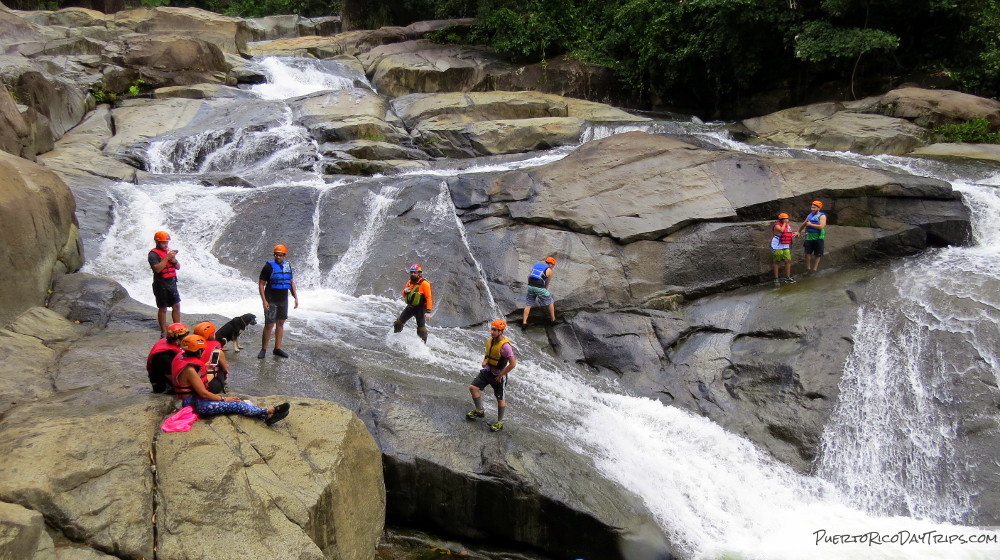 Details
The cost of this tour is about $90 per person. Reservations are required.
Minimum age is 10 years old. No weight limits.
You will be wet for a good part of this tour, so it is best to wear quick-drying clothes. We recommend quick drying "legging" long pants (like yoga or running pants), and a long sleeve quick-drying shirt. We like to wear shorts over our tights … sometimes pants get torn on the rocks. Closed-toe shoes (tie-type, no slip-ons) with good traction are required. Bring drinking water, snacks, and a small backpack. And a waterproof camera.
Allow 5 to 6 hours for this tour, plus travel time. It will be an early, and long, day.
You can call Montaña Explora at 787-516-6194 for more information or to make a reservation.
You can check out their web site or Facebook page for more information.
They will provide helmet, personal flotation device, gloves, knee pads, and rappelling equipment.
Click on a placename below to view the location on Google Maps ...
PuertoRicoDayTrips.com assumes no responsibility regarding your safety when participating in the activities described in this article. Please use common sense! If your mother or that little voice in your head tells you that you are about to do something stupid … then don't do it!