Save with Puerto Rico Coupon sites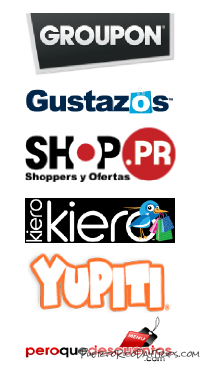 For both locals and tourists alike, there are a lot of really great things to enjoy in Puerto Rico — the food, the adventures, the relaxing beauty. But, when you're busy enjoying yourself, the expenses can add up a lot quicker than you realize. But, thankfully, Puerto Rico has finally joined in the online-coupon trend that helps save everyone some money on the things they want to do.
Many Different Ways to Save
We had always purchased the entertainment book for BOGO dining options and discounts at local stores. But now, in the internet age, the book is no longer even available for Puerto Rico and there are a number of new, free discount websites that help keep a little more money in our pocketbooks.
Here in Puerto Rico, the local discount sites are Gustazos, Gozagoza,Ofertadeldia, Ofertones.
Each of the discount offers on these sites provide a 50% (or more) savings on all sorts of things, like restaurants, outdoor tours/activities, and lodging. They also offer huge discounts on more local, day-to-day-living kinds of things, like haircuts, dog grooming, and lawn maintenance.
Each of these sites has a new discount offer every day, and there is lots of variety in the offerings. There is sure to be something that piques your interest at least once per week.
How They Work
Once you register with a site, they send you daily offers via email or Facebook. Each of the offers is limited, by either a total number available for purchase, or a deadline by which they must be purchased. If you find one you like, you buy it on-line with a credit card. Once the offer is over, you will receive a notice (usually via email) that you print out and take with you when you want to use it. Some request that you make a reservation and tell them you will be using a coupon. But that's it — really simple and easy.
One catch for English speakers is that all of these sites are in Spanish, though Gustazos has an English option.
Caveat Emptor
You really have to read the offers carefully to make sure you can use them during their valid period. There are no refunds. so, if you don't use it, you loose it.
As a tourist, you need to be especially flexible when scheduling outdoor activities that might be canceled due to weather. If an activity is canceled and cannot be rescheduled during your time on the island, you'll forfeit your trip and you won't be offered a refund.
Also, check what is and is not covered so there are no surprises. Things like sales tax (IVU, by its Spanish initials) and tips are usually extra and payable on the day of the service.
And one other thing that has I have discovered: reserve the date/tour ASAP- they usually sell hundreds of these discounts and dates sell out quickly. If you want a specific date/time, reserve it right after buying the coupon (or even check if it is available before buying).
Personally, I have used the first three places on the list quite a few times. We have been able to try new restaurants and adventure tours. We've really enjoyed getting the discount, and (so far) with no problems at all.
PuertoRicoDayTrips.com assumes no responsibility regarding your safety when participating in the activities described in this article. Please use common sense! If your mother or that little voice in your head tells you that you are about to do something stupid … then don't do it!