The Colors of Crash Boat Beach
Update Dec. 2nd, 2017- Post Maria- There was some damage to the kiosks/buildings. But the beach is usable. Sadly, no fishing boats anymore…at least for now.
Puerto Rico is blessed with so many beautiful beaches, and Crash Boat Beach is one of them. It is very popular, so it can be busy (especially on weekends), but it is has two sandy areas with ample space people to spread out. here are some facilities, some food and water sports vendors, and even a chair/umbrella rental place. It is a colorful beach, with the pier and the fishing boats, you can get lots of good photos. Really, this beach offers something for everyone! If you are in the area, it is a must-visit stop.
Crash Boat Beach is located in Aguadilla, on the west side of Puerto Rico. There are remnants of a ship at the shoreline on the far left side (when facing the water). I don't know for sure, but I assume that is how the beach came to be called "Crash Boat".
The old pier is left over from the US Air Force, who used it to dock rescue boats. The pier is painted in bright greens and yellows, and it is open for visitor use for fishing (when people are not swimming), for jumping into the water for fun (there is a ladder to climb back up), and the pilings below make it a great snorkel/dive site.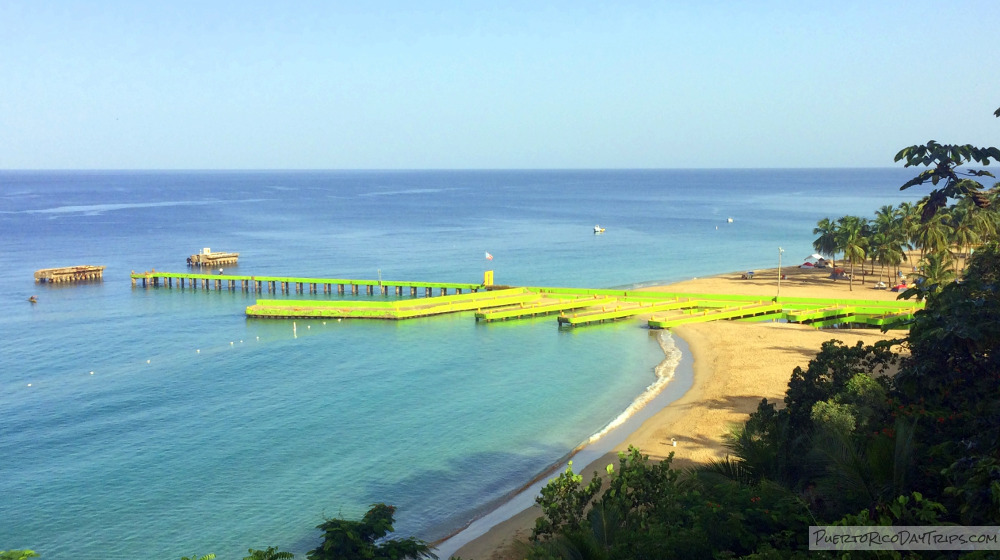 Be mindful of the current. Depending on the tides and recent weather, there can be swift rip currents pulling away from the pier. This is especially true in the winter months.
This is a much-photographed spot. It used to be due to the colorful fishing boats that are lined up on the right side of the beach. For years, the fishermen had maintained their small boats in all sorts of colors, and prop them up. But Maria and rising tides have taken much of the beach and ruined the buildings. I don't know if anything remains of the fisherman building, you used to be able to get their fresh catch of the day right there at the fish market.
As a beach, it is fairly large (there are 2 areas). The sand is nice, light gold color, the water is crystal clear.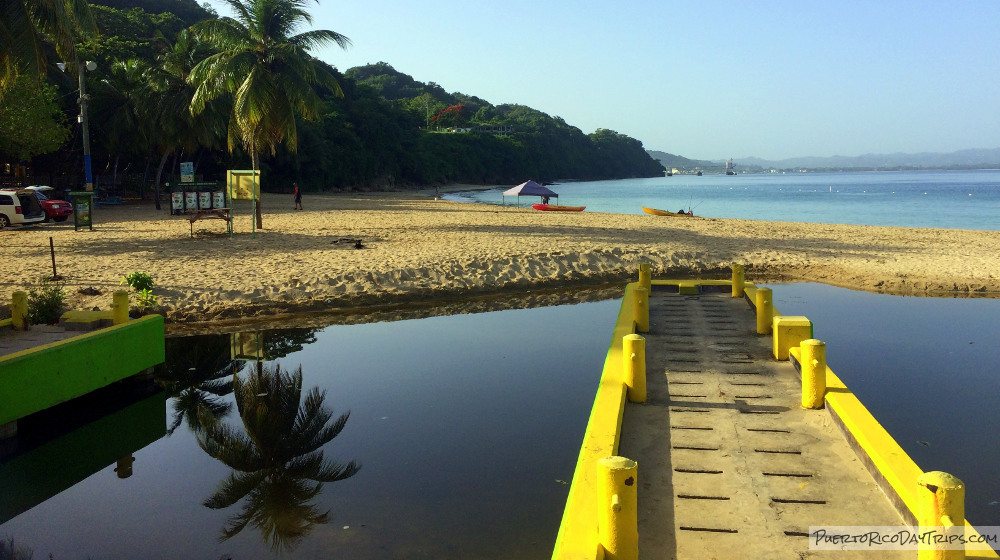 The first beach you come to as you come down the hill is the "pay for parking" beach. This beach is "maintained", meaning it is cleaned every morning, and has some facilities (like showers and restrooms, though I hear the restrooms are gross and sometimes not in working order). I also saw a first aide station, though I don't think there are life guards. This is the area of the beach I recommend that you use.
There is a roped off swimming area, so you don't have to worry about boats, jet skis, nor kayaks coming in while you're swimming. There are a few shady areas if you go by the rocks. There are a number of picnic tables in the shade, and then plenty of open areas to enjoy the sun.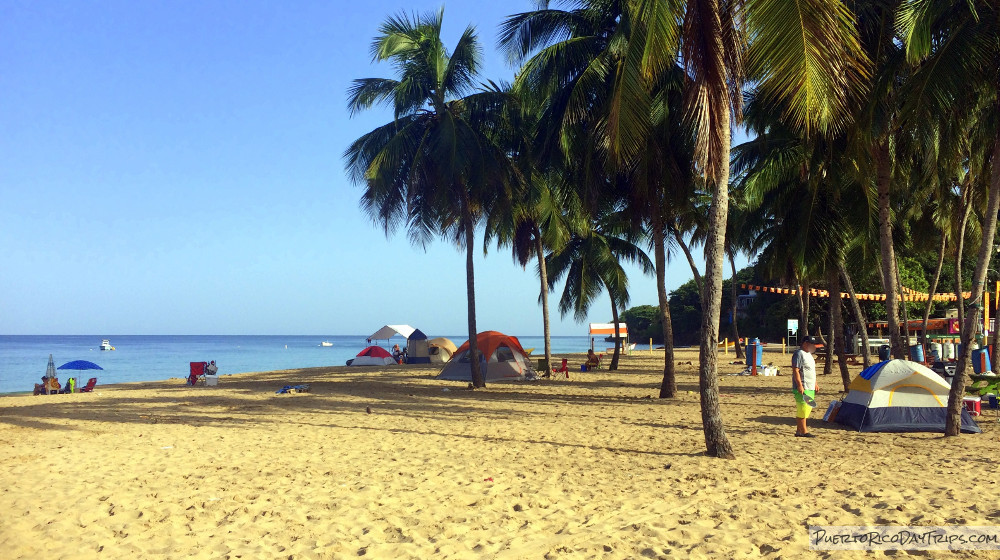 If you pass the first parking area, you go over a small stream/river, and continue around until you come to another parking area, which is free. This is the "free" side … so it is not "maintained" and can get really dirty/gross on a holiday weekend! There are no roped off areas for swimming, boats come and go here, so be careful swimming (best to go to the other side). This is where the fishing boats dock.
But this side has the activities and food! There is a company (West Paradise Water Sports) that rents SUP, kayaks, and snorkel equipment, and offers banana boat rides and guided snorkel tours right on the beach. Check their Facebook page to make sure they will be available when you are there. You will find food stands at the parking lot and by the fish market. There is also a small restaurant/bar (though I don't know if they are open every day).
The snorkeling is decent. There are a lot of fish and some corals on the pier pilings. It is possible to get from one side of the beach to the other, but you will have to either walk along the road, or hop up and down the pier. Either way, it would be tough to do carrying all your beach gear!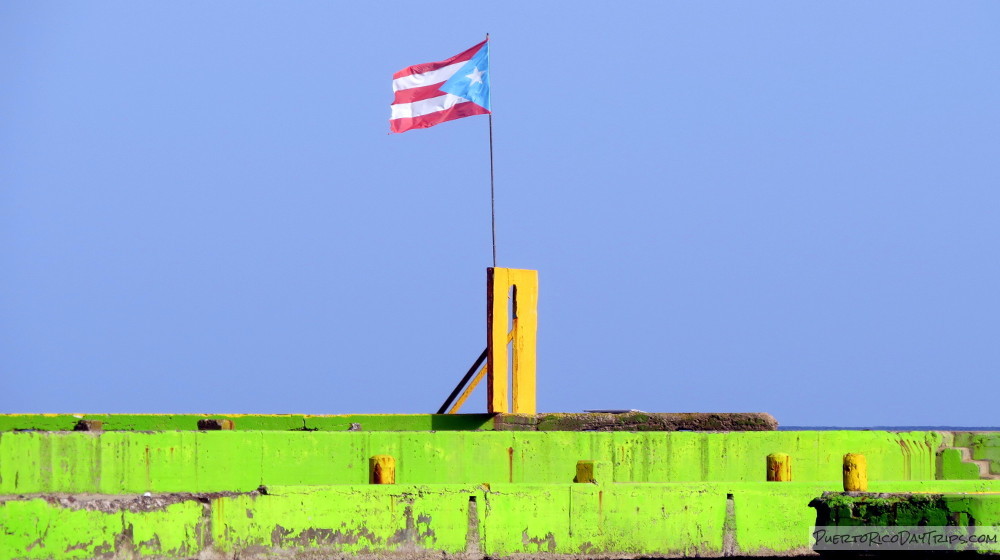 Details
There is no charge to use the beach, per se. Just a charge to park in the parking lot. That lot fills up quickly on holidays and weekends (especially in the summer). You can park on the street and walk to the beach … just be mindful of the "no parking" areas.
From the San Juan area, take Route 22 west to Route 2 west. Turn right onto Road 107, and then left onto Road 458. Follow the signs (and traffic).
Crash Boat Beach is about a 2-hour drive from the San Juan area.
Click on a placename below to view the location on Google Maps ...
PuertoRicoDayTrips.com assumes no responsibility regarding your safety when participating in the activities described in this article. Please use common sense! If your mother or that little voice in your head tells you that you are about to do something stupid … then don't do it!