View Petroglyphs at Cueva del Indio in Arecibo
Post Maria- 1/20/18- The parking area and access to the cave/rocky coast is open. Note- without the ladder to get down into the cave, you can't really see the petroglyphs….so you are mainly paying $5 pp to park safely and see the hole and beautiful coast. Not that I would recommend doing it, but if you are able and daring, there is a crack/crevice in the wall in the corner of the flat area where the cave entrance was that will get you down into the cave.
February 24, 2017 – We just heard that the Department of Natural Resources has removed the ladder from the cave, for safety reasons. So now, there's no way to get down into the cave to see the petroglyphs.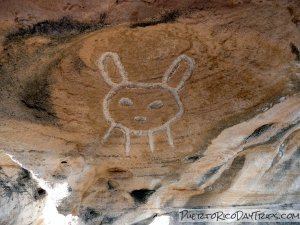 Puerto Rico is an island with many different faces. It is both urban and country, modern and historical, laid-back and hurried, built-up and natural. If you visit Arecibo and La Cueva del Indio (Cave of the Indian), you will see it all – modern, country, nature and history – all in one day. To get there, you take Highway 22, past the Barceloneta Outlet mall. From this modern highway, turn onto some country roads and see rural Puerto Rico along the northern coast. At the caves, you will be transported back in time. The Taino Indians held tribal meetings in this area and made numerous carvings in the walls of these natural limestone caves. The petroglyphs are said to have been made during ceremonial activities. These petroglyphs pre-date Columbus' arrival to Puerto Rico in 1493, and were probably made many centuries earlier.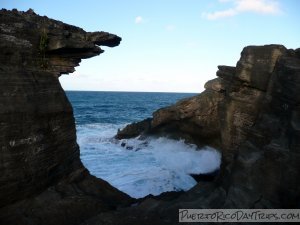 Our Visit
We pulled in at the sign on the side of the road that says "Cueva del Indio". Park and then pay the ticket booth people. They will tell you about the place and how to get there. It is a quick walk from the lot to the cave. This cave is open to the sky, so you can see into it. Every once in a while, someone from PR Department of Natural Resources comes out to clean off the rocks and outline the carvings, so they are easier to see. When we went they were visible, just not as clear as possible. There used to be a ladder that let you go down into the cave, but that was removed early 2017.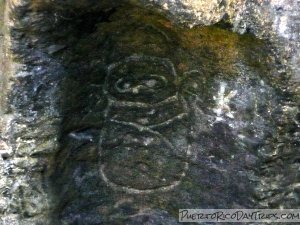 It is a bit treacherous. To get to the caves, you need to walk across exposed limestone, which is sharp – take care not to fall! You should wear sturdy shoes – sneakers or something – not flip-flops or high heels. You will be looking over a ledge, down about 25 feet into the cave – be mindful of your footing.
La Cueva del Indio is said to contain the largest number of petroglyphs found along the coastal zone. In 1992, the Planning Board of Puerto Rico designated Cueva del Indio as a Natural Reserve. Since then, the cave is managed by the Puerto Rico Department of Natural and Environmental Resources (DNER). They try to maintain it for conservation purposes. Unfortunately, there has been some vandalism of these beautiful historical carvings. Some idiots decided they needed to mark the walls But, thankfully, even after all these years, the petroglyphs had withstood the natural and human forces, and are still around today for us to enjoy.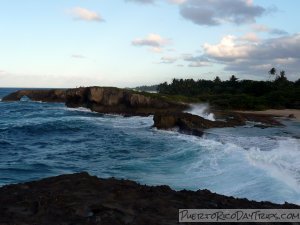 Even if you can't get down into the cave, You can still walk all around on the rocks to see the views and watch the beautiful Atlantic waves crash on the beaches. There are just wonderful views in this area. There are huge cliffs, arches, caves and even a natural bridge. There were big waves that day, so it was just beautiful.
I had read in a few travel books and have been told by locals about how the area is not really "safe" and that your car may be broken into if you park on the road. Having read this, we were a little unsure of going. But we felt totally comfortable parking at the parking lot. If we go again, we would definitely pay the money to park at this area. But if you talk with the gas station owner, he may be willing to will watch your car if you park there. There are bathrooms and people selling artisans there. But you still will need to find a way across private property to access the caves.
There is no "admission" price per se. It's just a cave on the edge of the sea. BUT….For parking- If you want to park in the lot or access the area by crossing this property, the owners charge you $5 per person. If you park elsewhere, you still pay $5 per person to walk in on their property. But if you can figure out where to park and how to get to the caves using another entrance point, it is free. The parking area is open 9 or 10am – 5pm.
Since it's not a formal "park", there are no set hours that the cave is open, but I'd suggest going during daylight hours, otherwise you won't be able to see anything! Parking lot only open until 5pm. Otherwise, you would need to park by beach to the east or west and walk on the beach to the cave, or find another point of access.
Allow about 30 minutes to see the cave, petroglyphs but more time if you want to explore the beach and surrounding areas.
Take Route 22 and exit at Route 10 North (toward the ocean). Turn right onto RT 2, go over bridges. At the light, make a left and then a quick right to get onto Road 681 (you'll see signs for 681). Follow Road 681 until KM 7.8 or so. There is a sign across the road and on the left caves or Cueva del Indio . Pull into the dirt driveway and park.
Travel time from the San Juan area is about 90 minutes one way.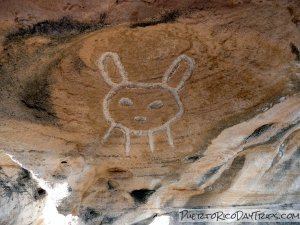 La isla de Puerto Rico tiene muchas facetas. Es urbana y rural, moderna e histórica, relajante y agitada, natural y urbanista. Si visitan la ciudad de Arecibo y la Cueva del Indio podrán apreciar todo lo antes expuesto. Modernidad, zonas rurales, naturaleza e historia — todo en un día. Para llegar tome la autopista 22 y pase los Primium Outlets en Barceloneta. Desde esta moderna autopista gire y tome unas angostas carreteras rurales que corren por toda la costa norte. Una vez llegue a la Cueva, tendrá la oportunidad de transportarse en el tiempo. Los indios Tainos realizaban ceremoniales y reuniones en esta área y dejaron muchos grabados en las paredes de estas cuevas de piedra caliza. Los petroglifos aparentemente fueron tallados durante sus actividades ceremoniales. Estos son dibujos precolombinos y datan de antes de la llegada de Colon a la isla en 1493, posiblemente muchos siglos antes.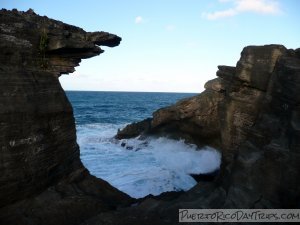 Nuestro viaje transcurrió de la siguiente manera. Nos detuvimos justo en el rotulo que dice Cueva del Indio, pagamos para podernos estacionar. Actualmente hay un bar en el lugar con servicios sanitarios y estacionamiento disponible. El encargado te brindará la información sobre el sitio y te indicará como llegar. La cueva esta a la intemperie, así que podrá ver los dibujos, dentro de la misma, con relativa facilidad. Con regularidad el Departamento de Recursos Naturales limpia la cueva y contorna los petroglifos para que se identifiquen mejor. En el momento en que la visitamos los petroglifos estaban visibles pero no muy claros.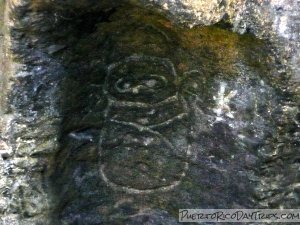 Es un poco arriesgado el caminar por los arrecifes afilados para llegar a la cueva. Tienen que tener sumo cuidado donde pisan para que no se vayan a caer ya que hay orificios en el suelo. Lleven zapatos cerrados y seguros, no lleven sandalias. Podrán apreciar la cueva desde un promontorio de 25 pies de altura. ¡Ojo donde pongan el pie! Si son agiles pueden bajar la escalerilla tambaleante para bajar dentro de la cueva.
Se dice que este sito contiene el mayor número de petroglifos encontrado en la costa. En el año 1992 la Junta de Planificación Ambiental designó la Cueva del Indio como Reserva Natural. Desde entonces la cueva es manejada por la susodicha agencia (DNER). Ellos tratan de mantenerla con propósitos conservacionales. Desafortunadamente, ha habido algún vandalismo en el lugar. Un tipo llamado "Rafe", decidió escribir su marca de grafiti junto a los petroglifos tainos. Pero, afortunadamente, a pesar de todos estos años, estos dibujos tainos han aguantado las fuerzas naturales y humanas y aun podemos disfrutarlos.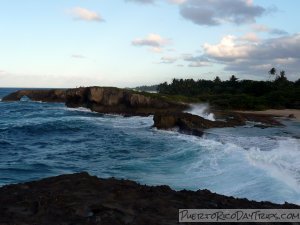 También se puede apreciar el paisaje del Océano Atlántico golpeando las rocas en la playa. Las vistas son espectaculares en esta área. Enormes acantilados, arcos, cuevas y hasta puentes naturales. Había mucho oleaje ese día; fue uno simplemente bello.
He leído en varios panfletos de viaje acerca de la seguridad del área y de que pueden vandalizar su auto. Estos panfletos sugieren que uno se estacione en la Gasolinera frente. De ahí pueden caminar hasta la cueva por unos minutos. Nos dio un poco de temor al leer eso pero decidimos hacerlo de todas maneras y nos sentimos muy seguros estacionando en un área privada . Si alguna vez regresamos nos aparcaremos en un estacionamiento que cobre y vigile el auto.
No hay que pagar admisión. Este no es un parque ni nada por el estilo. Es solo una cueva junto al mar. Algunos duenos cobraran $5 por persona a estacionamiento y entrar.
Separe 30 minutos para ver la cueva, los petroglifos y el paisaje del área.
Tome la ruta 22 hasta la ruta 10 norte (hacia el océano). Gire a la derecha a ruta 2. A la luz, gire a la izquierda y gire rápidamente a la derecha nuevamente para llegar a la carretera 681. (Verá los rotulos). Siga la 681 hasta el kilometro 7.8 (ver Gasolinera) Hay un letrero a la izquierda: Cueva del Indio. Estaciónese en el estacionamiento . Alguien pasará a recoger sus $5.pp
En autopista desde San Juan se tomará aproximadamente 90 minutos dependiendo del tráfico.
We are in the process of updating the maps we use on our web site. While we're working on that, you can click on the GPS coordinates below to view the location on Google Maps ...
PuertoRicoDayTrips.com assumes no responsibility regarding your safety when participating in the activities described in this article. Please use common sense! If your mother or that little voice in your head tells you that you are about to do something stupid … then don't do it!