Cueva Ventana: A View Like No Other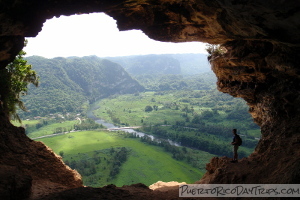 Update- 12/16/18- Cueva Ventana has reopened after the hurricanes! New winter hours 10am-4pm.
We like to discover and write about little-known places to visit and things to do here in Puerto Rico. Cueva Ventana was one of those places. Back when we originally wrote about the cave, there was not a lot of information available about it. Now, it is one of the more popular sites to visit in PR! The view is fantastic!
Cueva Ventana translates into Window Cave, and one look at the photo explains why they call it that.
Cueva Ventana is located in Arecibo, close to the Arecibo/Utuado border, just off of Route 10. It is amazingly easy to get to . Actually, there are 2 caves here that one can enter — and they are right next to each other.
We originally went with my brother John and his wife Chris. It was a fun trip.
Trip Preparation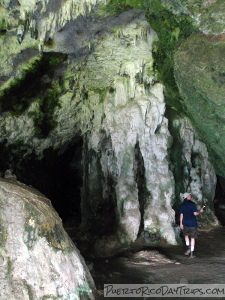 First off, we knew we needed to do some planning. Flashlights or headlamps are a must. Even though both caves are open on both ends, the middle is dark (especially Cueva Ventana). 10/13 Note- the price now includes use of a flashlight! The hike to the mouths of the caves is about 10-15 minutes, partly up-hill and partly in full sun — so bottles of water for everyone is a must. The caves are inhabited by bats, so there is a lot of guano dripping inside the cave — so antibacterial wipes are also good to have, to wipe your hands when you are done! Because the caves are in the karst region of the island, the cave floors are wet and slippery from the water leaching through the limestone — so shoes with some good grip are required. Once we had all that stuff, we were ready to go.
The Trip
The path leading to the caves is located just next to the Puma gas station. There is a free parking lot just for people visiting the cave.
There is a entrance area, with desk for you to sign in. Then you start walking. They now have information signs around about the trees and other things you are seeing. You soon get to the tour staging area- where you get your guide (or info on where to met your guide), and helmet. You then walk the trail toward the cave. As we walked the trail, we eventually noticed a large tree on the left whose roots are going down into a cave opening. This is the second cave's little light source. You will be able to enter this cave at the large main entrance area, just next to the Window Cave entrance. Just keep following the trail. The trail will curve around and it will end up at the openings to two caves. We went into both.
Cueva Ventana is the cave on the left, with the steps going down into it. Your guide will give you a flashlight and walk with you through the cave. All the way, the guide talks about the nature in the cave, how caves are formed, about the bats and all sorts of other cave related info. Also the Taino experience. This cave has a bunch of very pretty formations — stalagmites and stalactites. It has a number of smaller caves, tunnels and hiding spots. It also has bats! But the goal is the window. We kept going through — and then we saw the light at the end. What a great view! We went out as far as we felt comfortable. One must be careful, it is a long way down and there is nothing to stop you from falling (except your own common sense to stay away from the edge). There is such a magnificent view of the green fields and river below.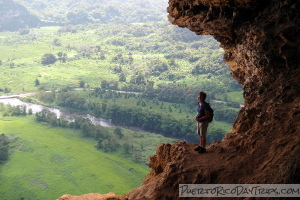 The cave on the right is smaller and shorter. There is a large cavern inside, the entrance (with some steps) is just by the Ventana cave entrance (you will see a bench). Inside the cave was a bit slippery, but very neat.
Since both caves are open on both ends, they were the warmest and windiest caves I have ever been in. And they didn't smell bad either (considering the number of bats living there)! I found this to be an easy place to go and see caves. Since this place is located up in the mountains, unlike the underground Camuy Rio Caves that close if there is rain (since it floods), I bet this place would stay high and dry. One can visit both this cave and Camuy Rio Caves in the same day if they wanted since they are located in the same general area.
I have to say, the whole place (trails and caves) were really pretty clean. There was some graffiti and even some Taino petroglyphs. All in all, very nice. And, please everyone, keep it clean and don't abuse this beautiful place.
10/13- Note- They now offer guided tours and have people dressed as Tainos around, for pictures I guess.
Stuff You Need to Know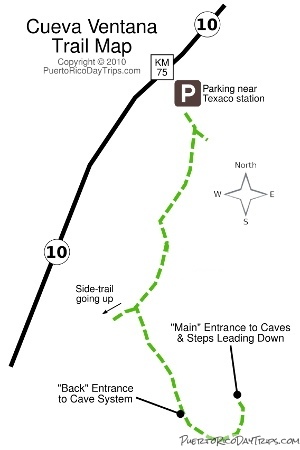 I think this adventure requires a moderate fitness level, due to the walk up and the slippery footings in the cave. The ground was dirt and relatively flat, but getting down into the caves was a bit tricky- you need to climb down slippery rocks. Wear closed toe shoes if possible. The owners also say it is for children 5 years and up, but I might wait until the kids are at least 5-6 years old. You are required to sign a liability release form. There is a snack bar.
Get there early. We arrived at 9:30am and we were alone for a while, and then the tour buses started showing up. When we drove back past the entrance 4 hours later, it was packed with cars and 2 large tour buses. If one goes during the week, I bet there will be fewer people at almost any time of the day then on a weekend.
But one really good reason to go on a weekend is one can go about 10 minutes down the road and enjoy an afternoon at Lago dos Bocas. This lake offers a boat trip and restaurants, which we did and it turned out to be a great day.
Oh, and if you're into geocaching — there is one inside Cueva Ventana!
Details
The cave is open from 9am – 4:30pm Mon- Sundays. Tours are every 1.5 hrs starting at 9am, and possibly as needed. They last 1.5 hrs.
They offer tours that include transportation from San Juan and Condado area hotels, for an extra fee. Call them (number below) for more info or to make those arrangements.
Admission to the cave is $19 ($10 for Puerto Rico residents, with ID) per person plus tax and it includes a guided tour, use of a flashlight and helmet and an informational booklet about the cave/area. Check their webpage for discount coupons! Parking for the cave is free (go up the driveway to the left of the registration table). There are clean port-a-potties in the parking lot. No children under 5 years old..
Visit the Cueva Ventana web site or Facebook page for more information.
You can call them at 787-322-3554 or contact them via email AventuraCuevaVentana@gmail.com for more information.
From the San Juan area, take Route 22 West to Route 10 South (exit 75B). Take Route 10 to KM 75. There is a Puma gas station on the east side of the road. The trail head is to the right (south) of the Puma station with signs. Nice and easy to find!
Travel time from Rio Grande on a Sunday morning was about 1½ hours.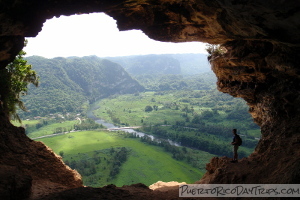 Nos gusta descubrir y escribir reseñas acerca de lugares pequeños que vale la pena visitar y de otras cosas que se pueden hacer aquí en Puerto Rico. La Cueva Ventana es uno de estos lugares. No encontramos información disponible de antemano, así que nos dimos a la tarea de visitarla ya que era de fácil acceso y con una vista espectacular.
Como de costumbre, siempre termino haciendo una serie de averiguaciones. Algunos lugares son más difíciles de encontrar que otros. Por lo general encuentro pedacitos de información aquí y allá.  Una vez formo el rompecabezas con los datos aislados que encuentro es que puedo determinar como llegar hasta ese lugar.
Encontrar la Cueva Ventana se dio de esa forma. Parecía ser uno de esos lugares secretos que solo la gente de la isla y los guías turísticos conocían.  Así que creo que es el momento de revelarles este secretito de la gente de aquí.  Les anticipo que me encantó este lugar. Con solo mirar la foto te darás cuenta del porque se le llama así.
La Cueva Ventana esta en Arecibo en la frontera con Utuado, en la carretera 10.  Es bien fácil llegar allí siguiendo estos datos.  Realmente son dos cuevas que uno puede visitar y están localizadas una al lado de la otra.
Recientemente la visitamos junto a mi hermano John y su esposa Chris. Fue un viaje realmente divertido.
PREPARACION PARA EL VIAJE
Primeramente, sabíamos que había que planificar la visita.  Es esencial llevar linternas de cualquier tipo (el precio incluye uso de una linterna). A pesar de que ambas cuevas están abiertas en sus extremos la mitad de las cuevas es oscura, especialmente la Cueva Ventana. El viaje a la boca de la cueva se toma de 10–15 minutos cuesta arriba y frente al sol, así que se debe llevar agua para todo el mundo. Las cuevas están habitadas por murciélagos, así que hay bastante guano cayendo del techo. Le recomiendo llevar toallas antibacteriales para limpiar sus manos una vez el viaje concluya. Ya que las cuevas se encuentran en la región cárstica de la isla, el piso de las cuevas es húmedo y  resbaloso debido al agua que permea a través de la piedra caliza así que deben usar zapatos seguros que no resbalen. Una vez que nos equipamos con todo lo antes mencionado ya estábamos preparados para el viaje.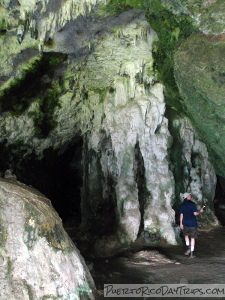 EL VIAJE
El camino que conduce a las cuevas esta localizada en el km 75 de la carretera 10, junto a la estación de gasolina Texaco.  Nos aparcamos en un estacionamiento junto a la gasolinera. A la derecha de la estación hay un camino de tierra y piedra que va cuesta arriba (el camino a la derecha). La vereda que conduce a las cuevas tiene una cadena para evitar que los motoristas la usen. Luego de pasar la cadena el camino se dividirá una vez. Nos mantuvimos en el sendero de la izquierda en division del camino. (Traten de mantenerse en el sendero que van camino abajo).
Mientras continuamos caminando por la vereda, notamos un árbol grande a la izquierda cuyas raíces conducen hasta la abertura de una cueva. Entramos por esta entrada posterior pero se nos hizo más dificultoso que si hubiésemos entrado por la entrada principal de la cueva. Realmente les sugiero que no usen esta entrada y continúen la vereda hasta llegar a la curva que es el final de la misma y la entrada de ambas cuevas.  Visitamos ambas cuevas.
Cueva Ventana es la de la izquierda con los escalones de concreto que conducen a su interior. Dicha cueva tiene una serie de formaciones hermosas– estalagmitas y estalactitas. Tiene una serie de cuevas pequeñas, túneles y escondites. ¡También tiene murciélagos! Pero el objetivo es llegar a la ventana. Continuamos hasta ver la luz al final.  ¡Que hermosa vista! Caminamos hacia el exterior de la ventana con cuidado y hasta donde nos sintiéramos seguros. Uno debe ser cuidadoso pues al final hay un risco y no hay nada que puedas sujetarte en caso de una caída.  Debes usar tu sentido común y mantenerte alejado del precipicio al final de la ventana. Abajo la vista de la campiña verde y el rio, es espectacular.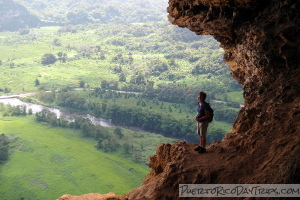 La cueva de la derecha es mas pequeña y baja. Hay una caverna grande dentro, pero para poder bajar a ella tuvimos que bajar por un camino resbaloso. Mucho cuidado. Nosotros nos metimos a ella por la entrada posterior (el arbol con las raices) lo cual requirió el escalar una pared de ocho pies sujetandonos de las raices del arbol, pero a Chris no le gusto mucho el camino resbaloso. Uno debe usar su buen juicio al visitar estas cuevas.
Ya que ambas cuevas están abiertas a ambos extremos, son las cuevas más ventosas y acogedoras que haya visitado. Tampoco hay mal olor dentro (considerando la cantidad de murciélagos que habitan allí). Me gusta el hecho de que visitar estas cuevas es bastante fácil . Ya que estas cuevas están en las montañas, a diferencia de las de Camuy, no se cierran al público ya que no se inundan. Y hablando de las Cavernas del Rio Camuy; uno puede visitar ambas atracciones el mismo día, ya que están localizadas en la misma área.
Tengo que añadir que todo el lugar (veredas y cuevas) están bastante limpias. Aunque hay uno que otro grafiti e imitación de petroglifos añadidos recientemente dentro de la cueva, el lugar está en buenas condiciones. Me sorprendió que nadie cobrara por la admisión ya que parece ser bastante popular. Alguien mantiene las veredas en buenas condiciones y supongo que el terreno debe pertenecer a alguien. Así que quisiera dar las gracias al dueño – (Asumo que el caminar en su propiedad no le importa, pero realmente no se).  Por favor, a todo el mundo, manténganla limpia  y no dañen este lindo lugar.
COSAS QUE DEBEN SABER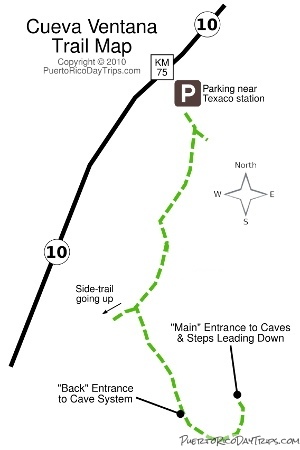 Me parece que esta aventura requiere de un nivel moderado de agilidad corporal por la caminata y por el terreno resbaladizo. Se debe llevar una buena linterna o lámpara ya que el interior de la cueva es completamente oscuro. El suelo es de lodo y relativamente plano, pero el llegar hasta el interior  puede ser un poquito tramposo o intrincado. Se recomienda vestir ropa cómoda y zapatos cerrados.
Llegue allí temprano. Nosotros llegamos a las 9:30 am y estuvimos solos por un rato y luego comenzaron a llegar los tours. Cuando pasamos la estación de Texaco cuatro horas después estaba lleno de carros y dos autobuses de excursiones. Parece ser una atracción de turismo local mayormente; supongo que durante la semana debe haber menos personas a cualquier hora del día.
Una buena razón para ir durante el fin de semana es el hecho de que uno puede continuar guiando cerca de 10 minutos más y llegar al Lago Dos Bocas. Este lago ofrece un paseo en barco y restaurantes, lo cual hicimos y  resultó ser un gran día.
¡Ah y si a usted le gusta el "geocaching" – (buscador de tesoros –Cache con GPS) Hay uno dentro de la Cueva Ventana!
El precio de entrada para residentes de Puerto Rico, con identificación, es $10 dolares más IVU. Puede comprar su boleto por internet o al llegar a boletería incluye uso de casco protector, uso de una linterna, libro informativo sobre la leyenda de Cueva Ventana. Estación libre de costa. Hay banos libre de costo.
La cueva esta abierto de 9am-4:30pm Lun-Dom. Pero El Tour tiene una duración aproximadamente de 1.5 horas.Para más información, puede comunicarse al 787- 322-3554.
Desde San Juan, tome la autopista 22 hacia el oeste  (salida 75B). Tome luego la carretera 10 hasta el kilometro 75. Hay una gasolinera Puma al este de la carretera.  El sendero principal hacia la cueva esta a la derecha (sur) de la estación de servicio Puma.  ¡Muy fácil de llegar!
El viaje desde Rio Grande el domingo en la mañana tomo cerca de 1&frad12; horas.
We are in the process of updating the maps we use on our web site. While we're working on that, you can click on the GPS coordinates below to view the location on Google Maps ...
PuertoRicoDayTrips.com assumes no responsibility regarding your safety when participating in the activities described in this article. Please use common sense! If your mother or that little voice in your head tells you that you are about to do something stupid … then don't do it!