CURRENTLY CLOSED! Cueva Ventana: A View Like No Other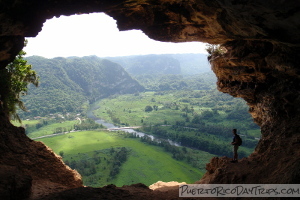 12/22- Cueva Ventana is closed until further notice.
We like to discover and write about little-known places to visit and things to do here in Puerto Rico. Cueva Ventana was one of those places. Back when we originally wrote about the cave, there was not a lot of information available about it. Now, it is one of the more popular sites to visit in PR and is available only by tour! The view is fantastic!
Cueva Ventana translates into Window Cave, and one look at the photo explains why they call it that.
Cueva Ventana is located in Arecibo, close to the Arecibo/Utuado border, just off of Route 10. It is amazingly easy to get to . Actually, there are 2 caves here that one can enter — and they are right next to each other.
Our Tour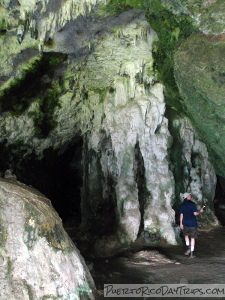 We arrived about 30 mins before our schedule tour. You fill out the safety waiver and meet your guide/group. They offer tours in English, Spanish, and bi-lingual. They give you your helmet and you follow your guide, who tells you about the area and the cave and the things (flora and fuana) you see as you walk along the path to the caves. Our guide was very good at identifying the birds by their calls. The hike/walk to the mouths of the caves is about 10-15 minutes, partly up-hill and partly in full sun — so a bottle of water for everyone is important. When you get to the first cave, you walk down into it… your guide will show you the petroglyphs and you can hear the bats.It is a large cavern inside. It is open on both ends, and it is not so long, so you can see pretty well. Then you walk up and out of there and right into Cueva Ventana. As you walk down into this cave, they will give you a flashlight. This cave is dark!
All the way, the guide talks about the nature in the cave, how caves are formed, about the bats and all sorts of other cave related info. This cave has a bunch of very pretty formations — stalagmites and stalactites. It has a number of smaller caves, tunnels and hiding spots. It also has bats! The guide will try to find other cave dwelling creatures to discuss. But the goal is the window. We kept going through — and then we saw the light at the end. What a great view! Of course, they don't want you near the edge, the dirt/stone floor is pretty slippery!. There is such a magnificent view of the green fields and river below. You can get some great photos. And you will see the golondrinos (swallow birds) flying in and out.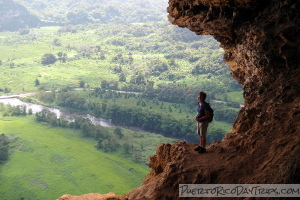 Since both caves are open on both ends, they were the warmest and windiest caves I have ever been in. And they didn't smell bad either (considering the number of bats living there)! I found this to be an easy place to go and see caves.
Stuff You Need to Know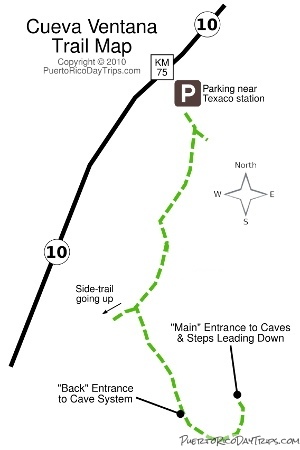 I think this adventure requires a moderate fitness level, due to the walk up and the slippery footings in the cave. The ground was dirt and relatively flat, but getting down into the caves was a bit tricky- you need to climb down slippery rocks. Wear closed toe shoes if possible. The owners also say it is for children 3 years and up, but I might wait until the kids are at least 5-6 years old. You are required to sign a liability release form. There is a snack bar.
Oh, and if you're into geocaching — there is one inside Cueva Ventana!
Details
The cave is open from 10am – 4:00pm 7 days a week. The last tour is at 3pm. You must make reservation for tours – book online. They may be able to fit you in if you don't have appointment.Tours last 1.5 hrs.
They offer tours that include transportation from San Juan and Condado area hotels, for an extra fee. Call them (number below) for more info or to make those arrangements.
Admission to the cave is $19 per person plus tax and it includes a guided tour, use of a flashlight and helmet. Check their web page for discount coupons! Parking for the cave is free (go up the driveway to the left of the registration table). There are clean port-a-potties in the parking lot and bathrooms available on path. No children under 3 years old..
You can call them at 787-322-3554 or contact them via email AventuraCuevaVentana@gmail.com for more information and to book a tour.
Visit their Facebook page for more information.
From the San Juan area, take Route 22 West to Route 10 South (exit 75B). Take Route 10 to KM 75 (or km 58.7). There is a Puma gas station on the east side of the road. The office is right in that area. Nice and easy to find!
Travel time from Rio Grande on a Sunday morning was about 1½ hours.
Click on a placename below to view the location on Google Maps ...
PuertoRicoDayTrips.com assumes no responsibility regarding your safety when participating in the activities described in this article. Please use common sense! If your mother or that little voice in your head tells you that you are about to do something stupid … then don't do it!