Charco Azul and Cuevas Arenales
The area is open. There is now a tour of the area and can show you some really cool places here…check them out: Naturhabitat tour.
There is now a neighbor at the top of the hill (on the right just after the concrete turnoff) that offers supervised parking ($3). I HIGHLY recommend parking here. This makes this trip much safer. So worth the money for your piece of mind!
After exploring Puerto Rico since 2003, and writing about it here since 2007, I still find some beautiful sites that just amaze me. Charco Azul & Cuevas Arenales (Blue Pool & Sand Cave) in Vega Baja is one of these places.
Located less than an hour's drive from of San Juan, this little area looks like it is from another planet or era. Millions of years of rain and river water has carved these rocks into beautifully odd formations. It is a great place to spend a few hours cooling off.
The Cat is Out of the Bag
In late 2014, this local "secret" started getting a lot of social media interest, and some television coverage. The photos were so cool looking, of course we had to check it out! I will tell you, the photos do not do it justice. You really have to see it in person. This area is other worldly looking.
Sometimes called Charco los Murielogos de las Cuevas Arenales (loosely translated as Pool of the Bats at Sand Caves), this area has cave-like rock formations, a Charco Azul (or blue-water "swimming hole"), and a blue-water river area.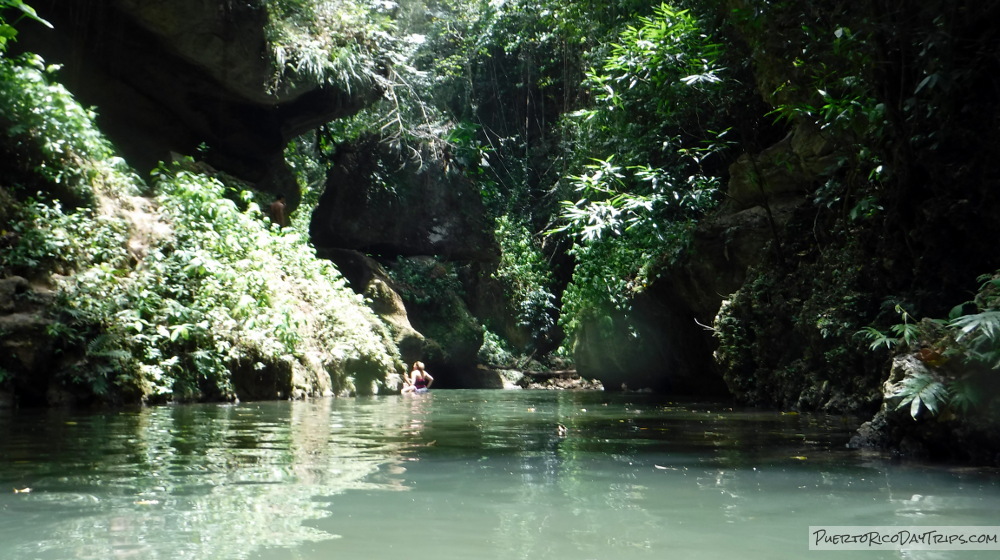 Swimming Through the Caves
After you park your car, you walk past the water company pumping station to the end of the road. Continue to the the end of the trail that leads you right into the ankle-deep river, then continue upriver (to the right) for just a few minutes more. You see the pool and the rocks.
The Charco Azul is a deep swimming area just under the "caves". People jump from all heights into this pool. The river winds itself through the "Caves" (really this is just really tall rock formations, eroded by the river and rain over millions of years). I think swimming through the rock channel was one of the coolest parts — just lazily floating along, and gazing at the unusual and beautiful rock formations. Water trickles down through the rock even in dry weather, and you can see loads of "flowstones" forming on the walls.
This area is really more like overhangs (open on one side). We walked through them, though doing this requires good footing (and good footwear) and a little climbing skills.
They are interesting, but I think going the water way through here was prettier. Once through the rock area, the river goes back to being just a river, with high rock walls on each side. There was one rock-face that had lots of Golondrinas' (birds that are similar to Barn Swallows) nest on it. I hear there are also a few petroglyphs on the cave walls, but I did not notice any.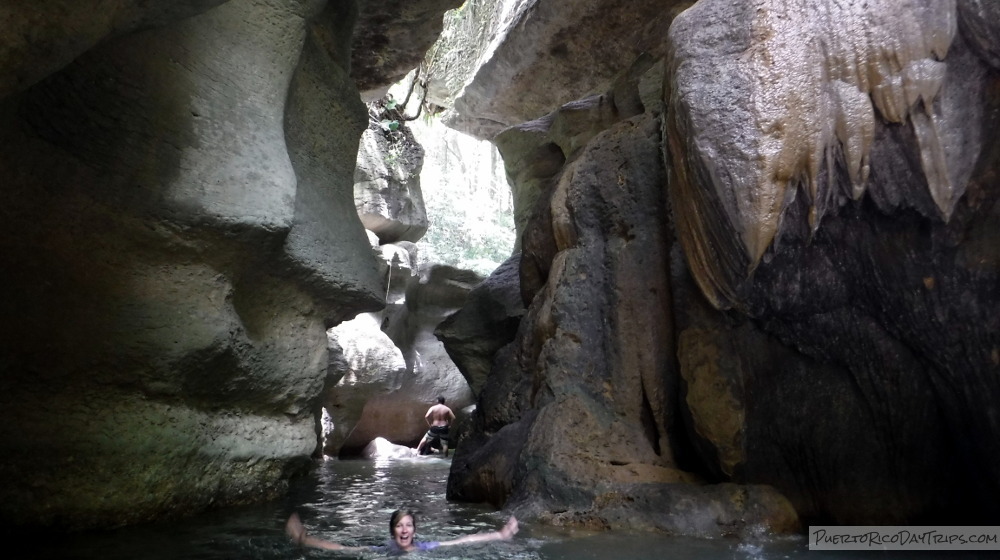 While we were there, we met a nice young local guy (Michael) who is working on his degree to be a tour guide, and show Puerto Rico off to the world! He volunteered to take us down-river to where the river falls into an underground cave (the real Cuevas Arenales that the area is named after). He said it was a really cool area. Michael said he and his friends go into the river on the lower side of these subterranean caves and climb up-river to this opening.
He also told us about the trail that goes off behind the water company pump that leads to more cool rock formation areas. This second trail and river area was empty except for us. A little less impressive, but peaceful. Still worth a visit. We didn't think it would be safe to try to explore and visit a dark underground cave with a river running through it alone, so we left that for a future tour.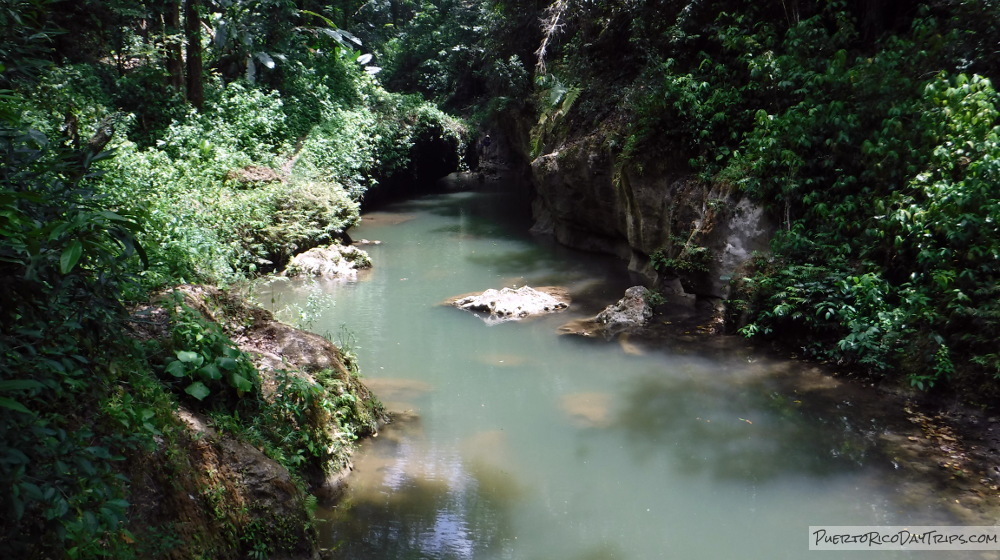 Really Important Info
Pay close attention to this section, even if you don't pay attention to anything else we've written here
This whole area is at the bottom of a dead-end, single-lane, steep road that the water company uses to reach their pumping station and dam. Because of the recent exposure on social media, this area will get more and more popular, crowded, and difficult to access. It is a very steep and slippery hill to get down/up.
This area is probably not for little kids or the elderly. The walk down to the river is about 10-15 minutes, the pools are deep, and the road, caves, and rocks are slippery and dangerous if you slip or fall.
As tempting as it is, do not take your car down to the bottom of the hill. As you drive down, you'll be on a blacktop/asphalt road. At one point, there is a right-hand turn onto a concrete/cement road. Do not drive onto this concrete road, and if you ignore that warning, do not drive past the blue water company gate. Park where we put the "parking" mark on the map below. The concrete road is too steep for a regular car to make it back up easily. We know. It happened to us. And we were warned about it (after we had driven down to the bottom of the hill). Park on the blacktop (or better yet- pay to park in the yard), and walk down to the river.
Ok … If you ignored point #2, when you get ready to leave, you will need to back up car up the entire hill in reverse (assuming your car is front-wheel drive, as most are today) to get it back to the road. Take our word for it … not a fun way to end your visit!
Leave NOTHING of value in your car…..maybe even leave it open. Smash and grabs occasionally happen when parked down the hill.
As we've mentioned, the concrete part of the road is steep and (oddly) really slippery, even when dry. Not only don't car tires grab, neither do most shoes … besides ourselves, we saw a number of other people slip and fall on the way up and down. Please be careful.
Go early in the day. This area gets busier as day goes on, parking is limited, and the roads are narrow, making getting out difficult.
Please keep the area clean. It seems the local area thugs use this area to dump (allegedly) stolen cars and burn them. But there was also a bunch of other "day tripper" trash when we were there. Please clean up after yourselves (and others), and take the trash out with you.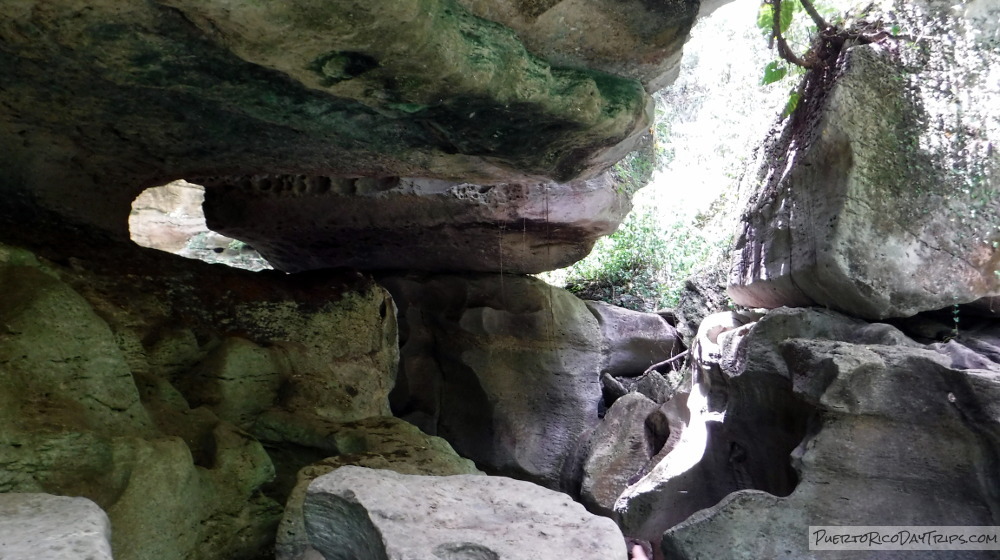 Details
Allow about 45 minutes to drive from the San Juan area.
I found a tour company that leads tours of the area NaturHabitat Eco Tours. We have used them, and recommend a tour of the area. They take you underground, through the caves. If you want more info, contact them on their Facebook page.
From the San Juan area, take Route 22 west to Exit 35. Then take Route 160 South to KM 10.8. Look for a sign that says "Bienvenidos a La Gallera" — but the "G" is missing (so it reads more like "Bienvenidos a La allera"), then just after that, turn right onto Calle Andre Sierra Torres and follow road down. There were (homemade, wooden) signs for the "Rio" posted along the way to help you stay on correct road. The road goes down, and there were a few forks along the way — so stay to the right, then left, then right at the forks. Or just follow the signs … that's what we did. Once you park, walk down the concrete road, turn left at the water pumping station, then head right toward the river.
Park on the blacktop road, before the concrete part of the road (and definitely before the blue gate) and walk down, wear shoes with good traction … that hill is slippery.
Click on a placename below to view the location on Google Maps ...
PuertoRicoDayTrips.com assumes no responsibility regarding your safety when participating in the activities described in this article. Please use common sense! If your mother or that little voice in your head tells you that you are about to do something stupid … then don't do it!