Taste Locally Made Artisan Rums at Destilería Coquí
Destilería Coquí is the largest artisanal rum distillery in Puerto Rico, and yet not a ton of people know about their products, or even their name! But that will change as they grow and expand their business and product line. Luckily for us, they offer a tour of their facility, with samples of their products, so we can get to know them. Here, they explain about this family-owned company, how they handcraft their rum, and how they use locally-sourced products in the process. Agrotourism! Not only was the tour interesting and delicious, we had a load of laughs with the guide.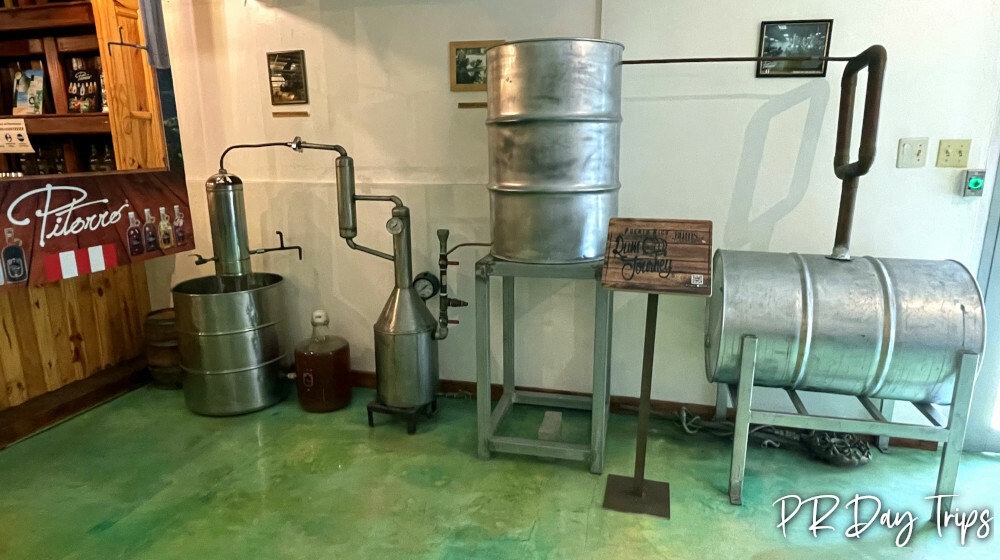 Hidden in a small industrial area in Mayagüez, this small rum producer will soon outgrow this facility. The family started operations in 2006 with a dream, and soon were making legal "Ron Caña" (moonshine)! This first product was called Pitorro, and they continue making and refining this, expanding the flavors available. They also started making a clear rum "Ron Coquí" blanco, and Ron Coqui with Lime, for mixing. They also have an aged gold rum called CarJakers, and they are in the process of making and aging a new rum … we will have to wait a few more years for this one!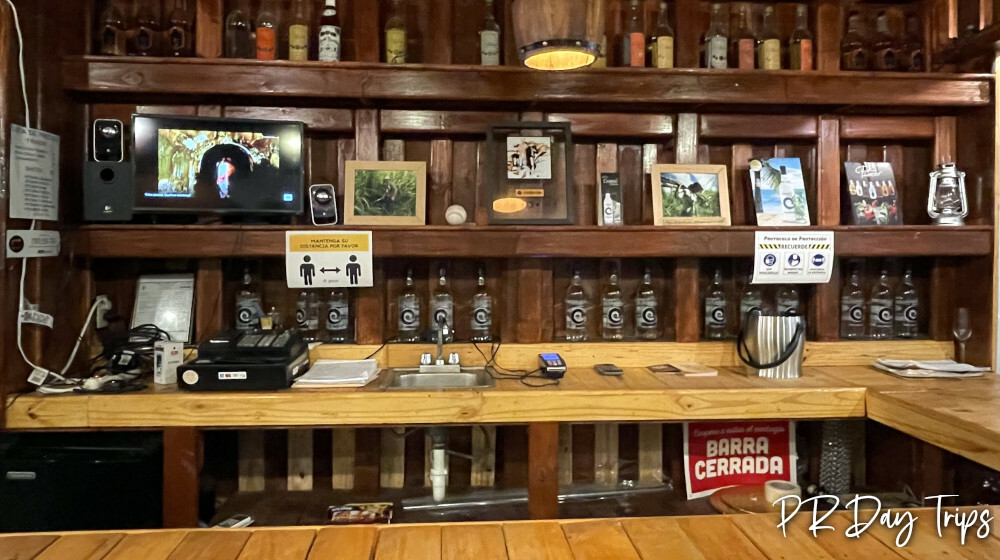 Our Tour
Once inside, you'll see the bar and other memorabilia, and you'll know you are in the right spot. Our guide, Nitzia, showed us around the area, explaining how the company started (from selling Guarapo de Cana – juice from the sugar cane), to their first little still to their first bottle, up to their full line of products today. They've come a long way!
Then you enter the work area, where the magic happens. You can smell the rum as soon as you enter. Here you will find the still, and the fermenting tanks. You will also see the barrels of rum aging. Nitzia went to each area and explained how it all works. From the molasses fermentation to the filing of the bottles. You should try to schedule your tour before 3pm or so. That way, you will see the people working in each area. We got their a bit late, so we saw the cleaning-up process!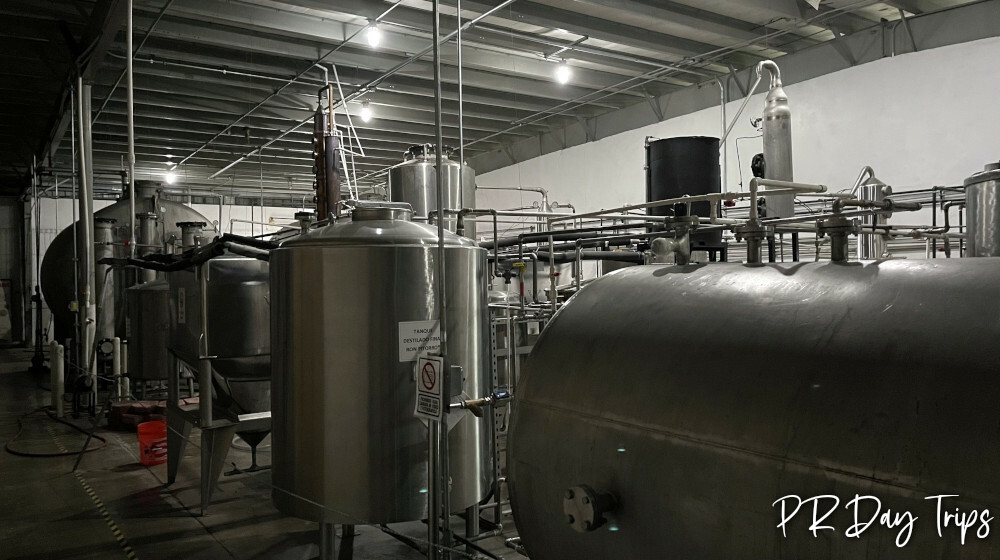 The bottling area was in a different section, where they do it all. Nitiza explained each step … it is all handmade. The machines help, but there is a person handling each bottle every step of the way. There is a person washing each bottle, and a person at the filling machine. Someone else cuts the locally-sourced fruit and puts it in the bottle for the Pitorro, Someone else labels and seals each bottle. We even saw the owner's son helping clean up … it is a family affair all the way.
Once done here, we went back into the AC bar area and got a tasting of each product. Yes, they make a large number of products, so that means 11 samples (or more)! Nitzia was wonderful, she described each product and what to expect. We asked a million questions, and Nitzia answered every one! You could tell she enjoyed her job, and the rum. We all had a great time. The flavored Pitorros were interesting, my favorite was parcha (passion fruit). They were sweet and delicious straight. We tried the mixing Ron Coquí Limón, which was good, but our course, better with a mixer! Lastly, we tried the gold CarJakers rum – it is 60% ABV, so stronger than most gold rums. It was smooth and flavorful.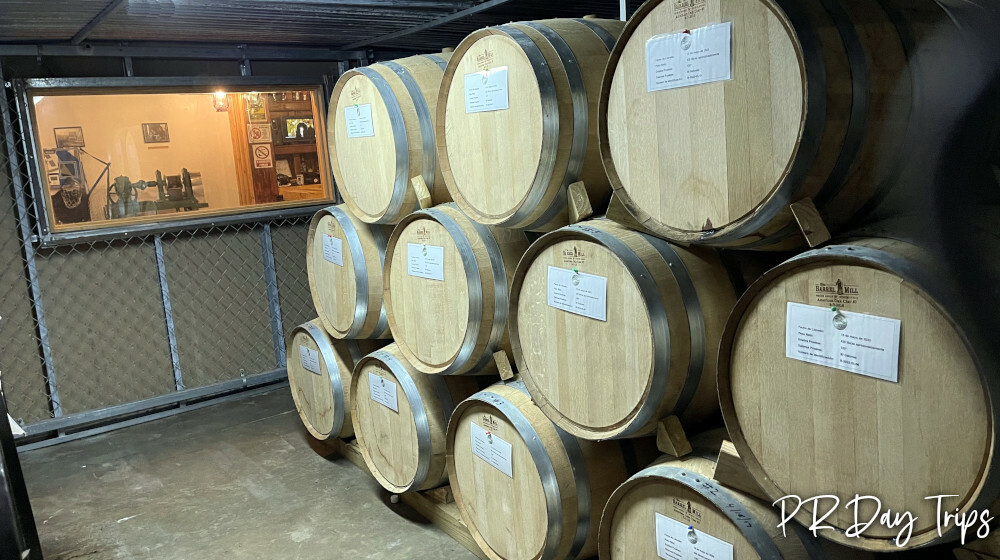 My Thoughts
I have done a number of rum tours, and this one is a real family business. There is no super fancy and glitzy visitors' center. It is an honest, humble place where they want you to learn about them and enjoy their rums. It was a refreshing experience. 100% Puertoriqueno!
They have their rums available for purchase at the visitors' center. It is also sold in supermarkets and various places around the island, at the airport and lucky for everyone, the rums are starting to be exported to the mainland States.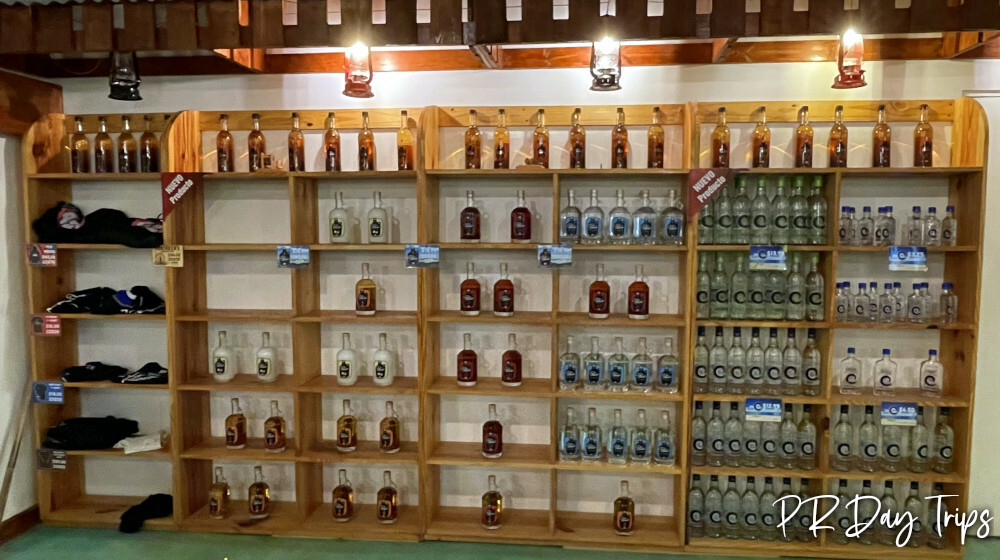 Details
The cost of the sampling tour is $10 per person. Kids under 18 are free.
Tours are offered Mondays to Friday from 9am to 4:30pm, by reservation. Tours on weekends are for groups of 10+ people only.
Allow 1-1½ hours for the sampling tour.
Call them at 787-805-1000 for more information or to make a reservation.
You can visit their Facebook page or their web site for more information.
They are located in the Parque Industrial María L. Arcelay Edificio 2 Módulo 2, Calle José Gualberto Padilla Suite 103 in Mayagüez Look for the door for Plaza Coqui/Weeds (it is a bit weird … they use the same building/door as a marijuana dispensary).
Click on a placename below to view the location on Google Maps ...
PuertoRicoDayTrips.com assumes no responsibility regarding your safety when participating in the activities described in this article. Please use common sense! If your mother or that little voice in your head tells you that you are about to do something stupid … then don't do it!