Learn Sustainability at Earthship PR
After Hurricane Maria in 2017, Earthship Biotecture Planet Earth wanted to help out in Puerto Rico. The project was spearheaded by local couple Lauralina Melendez and Mario Atunez, along with Michael Reynolds and Phil Basehart from Earthship Biotecture. They wanted to construct an example of off-grid buildings in Puerto Rico, and along the way teach others how to build their own. These buildings, made from a lot a recycled material, would be perfect for Puerto Rico, as they can provide a hurricane-resistant home and can be self-sufficient.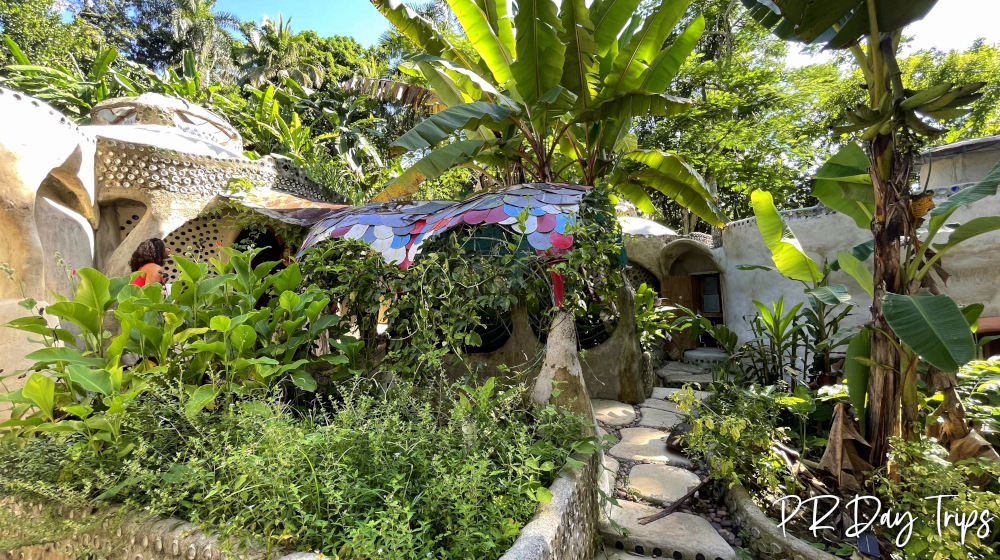 They contacted a local family, Noemi and Carlos Chaparro, who have a non-profit organization Tainasoy Apiario and decided to build the project on the Chaparro's land in Aguada. Beginning in early 2018, the Earthship people (with volunteers from all over) came to Aguada and created the buildings you can see today, formally called Earthship PR at Tainasoy Apiario. At the time of this writing, the project is almost complete and is in its final phase – where they are working out any remaining "bugs" and making improvements.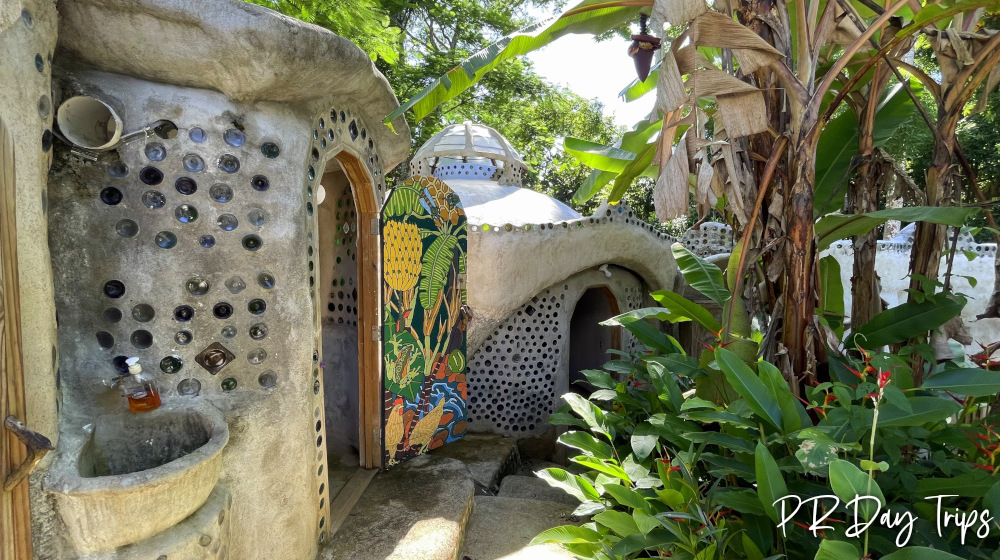 An Earthship is "a state-of-the-art self-sustainable off-grid building". It incorporates building with natural and recycled materials, smart design for cooling/heating, utilization of wind/solar energy, rainwater harvesting, waste water treatment, and on-site food production. As it stands, Earthship PR has five domed buildings that will serve as the community learning center focused on the education of sustainable practices. There are also two working bathrooms, and an inner courtyard where they have a small garden to grow food crops.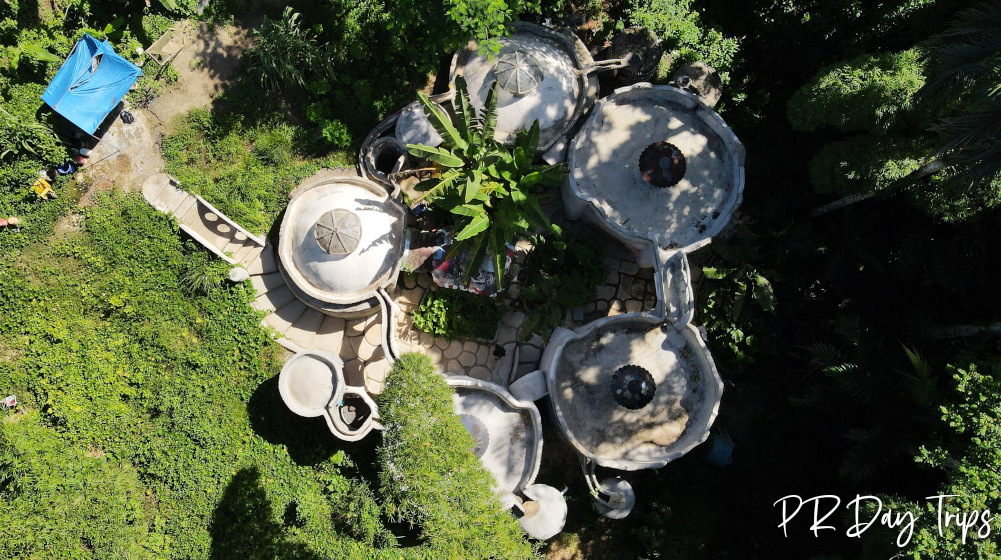 Tainasoy Apiaro offers tours of Earthship PR every weekend to explain the design and concept. Our guide was very excited about the concept of being self sustainable, and the tour was enjoyable. She showed us the variety of trees and food-producing plants in the courtyard. Then she explained what an Earthship is, and showed us each of the design elements they used in the actual domed buildings.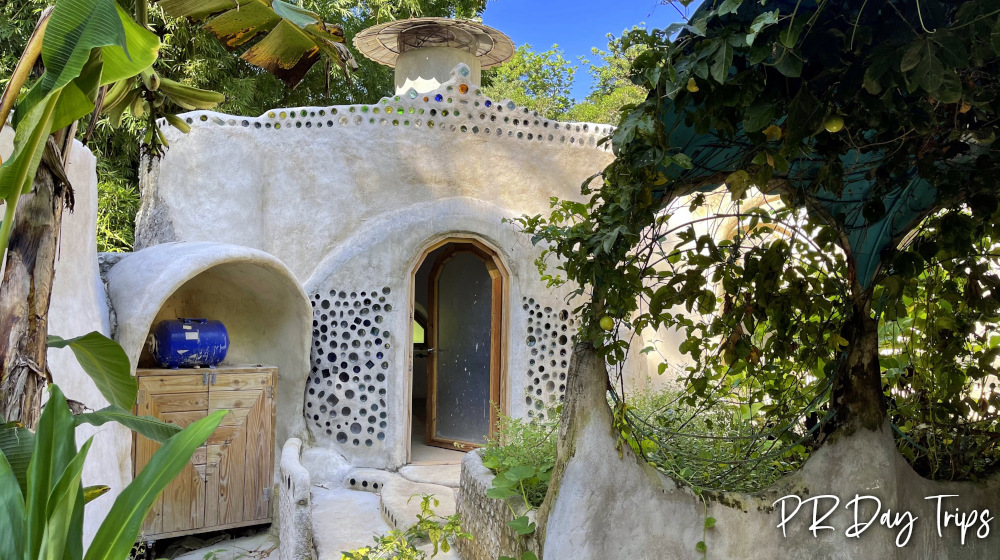 The roof is designed to collect rain water (which they store it for use in the bathrooms), they have solar panels and batteries to provide electricity, and each domed building has a vented top and floor-level air vents to help with cooling. They use bottles for beautiful design elements and to provide natural light inside the buildings. When we went for our tour, our guide was using one of the buildings as her bedroom, and she loved it!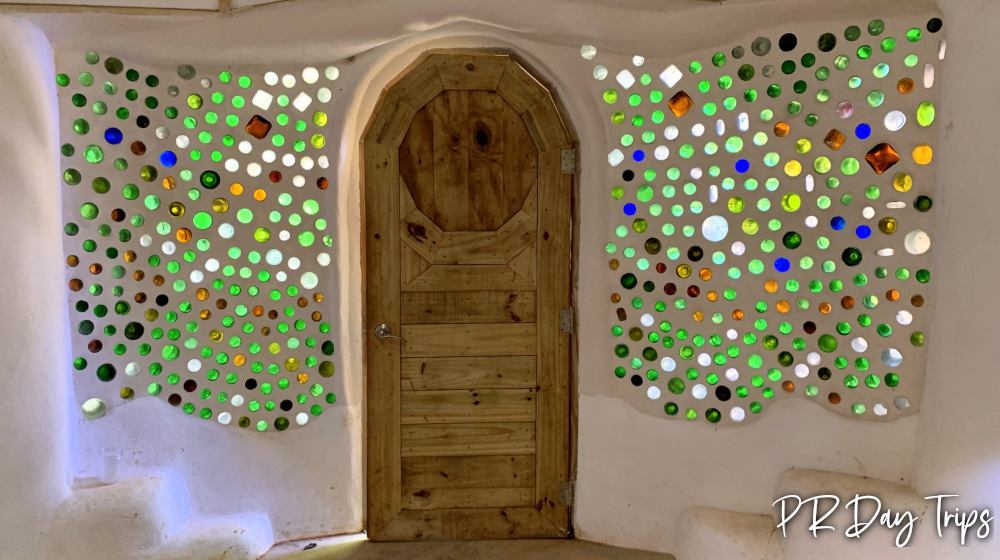 Our guide explained the process of making the buildings. The foundation and walls of the domed building are constructed from used automobile tires, packed with dirt, and reinforced with metal bars. Glass and plastic bottles are stacked in concrete in some of the walls to allow natural light into the buildings. The construction phase of the Earthship is almost complete, so it is all prettily stuccoed on the outside, except for one back wall, where we could see how the walls were constructed. I found that very interesting to see. It would have been cool to see an "in-process" building, but photos are available on their website from start to finish.
We were a little confused where the tours started – but we finally saw a little sign at the first driveway on the left. It looked like there was a lot of "garbage" there – but much of it is material that people drop off for them to recycle and use in more construction projects!.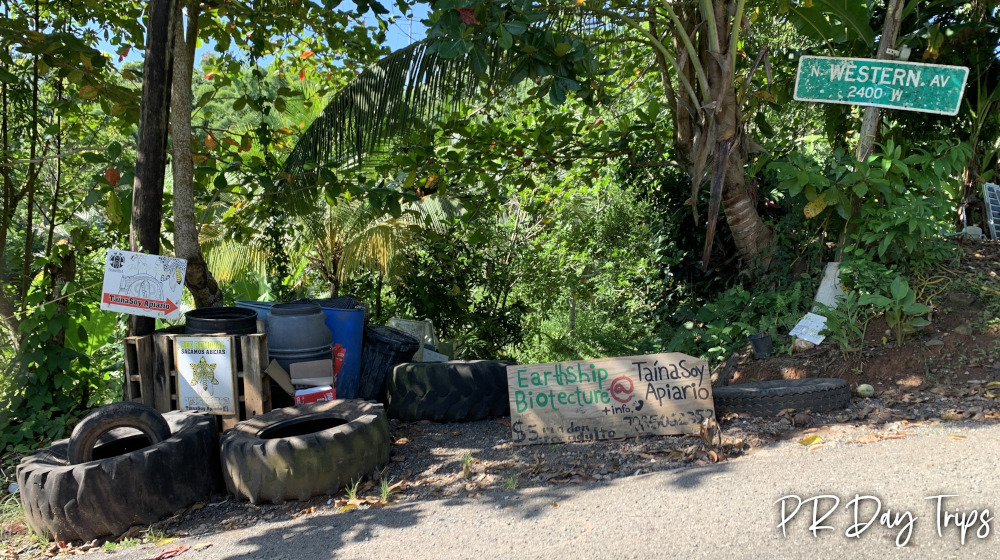 Details
No reservations are needed for general public vist, but you can fill out the reservation form if you want to be sure. Reservations are requested for larger groups.
$10 per person.(there may be a discount for locals with PR ID).
Tours are available, without reservation, every day from 11am to 4pm.
Allow about 1 hour for the tour. Our guide would have stayed with us for hours talking and explaining the concepts. So come prepared with questions!
You can visit their Facebook page and Webpage and reservation form page for more information.
They are located just a couple minutes from Route 2 in Aguada. When you drive there, make sure you access their place from Route 2, otherwise you will spend hours driving around on little back roads. There is no designated parking, so be careful to park off the road.
Click on a placename below to view the location on Google Maps ...
PuertoRicoDayTrips.com assumes no responsibility regarding your safety when participating in the activities described in this article. Please use common sense! If your mother or that little voice in your head tells you that you are about to do something stupid … then don't do it!