Zip Above the Water on an E-Foil – The Newest Watersport Craze!
They say E-Foil is the newest watersport craze, and as soon as I saw this thing, I knew I had to try it! I would describe an E-Foil as an electric-powered, flying boogieboard/surfboard. I took a 1-hour Lift E-Foil Discovery Lesson with SeaKindly Foil School in Old San Juan. In this class they teach you the basics, like board safety, how to get up on the board, and a little about speed control. You need an advanced class to actually get to "flying" over the water on the E-Foil, but just standing on the board and zipping around was pretty fun!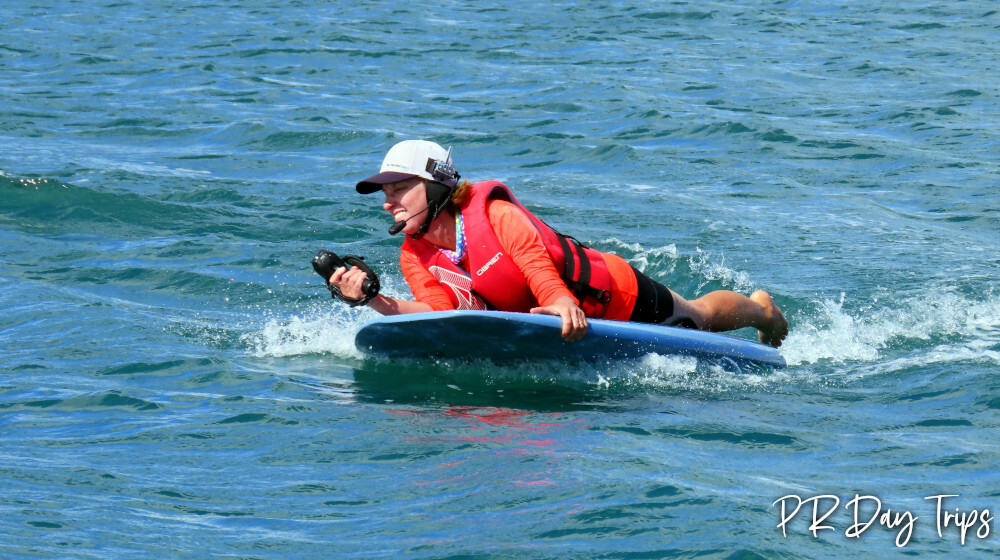 Lift (a Puerto Rican company!) was the first company to add an electric motor and propeller to a hydrofoil surfboard. The hydrofoil is like a "wing" beneath the board, which allows the board to get lift out of the water. With the motor, you no longer need a kite and wind, or waves, to get your board moving — it can be done anywhere.
It is helpful to learn on calm water, so SeaKindly teaches the class in the San Juan Bay, usually in the morning, so that you don't have to contend with the waves caused by wind later in the day.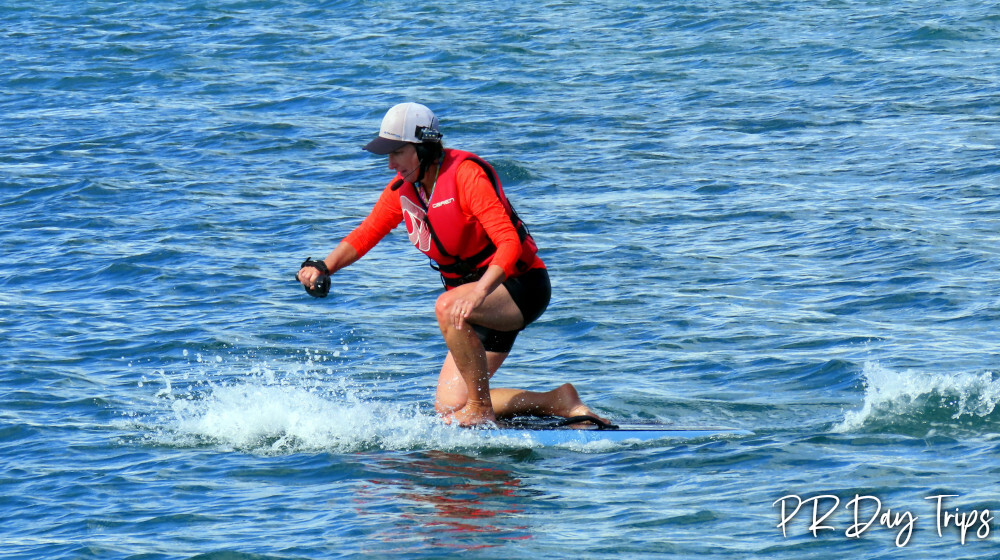 Our Class
We arrived at the floating dock and my instructors Mike and Luis gave us the 15-minute safety course. Mike has a lot of experience teaching, and wants to make sure you are comfotable and safe on the board. When they are explaining things to you on the dock, it seem like there are a lot of "how-tos" that you are going to have to remember. But, before you get into the water, they give you a baseball cap style helmet that has a communication headset inside, and they talk you through all of the steps while you are out on the water. It really helped a lot having them in your ear. They were very encouraging, building your confidence as you worked your way from getting on the board all the way up to standing on the board and zipping around.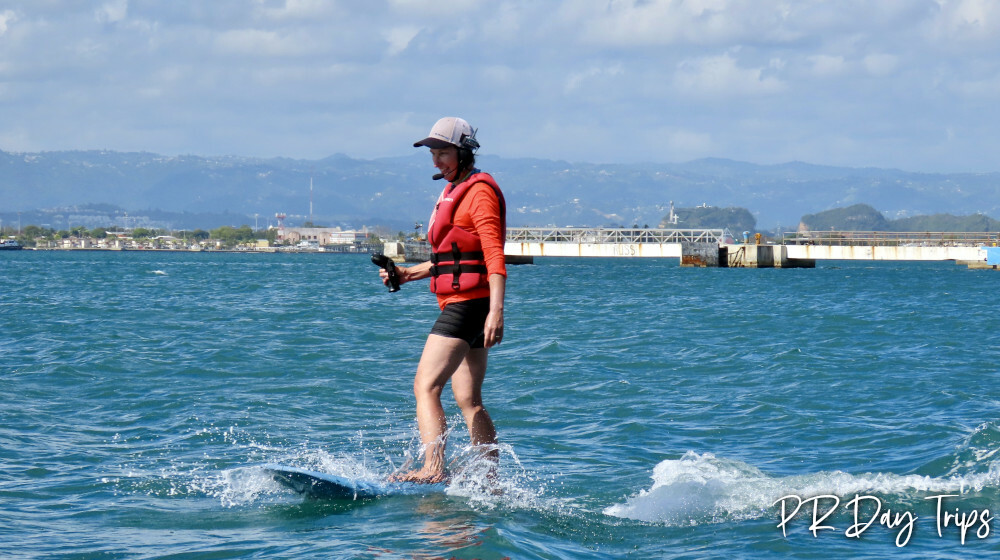 It is pretty easy to learn, but it does take balance! It is a bit easier than surfing, as the board is fatter and shorter than a typical surf board, so it is easier to balance. And you can take your time getting to the standing position — you are in control of when you stand, not the wave! You turn the board by just changing your balance to lean the board the slightest bit, so you can just go and turn and zip around the bay!
I moved through the steps pretty quickly, though I did end up in the water quite a bit until I got my speed and position correct. Once you get the hang of it, it is really quite fun. I could have stayed for hours just zipping around on the board! I bet flying this thing is outrageous!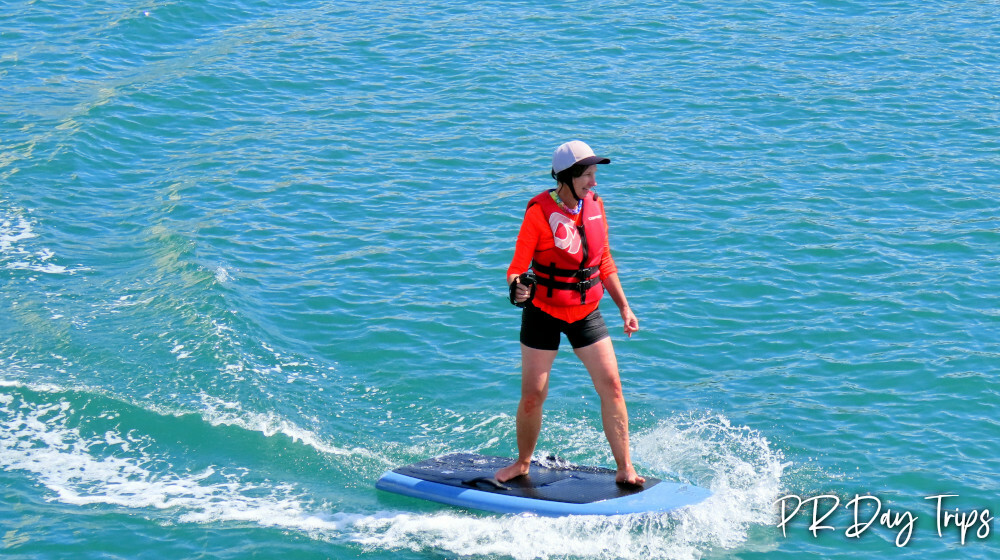 Details
Classes are offered every day in the morning. Reservations are recommended.
You wear a personal flotation device (PFD), so you will float when you fall into the water. I suggest a long-sleeve shirt (rash guard) and tight "yoga" pants or tights for the bottoms. You will be pulling yourself up on the board, and the long sleeves/pants will prevent possible scrapes and irritation.
The Lift E-Foil Discovery Lesson lasts 1 hour, and includes all the equipment and a private bilingual instructor. You will learn safety procedures, and advance through Levels E1 (riding on your belly), and E2 (stand up riding, without flying). Additional lessons are available for advanced levels to get you to fly on the hydrofoil.
You can call them at 760-846-6023, or email them at seakindlypr@gmail.com, to get more information.
You can visit the SeaKindly website for more information.
They had a nice freshwater shower right on the dock to rinse off after the class.
We used SeaKindly Foil School in Old San Juan. There are other operators that offer E-Foil listed on the Lift web page.
SeaKindly is located just over the pedestrian bridge next to Muelle 8 in Bahia Urbana in Old San Juan. There is complimentary parking and restrooms at the Muelle 8 parking area.
Click on a placename below to view the location on Google Maps ...
PuertoRicoDayTrips.com assumes no responsibility regarding your safety when participating in the activities described in this article. Please use common sense! If your mother or that little voice in your head tells you that you are about to do something stupid … then don't do it!