Check Out Cute, Little El Periquito Waterfall
San Lorenzo has a number of interesting things to do and see, but for me, searching out natural river beauty is the best. With many rivers and mountains in the town, you know there have to be beautiful waterfalls … and El Periquito is one of them. This little waterfall and natural pool is easy to find … it's just a 10-minute walk from the road. I wouldn't make a trip just to see it, but it's a definite "must visit" place if you are in the area!
El Periquito Waterfall is located in the center of the eastern part of the island on the Río Grande de Loíza, in the town in San Lorenzo, just before you enter Yabacoa. The town of San Lorenzo has a lot of history and beautiful rivers. We still have a lot of exploring to do here. But finding El Perquito waterfall was easy.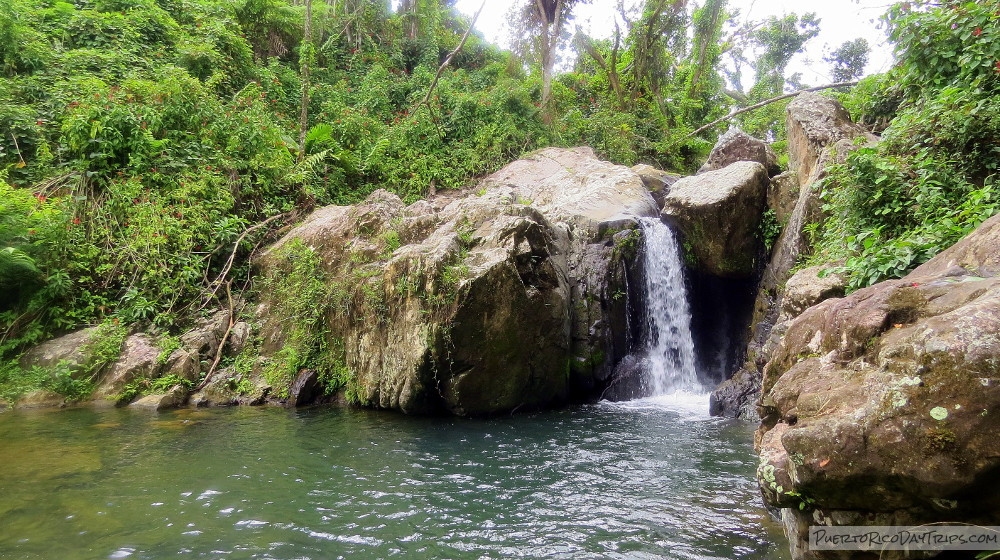 Coming from San Lorenzo (toward Yabacoa) on Route 181, we crossed the bridge, and parked on the side of the road. We saw a small path on the right side (it is technically an old cement driveway, I think). It was pretty overgrown with grasses/brush, but still visible, and we followed it up and down to the waterfall. It was maybe a 10-minute walk.
It is a small waterfall with a nice deep pool. Rocks surrounding the falls are pretty, and we have seen people jumping from them into the pool. One should obviously do so with caution, and check for depth of pool and underwater rocks before attempting to jump. You can wade in and swim back to the waterfall, getting a natural massage or shower!
It is a pretty spot, and on the day we went, someone was doing a photo shoot. Lovely! If you are in the San Lorenzo area, make a quick stop and enjoy the beauty. Please keep the area clean for all to enjoy.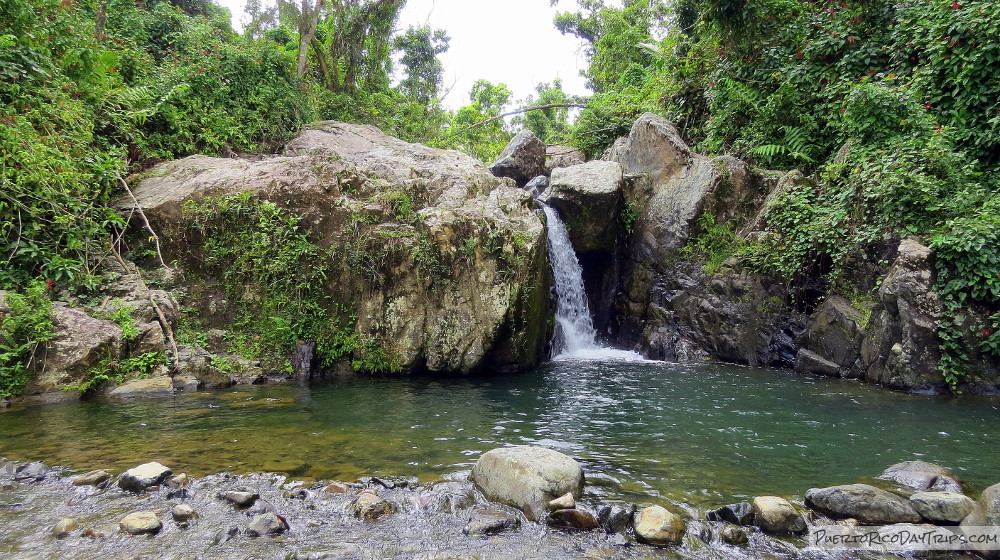 Details
You can access the waterfall at any time of day, but we recommend going during daylight hours.
The rocks around, and in, the natural pool can be slippery. Wear shoes that have good traction when wet.
To get to El Periquito waterfall, take Route 181 to KM 16.8 in the town of San Lorenzo. Look for the over-grown path on the side of the road. Once you get to the river, go UP river.
Click on a placename below to view the location on Google Maps ...
PuertoRicoDayTrips.com assumes no responsibility regarding your safety when participating in the activities described in this article. Please use common sense! If your mother or that little voice in your head tells you that you are about to do something stupid … then don't do it!