Hike El Toro Trail to the Highest Point in the Rain Forest
Update- 10/2022- El Toro trail is open. It needs a little work and can be really muddy, but it is usable! Park only in designated parking areas. Others may be ticketed.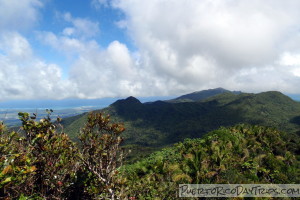 The north side of El Yunque National Forest has a number of well-marked and maintained trails to keep you busy. With just a quick ride up Road 191, you will have about 8 trails to choose from. Some of these are very popular and can be crowded at times. But, for the more adventurous hiker, there are a few more trails the north side of the forest has to offer. If you love a view from a peak, but dislike the radio towers at the top of El Yunque, head over to El Toro trail.
El Toro trail is more remote than the rest of the trails and it is very infrequently used. The trail head is on Road 186 at KM 10.8 or so. Road 186 is just down the road from our place and a few miles west of Road 191. Even the drive to the trail head on Road 186 is a pretty, though the road is in disrepair — you will pass a few nice rivers with waterfalls and great views.
Ray and I have hiked all the trails in El Yunque National Forest on the north side except El Toro and Trade Winds. So when we had some guests (Denis and Sue) at Coqui's Hideaway who were avid hikers, we convinced them to go with us, and we all headed to El Toro trail for the day.
The Trail
El Toro trail is described in the National Forest literature as being unmaintained, muddy, steep and strenuous, and, when we started on the trail, there were a few fallen trees we had to go over, under or around. Given our first couple minutes on the trail, we thought we were going to be in for a long, hard day! But luckily, most of the trail was clear and decently maintained. We all decided it was "doable" by your average hiker.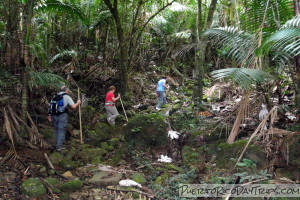 The trail is 2.2 miles to the peak, and they have trail markers along the way telling you how much longer until to get there. The trail starts at an altitude of 2132 feet and the peak is at 3533 feet above sea level. The trail was mostly dirt, with gravel in spots.
It is a nice hike through the woods. It goes through 3 different types of forest as you walk — starting with the tabonuco forest, then the sierra palms area, and finally, closer to the peak, the cloud forest with its stunted trees and shrubs.
The first 1½ miles the trail was fine, a nice easy path. The next ½ mile was muddy — really muddy! And we went during a week without much rain! I bet during rainy season, much of the trail must get to be an unusable, muddy mess! The last ¼ miles is steep and strenuous. Sue was concerned with the green, slippery rocks, but we all made it fine. We all thought that most of the 1300-foot gain in altitude on this trail took place in that last ¼ mile. I don't know if that's true, but it sure felt like it!
The Peak
Though the woods were nice, this is really a hike to El Toro peak — the highest point in the El Yunque National Forest. We had great views from the peak — mostly of the back of El Yunque, the north and east coasts, and the towns in the NE part of Puerto Rico ( Ceiba, Naguabo, Juncos, Las Piedras, &Humacao). We ate our picnic lunch up there and enjoyed watching the clouds roll by. Though it was sunny for us, we could see it raining in other places off in the distance.
The Details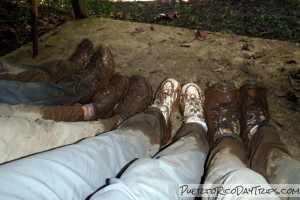 If you are going to do this trail, I would wear long pants and hiking shoes that you won't mind getting muddy (really muddy). If you have a long sleeve shirt, wear it because along parts of the trail there was (what we call) "biting grass". That's grass that easily cuts your skin if you brush against it.
A walking pole is good to have, too. Denis and Sue had them and they came in handy on some of the slippery parts. We also used them to measure how deep the mud was before stepping!
We were walking at a decent clip, but had to slow down to be careful to avoid the mud traps, and it took us about 2 hours each way. We did this trail as an in and out. With some planning and car jockeying (and a lot of stamina), you can continue on Trade Winds trail (another 3.9 miles) which ends at the top of Road 191.
Bring water, lunch and a cell phone (just in case). There are no facilities, nor rangers, on this trail. Stay on the trail and hike with others! This is a very infrequently used trail.
This trail is not used that often and it is in a remote location in El Yunque. You will be parking, and leaving your car unattended, for hours during this hike. Don't leave anything of value (hidden or visible) in your car. You might even consider leaving the car unlocked. We've not heard of any recent smash and grab thefts in this area, but better safe than sorry.
Like the rest of El Yunque National Forest, there is no charge to hike on this trail.
There's no way to "close" this trail. There is no gate or anything like that. However, we would recommend that you plan you day so that you get finished with the trail before sunset.
Remember to pack out all of your trash!
Allow 2–3 hours each way.
Two options- Turn onto RT 186 from RT 3 (there is a yummy restaurant "El Verde" at this corner). Continue on RT 186 up to Km 10.8 trailhead. This road is in BAD shape- lots of potholes. A better way (especially if coming from SJ area) you could take Route 3 and turn onto Road 956 up. Where it joins with 957 at a T/Y, go to the left to continue on RT 956. Take it to the end, where it will T with RT 186.Turn right onto RT 186. Continue on Road 186 to KM 10.8. There's a small gravel parking area and a Welcome to El Yunque National Forest sign. The trail head is clearly marked with a sign, too. The second way is faster and the road is in better shaep.
Click on a placename below to view the location on Google Maps ...
PuertoRicoDayTrips.com assumes no responsibility regarding your safety when participating in the activities described in this article. Please use common sense! If your mother or that little voice in your head tells you that you are about to do something stupid … then don't do it!