Hiking and Body Rafting in the Tanama River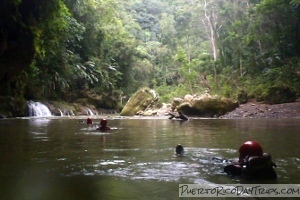 Attention all adventure-seekers … we have another crazy thing for you to try … body rafting down a river. A quick Google search for "body rafting" produces this definition: "using your body as a raft to navigate a river".
We recently did this "multi-adventure" trip with Explora Multi Aventura, and it was really fun.
The location for this adventure is the spectacular karst cave region between Arecibo and Utuado where, after hiking in a beautiful forest, you float down the Tanama River … rapids and all. This trip is challenging and exhilarating, and it will really get your heart pumping.
Haystack Hills, Canyons, Rivers & Caves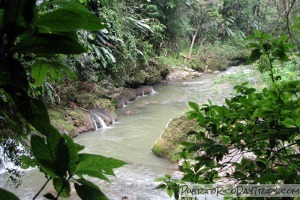 The karst region in the western part of Puerto Rico is simply amazing, and is totally different than the eastern part of the island around El Yunque. It is beautiful due to the haystack hills and canyons, created by natural forces over time. The Tanama River runs through the region, and it has carved out amazingly beautiful, lush green canyons, along with lots of caverns and caves.
This tour with Explora Multi Aventura takes you through the karst forest, through caves and caverns, over, around and under rocks, as you make your way down to the river. Then you experience the river in an unexpected and exhilarating way. Finally, you climb up and until the journey ends, leaving you tired but satisfied with your accomplishments of the day.
Our Adventure
This tour starts really early, so we got all our gear and supplies ready the night before. We got up early, and met the guides and fellow tour participants at Plaza las Americas Mall at 7am. From there, we drove out to Arecibo (we drove ourselves, while the other couple went in the van with the tour guides). We made a stop at a bakery to pick up snacks and lunches (either pack a lunch or have them stop so you can pick up a sandwich). We then drove deep into the Puerto Rico countryside to their casita in the hills.
This little wooden house is true Puerto Rican campo style. It is perfect for this trip, with a few rooms to change, a bathroom (with a shower if you need it at the end of the trip) and a small kitchen.
Here, we geared up, received our safety briefing, and started off on our adventure. We had 3 guides who were young, but they are all trained in first aid, and cave and water rescue, so we were in good hands.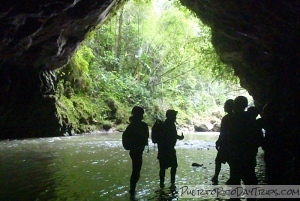 After leaving the casita, we hiked down through the karst forest, and the guides talked about some of the nature in the area, and how the karst region was formed. Our forest hike was all on private property and it was very quiet. You could only hear nature sounds — birds, insects, frogs, wind and the river. The terrain was slick and the karst rock was sticking up all around, so we needed to be careful of our footing.
We made it down near the river, where there were more caves and canyons. Then we climbed into a small cave, where we learned about the bats and other cave-dwelling critters.
Then more scrambling over and around more rocks and boulders as we made our way down to the river. It is a beautiful place — steep canyon walls with waterfalls flowing into the river, with green all around.
Our guides gave us instructions on how to body raft (lay on your back, lifting your butt as high as you can). With our personal flotation device snugged into place, we were all set.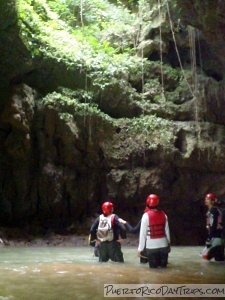 The majority of this adventure is spent in the river, and I was expecting the river to be really cold. Now don't get me wrong … it was refreshing, just not as freezing as I expected. So I was happy about that.
We walked up-river and through the cave. The ceiling in the middle of the cave had fallen in long ago, leaving a beautiful natural "skylight". This skylight is where Explora, on a different adventure trip, rappels into the river. We didn't do that, but I bet that would be amazing. Once we got to the other side we went body rafting down through the cave.
Once we got into the river, we did a series of 4 or 5 body rafting segments. We walked in the river between the segments in order to avoid the areas where it would be unsafe to float.
To me, some parts were more enjoyable than others. The rapids were shallower, so you did hit some rocks on the bottom with your butt. They were also the fastest areas, so they were most exciting, even though water sometimes splashed up into your eyes, nose and mouth.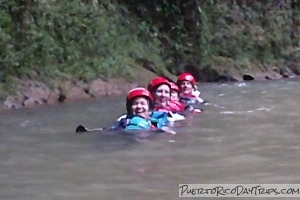 You really just need to relax, keep your butt high, and go for it. I really enjoyed the slower/wider areas of the river, where I could just relax and enjoy the scenery.
We body rafted down and into another cave area, to a place were the water was eating away at the canyon walls. Finally, we floated down a long stretch and around a curve. That last one was really fun, so we walked back up and did it again, but this time as a "train".
We had a small group, so our tour was quick. The guides offered to stop along the way if we wanted to eat, but we decided to wait until we got back to the house. The climb up was also slippery, but they had some ropes in the really steep and slick parts to help. We got back to the house where you could shower, change, eat and relax! They provided chips, soda and Puerto Rican coffee.
Thoughts and Observations
I really love this part of Puerto Rico. The photos just don't do the area justice. It reminds me of the land in the movie Avatar. If you have a waterproof/shockproof camera, by all means bring it!
This adventure involves floating, with just your body, in a swiftly flowing river. You can (and do) get knocked into and over rocks. It could be (and is) a bit painful at times, but the pain quickly subsides as you look forward to the next bit of excitement.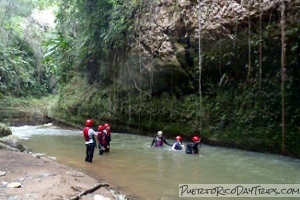 It is an extreme adventure in the sense that you have little control of the situation — the current of the river is strong in parts, and it pushes you where it wants you to go. But you can actually put your feet down and stop yourself if you really feel the need to do so.
I don't know if this type of trip is for everyone. You will get water in your face, a lot. If you have a fear of water, it might freak you out, especially since you have little control over what's going on. You also need to be physically fit for the hiking part — it is a tough hike.
You will get some bumps and bruises from the body rafting. As with most extreme activities, you must fill out and sign a medical form and release waiver. But I did feel safe with the guides. They explained river safety, flash floods, and other things that we needed to be aware of that day. They were always there to catch you if you needed help.
It was a challenging, fun, and long day. Explora offers two tours in this area. The other tour is the same as the one we did, but includes rappelling into the river through the skylight in the cave. I would have loved to do the rappelling into the river — that looked like it would be awesome! But they only do the rappelling with larger groups (of 8 or more).
Don't attempt to go body rafting on your own, without an experienced guide, in any of the rivers in Puerto Rico. You need to know how to spot unsafe areas in the rapidly flowing water, and you need to be aware of potential flash flood conditions. There are news articles on a regular basis about people (tourist and local, alike) who got washed down-stream by rapidly rising flood waters. Don't be stupid. Use common sense, and don't go it alone.
What to Bring
Explora will provide you with safety gear (helmet, personal flotation device, and knee pads) and headlamps when needed for the cave. You should wear closed toe shoes with hard soles, a long sleeve shirt, and long pants (to protect you while hiking and from abrasions in the river). Gloves are a good idea, too. Don't forget to bring your water bottle.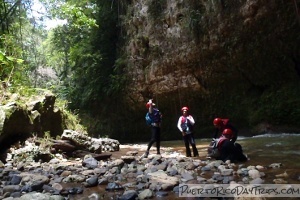 You should plan on leaving most of your stuff (keys, cellphones, cameras, etc.) at the casita. You will be in the river for most of the day, so whatever you bring onto the hike needs to be waterproof and shockproof.
If you do have stuff you need/want to bring, we recommend a small backpack with a roll-top drybag inside. Or a tummy pack of some kind. Bottom line is that your hands need to be free and empty while in the river. If you don't have a drybag, double (or triple) bag your stuff in sturdy ziplock bags.
Bring a towel, change of clothes, and dry shoes for after the trip. There is a shower available at the casita if needed.
The majority of the adventure is in the shade, so no real need for a hat nor sunglasses. If you wear regular glasses, use a Croakie or something similar to keep them on your head in the river.
Details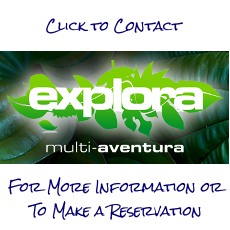 When we went, this trip was $140/person, including tax. But I would highly recommend doing the rappel tour-it costs a bit more but looks spectacular!
If you're happy, let them know it — Don't forget to tip your your bartender, tour guide or trip operator if you enjoyed yourself. Gratuities are appreciated and typically aren't included in the price they charge you.
This trip is offered Saturdays and Sundays, and on-demand.
Allow a full day for this trip. Expect to get a very early start.
You can call 787-900-7755 (bilingual) for more information or to make a reservation.
You can visit the Explora web site for more information.
Explora can provide transportation from the San Juan area. Or, they can meet you mid-way to Utuado.
There are other companies that do similar trips further up and down on the Tanama river
Click on a placename below to view the location on Google Maps ...
PuertoRicoDayTrips.com assumes no responsibility regarding your safety when participating in the activities described in this article. Please use common sense! If your mother or that little voice in your head tells you that you are about to do something stupid … then don't do it!