Finca Vista Bella – More Than a Vineyard!
Finca Vista Bella, located high up in the mountains of Utuado, is a family-run farm where the owners had a dream to start a vineyard … so they did! Puerto Rico's climate is great for some many things, but growing grapes is far from the top of that list. It is doable if you know the correct varieties to grow. After Hurricane Maria, they found out which varieties are hurricane-proof, and they have since planted out many vines.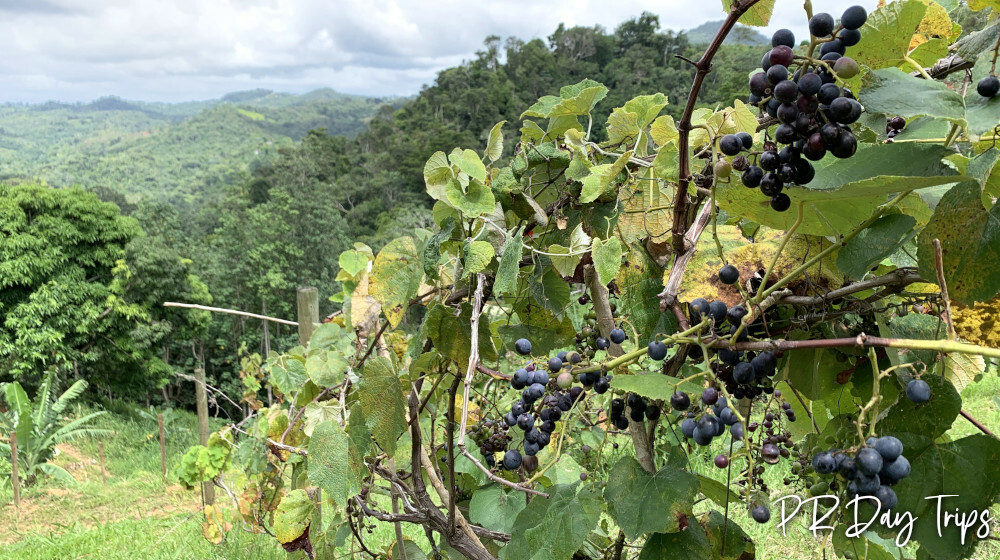 The farm is alive with grapes (and other fruits) which they use to make artisinal wines of many varieties. The wines, branded with the name Chateau d'Amelia are all made on premises, by hand. Because they aren't able to grow all the grapes they need for production, they import grapes from other parts of the world in order to get the flavor profile they want in their wines. It is an interesting and delicious place, and a trip there offers more than just a "Bella Vista" – Beautiful view.
Visits to Chateau d'Amelia Winery & Vineyard are by reservation only, and there are different types of visits to choose from — a farm tour and one glass of wine, a tour with 3 or 6 wine tastings, or the ultimate VIP experience, which is a farm tour with wine and food pairings. They also have some wonderful food items on the menu. We did not eat there, but from how delicious it smelled – the rave reviews of the diners – I would recommend it!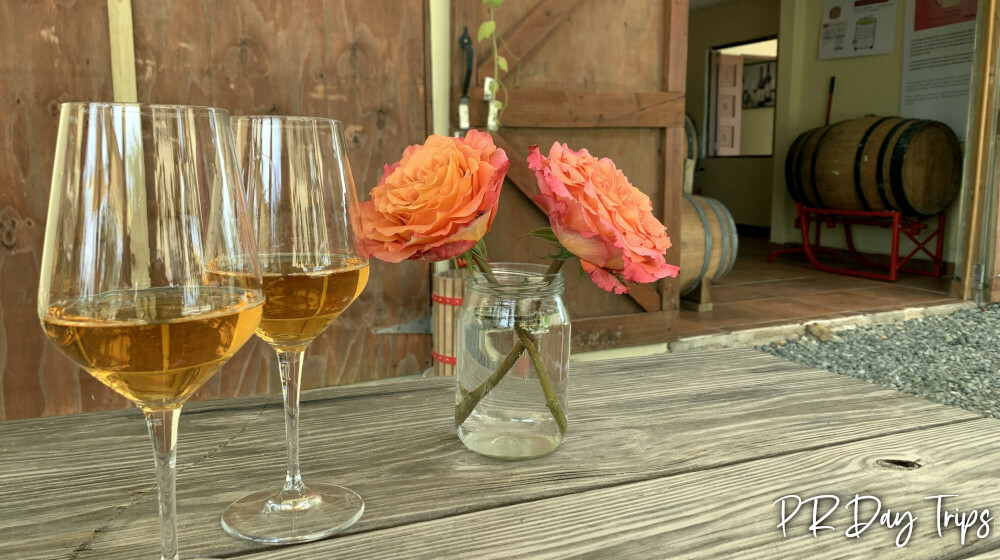 Our Tour
We arrived for our 1pm tour, and we were greeted by the owner, Emanuel Pérez. You are treated just like family … "sit, have a glass of wine!". He describes the characteristics of each wine you choose, to make sure you will enjoy it. The seating area is cute – under the shade of a grape vine arbor, with a lovely view. It was cool and relaxing. We enjoyed a glass of their Chardonnay while we waited for the tour to begin. The chardonnay was a darker color than one usually sees, had a nice taste.
He came back to ask how we liked it and suggested we try some of their fruit wines – so we did. I had passion fruit (parcha) and Ray had pineapple (piña). These are made only with fermenting the fruit … no grapes added. I was expecting a sangria-like taste … but this is wine, no doubt. It tastes like wine with the fruit fragrance, and just a mild flavor of the fruit itself. Very interesting. I enjoyed mine very much.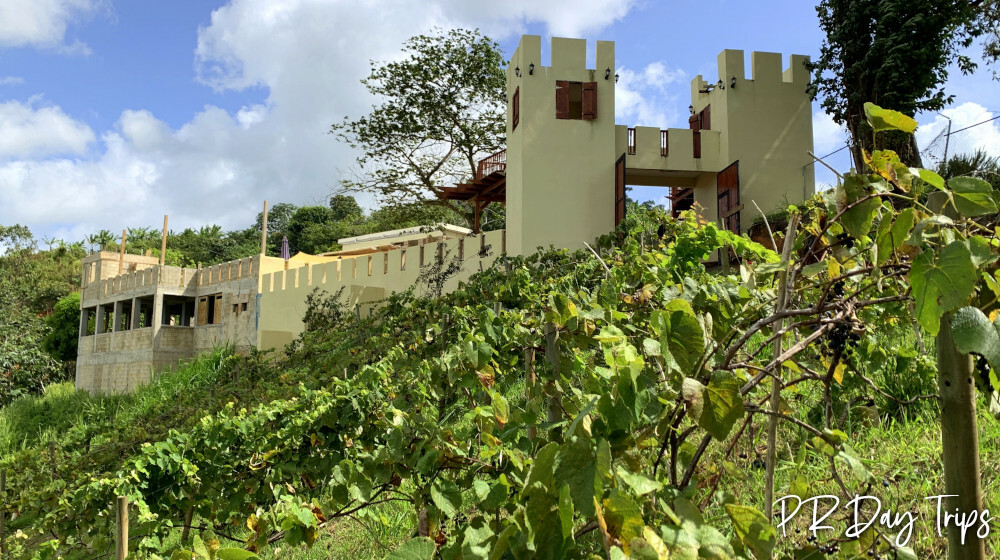 During this time, Emanuel came over with a scrap book of the beginnings of the farm and explained all about this lovely family's vision, and the hard work they are doing to make their dream a reality. It was a really nice, personal touch! He is working on making the visitor area look like a castle for his baby daughter Amelia (that's where their brand name comes from).
The tour consists a three parts. First, he goes into the actual steps of wine-making. He reviews each step involved, and the machines they use. From crushing the grapes, fermenting, pressing, filtering, aging, and (finally) bottling. They have some of the oak aging barrels waiting there for the next batch.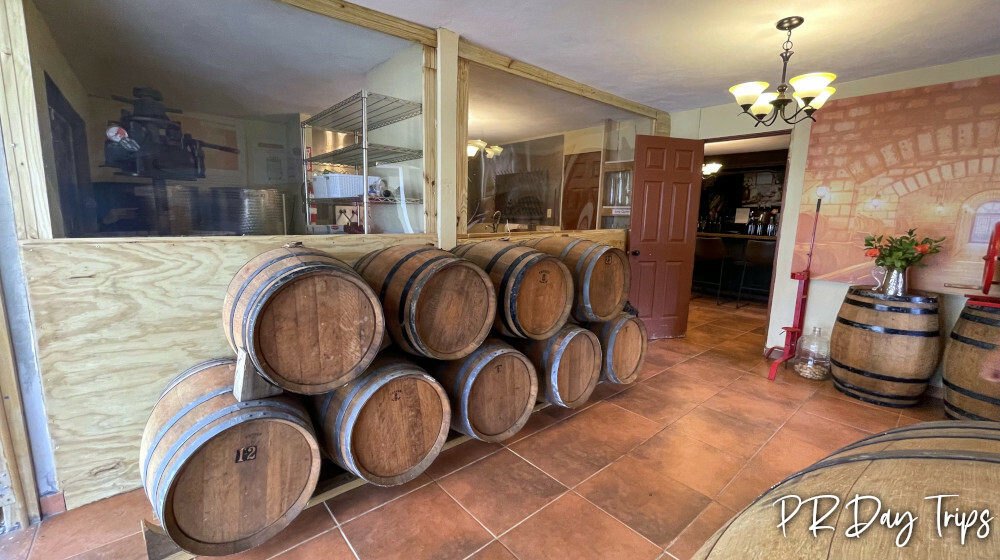 The second part is about the grapes and how to grow the vines, from pruning to harvesting the grapes on the vines. Puerto Rico's humidity is higher than most areas known for growing grapes, another thing they have had to adapt to. Emanuel answered all the questions people asked, he was very informative.
The third part is a walk on the farm to see the vineyards row by row, older plantings, new plants, and areas ready to be planted. Eventually you get to the Vista Bella of the farm! But really the whole place is lovely! There are a number of "Instagrammable Selfie spots" to help you capture your memories of the visit.
After our walk, we decided to try the dessert wine made from honey and spices. It honestly tasted like Christmas in a glass. So interesting! They also make wine ice pops – we probably should have tried those, too! All in all, a very enjoyable day. Because it is a by reservation, there are no huge crowds, no one is rushing you. Just sit, stay and relax.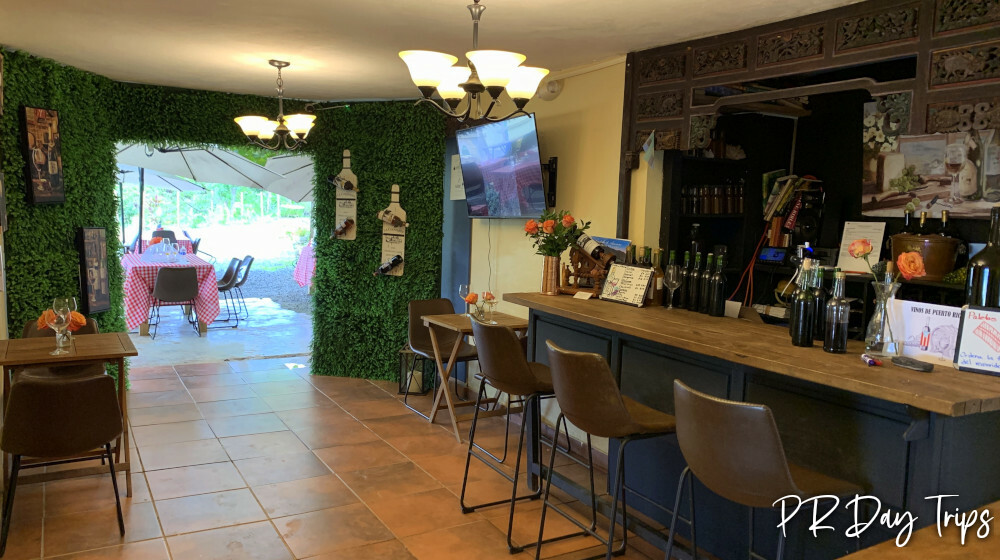 Details
Tours are offered Fridays, Saturdays, and Sundays. Check their Facebook page or web site for days and times.
Visits are by reservation only. If you plan on eating there, order your meal when you reserve your tour. Payment must be made in full ahead of time. They do not accept cash nor credit cards on-site: payment by PayPal or ATH Móvil only. Additional drinks, ice pop, and brick oven pizza can be ordered while on the farm.
For the farm tour, wear sneakers or shoes suitable for walking on dirt paths.
The farm tour takes about 1 hour. On top of that, add time to enjoy your wine, wine tasting, or your meal.
You can call them at 787-390-2178 for more information.
You can visit their Facebook page or web site for more information.
Tours are offered mainly in Spanish, but English speakers can be accommodated.
Finca Vista Bella is located on Carr 613 at KM 8.9 in Utuado. They are listed in the various "map apps" both as "Finca Vista Bella" and "Vinos de Puerto Rico".
Click on a placename below to view the location on Google Maps ...
PuertoRicoDayTrips.com assumes no responsibility regarding your safety when participating in the activities described in this article. Please use common sense! If your mother or that little voice in your head tells you that you are about to do something stupid … then don't do it!